A free hot tub at a roof party, free video games, and a meat throwdown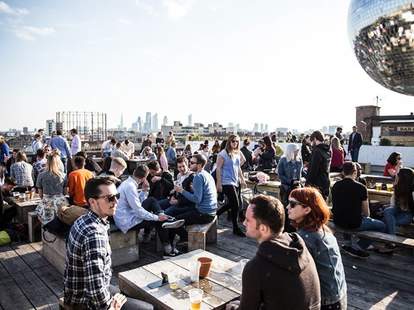 London Freebie of the Week
Next Saturday, July 5th, Twenty Something London will launch Rooftop Brewing; a huge, craft beer-fueled party on the upper deck of Netil House. There'll be booze curated by London Fields, Signature Brew, Clarkshaw Brewing, and more; food from Turner & Roast, Yolk, and Hot Skillet; and there'll be damn HOT TUBS. And guess what else! You could win a completely free hot tub session for yourself & eight friends, just by Tweeting @twntysmthngLDN with the hashtag #RooftopBrewing. Find out more right here.
Saturday, June 28th: Nicos Popupalot is throwing out another classic Lobster Pot. Get busy with massive bucket of clams, mussels, tiger prawns, Devon crab, Canadian lobster, and more in their newly refurbished railway arch. Get the lowdown right here. 

Continue Reading
Sunday, June 29th: REZtron is back, and plundering the video gaming past for Fission Mailed; a free "interactive gaming art exhibition" at The White Building in Hackney. Play Micro Machines, Bomberman, Sonic 2, and Street Fighter II, score drinks from CRATE Brewery, and claim that the whole thing is for art. Info right here
Sunday, June 29th: SwingEAST is hitting East London's Chrisp Street Market for a day of vintage cars, records, dance, and of course, food & booze. There'll DJs and live bands around all day, plus classes and swing outs. And the best part? It's free. Hit up the deets right here.
Monday, June 30th: It's Patty & Bun vs. Pitt Cue Co. today for the third installment of the meat-nuke that is Patty Pitt. There'll be three buns, five sides, and cocktails for everyone, and it's happening at the Patty & Bun site on James St (and of course, with no reservations). Call your cardiologist, and click here.


Booking ahead...
On July 12th, roll your mustache, shine your shoes, and get ready for the most gentlemanly sporting event of the season. The 10th annual The Chap Olympiad is going down in the Bedford Square Gardens, and panache and style hold far more sway than actual athletic ability here. Expect drinks from Bourne & Hollingsworth, dancing from The Blitz Party, and a ton of cravats, trouser creases, and lovely ladies. Join the games, here.