London Freebie of the Week
This Sunday, delicious Covent Garden bar/bistro Bedford & Strand is hosting the first of 11 Brazilian supper clubs, each promoting the local cuisine from one of the cities hosting the World Cup. They're kicking off w/ Recife (whose inhabitants apparently mostly eat sautéed crab in coconut milk, and sun-dried filet mignon), and if you're one of the first four people to name drop us when you book, you'll score a free cocktail. Shoot straight to the back of the net right here.
Thursday, March 6th: Pop-up regulars Death by Burrito are taking up shop at The Candlemaker over in Battersea, with a Mexican street-food inspired menu of beef brisket & pickled peppers tacos, Mex fries, DBB burgers, and a special Sunday menu filled with meaty goodness like chipotle baby back ribs. Put their name to the test right here.

Continue Reading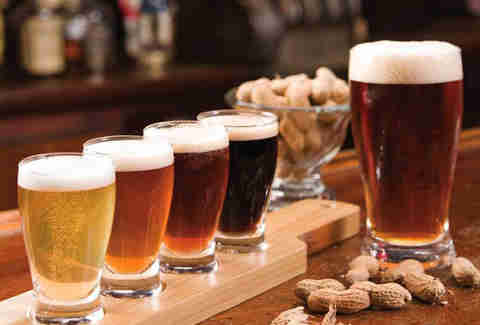 Thursday, March 6th: We Eat catering duo is ganging up with Pressure Drop Brewery for a supper club over at the Hackney cafe Brew For Two. We're talking five courses of seasonal eats with beer pairings the whole way. If chilli & fennel scratchings, pigeon & pomegranate, and beef & chipotle don't take your fancy, then just remember they all come with beer. Now click here
Thursday, March 6th: If you are all about the heat, then roll over to The Dolls House for the Hoxton Chilli Club for a four-course homage to the bringer of burning tongues and happy hearts. With cocktail pairings by the shakers at the House, they'll help you cool down, too. Stand the heat, stay in the kitchen, and click here.
Saturday, March 8th: United Ramen are back doing their thing, this time down in Tooting Market with "Ramen Meets India". Yep; wasabi-mango chutney, lamb belly curry ramen, and bubble tea cocktails. They're also collating w/ the Pop Up Dining Club, who're in charge of live music, quizzes, and even a "Chopstick Master Challenge". Flex that manual dexterity by first clicking here for tickets.


Saturday, March 8th: It's a food fight! This supper club pits the cuisine of once-French colony Mauritius against that of France herself. Each course will have two side-by-side dishes from each country, with a winner chosen by you at the end. It's BYOB, so grab something strong and head here for the deets/tickets.