200 free tickets to Grand Designs and free chicken wings at a wing party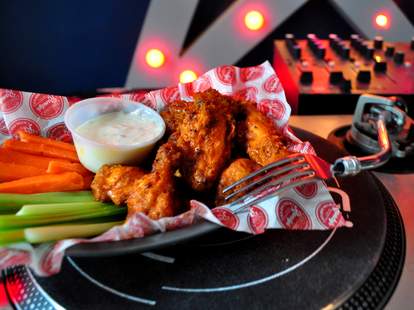 London Freebie of the Week
Embrace your inner kitchen nerd and pop down to the 10th Grand Designs Live London from the 3rd-11th, to see how you can make all that great restaurant stuff in your very own home. We've teamed up with the show organizers, and the onsite resto (A Taste for Design by Nigel Smith) to give away 100 free pairs of tickets for you fine folks. It's first come, first served, so click here, follow the 'Book your Tickets Now' link, and punch in the code THRILL14 together with your details for the goods.*
Thursday, May 1st: Smokey Tails is back for canal-side BBQ, frozen cocktails, and music. Get all the delicious info right here. Continue Reading
Friday, May 2nd: The Free Film Festival is setting up shop for the month in Hern Hill with -- you guessed it -- free film screenings (in pubs, parks, and venues), plus masterclasses and competitions -- and the flicks themselves tend to lean to the interesting, as well as entertaining (Jiro Dreams of Sushi, Labyrinth, etc.). Clicking here's free too


Friday, May 2nd: Oh, it's only another WING PARTY over at Randy's Wing Bar at The Star by Hackney Downs. DJs, booze, free t-shirts, and the outright best wings in the city. Plus? Just follow @RandysWingBar and retweet #LetsGetSaucy for the chance to win free wings for two people. The winner can claim the prize any time. Get involved right here
Saturday, May 3rd: Edible Cinema is taking over BAFTA for a sensory screening of Baz Luhrmann's Romeo & Juliet. Eat and drink your way through it w/ scene-aiding goodness from Soho House Chef Jake Rigby-Wilson and Bombay Sapphire's Sean Ware. Click here, or the only thing you'll be biting is your thumb.
Sunday, May 4th: If the words "Bacon Cinnamon Roll" get you excited, then here're a few more: Avocado & Egg Stack, French Toast Pecan & Maple Bread Pudding, and bottomless filtered coffee. Andy Bates is popping up at The Liquor Store in Dalston with his First Aid Rescue Brunch and the whole thing (minus booze) is £20. It's all this way


*Terms & conditions apply -- see website for details. Print-at-home tickets only, must be booked online. Max two tickets per order. Valid for any one day from the 6th-9th, May 2014. Subject to limited availability and allocated on a first come, first served basis. Offer closes 9/5/14, or before if tickets are all claimed.