Free Mexican food, Neal's Yard grilled cheeses, and a crawfish boil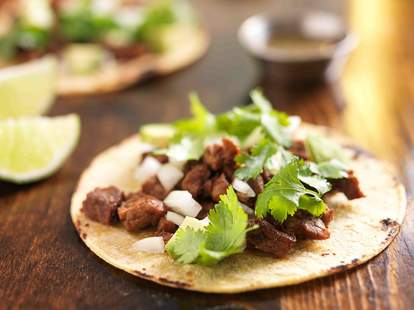 London Freebie of the Week
Cinco de Mayo technically was on Monday, but people who point that out can technically suck it, because Eat My World is holding a Mexi-party tomorrow night w/ authentic eats (like honey-lime chicken enchiladas and churro mini-cupcakes), and some heavy-handed margaritas -- and they're kindly giving away two free tickets, plus food, and four margs. To score them, just email here and tell 'em what you celebrated this Cinco, and head here for everything else.
Thursday, May 8th: There are few things better than a decent grilled cheese sandwich, and after weeks of "cheesearch", Morty & Bob's is bringing you a month-long pop-up over at Off Broadway with classic British cheeses from Neal's Yard Dairy, plus variations incl. crispy bacon w/ tomato & avocado, eight-hour pulled pork & BBQ sauce, and a cornucopia of pickles. Feel the melty goodness here

Continue Reading
Friday, May 9th: The dudes from Tweat Up are at it again, this time with an homage to the fiery god of the vegetable world: the chili pepper. They're turning up the heat with demos, food stalls, spice shops, DJs, and chili tequila cocktails. With variations from over 15 countries, vendors incl. Martin Morales, Gizzi Erskine, B.O.B's Lobster, SmokeStak, BAO, Rola Wala and more. Start sweating, here.
Sunday, May 11th: Retro gamers rejoice. REZtron is back with #SEGASunday down in Clapham. Try to beat your best score on classics like Sonic the Hedgehog 2, Mortal Kombat, Street Fighter II, and many more across all four generations of SEGA consoles, while knocking back adult beverages. Get your game on, here.
Book ahead!
Stax Carnaby is holding a good ol' Cajun crawfish boil from the 7th-10th of June. That means mountains of spiced crawfish, potatoes, sweet corn, spiced sausage, and garlic bread, with zero cutlery (they advise you to "come in clothes that you may need to burn in shame afterwards"). Head here for cheap early bird tickets