10 OC Secrets You Had No Idea Existed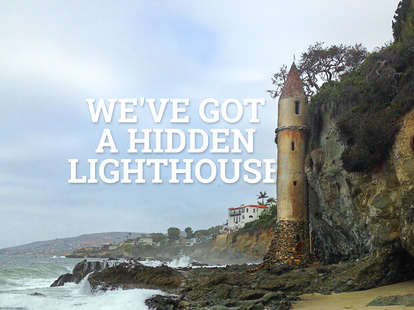 You know a LOT about Orange County, like how it's where Disneyland is, and it's where The Hills took place, and it's... where... Disneyland is? Yeah, so it turns out you don't actually know a LOT about OC. Chris Epting -- author of 26 books including Vanishing Orange County -- and his son Charles -- author of Orange County Pioneers: Oral Histories from the Works Progress Administration -- totally do though, which's why we tabbed the pair to hook us up with the coolest, secretest stuff they know about Lauren Conrad's old stomping grounds.
1. The US's largest bank heist in almost 200 years occurred in Dana Point
On March 24th, 1972, seven Ohio dudes broke into the United California Bank in Dana Point (at the time, considered Laguna Niguel), allegedly to steal money from Richard Nixon. After blasting the vault with dynamite, they ransacked the bank's safe-deposit boxes, with most estimates placing the amount they stole between $12-$30 million -- which, with inflation, would make it the largest bank robbery in US history at the time. Thing is, they actually selected the wrong bank -- Dick kept his savings in San Clemente. Sadly, the scene of the crime is no more, United California Bank was replaced by a shopping center.
2. Toastmasters International was born in an OC basement
Back in 1924, Santa Ana's YMCA educational director, Ralph Smedley, wanted to help young, tongue-tied members become better public speakers, so he created a club in the building's basement where they could practice. Word caught on at how effective Smedley's teaching was, the classes got mad popular, and he eventually named his group the "Toastmasters Club," which would grow to become the renowned Toastmasters International, boasting more than 300,000 members in 126 countries. The building (205 W. Civic Center Drive) still stands today, but it's all but boarded up, with no marker identifying its significance.
3. The man who wrote the "third most popular song in America" is buried here
You can actually see where the guy who wrote "Take Me Out to the Ball Game" is buried from the upper deck at Angel Stadium of Anaheim (the grave is at Melrose Abbey Memorial Park). Legendary vaudevillian/songwriter Jack Norworth moved to Laguna Beach not long after writing the song (supposedly the third most popular in America behind the national anthem and "Happy Birthday") in 1908, and Little Leaguers in Laguna still play for a trophy named for him each season.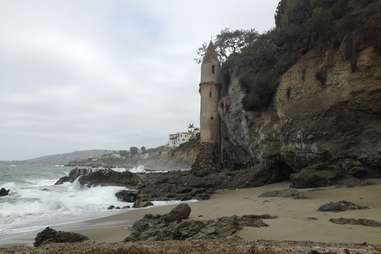 4. Orange County's only "lighthouse" is tucked away in a Laguna Beach cove
The staircase to Victoria Beach is hidden in an alley between two homes on Victoria Dr. Take the steep stairs down to the beach, hang a right around a rocky outcrop, and you'll be greeted by one of the most unique sights in Orange County -- what appears to be a Middle Ages lighthouse clinging onto the side of the cliff. Also known as "Pirate Tower" to locals, the enigmatic 60ft-tall structure has been the basis of many an urban legend. The truth behind it? California State Senator William E. Brown built it (along with his home on top of the cliff) in 1926. The tower contained a metal staircase allowing him and his family easy access to the beach below.
5. The world's most famous garage rock classic was written here
It may be the first rite of passage when forming a band: playing the beautifully basic anthem, "Louie Louie." It's the version by The Kingsmen that most people know, but it was actually originally written and recorded by R&B performer Richard Berry, who -- after performing at Anaheim's long-gone Harmony Park Ballroom (1514 W Broadway) in 1955 with local legends the Rhythm Rockers -- cribbed the opening riff of the Rockers' "El Loco Cha-Cha," went backstage, and finished up a song that he had been writing: "Louie Louie." The middle of this industrial park is where the backstage area had once been when the tune was first worked up.
6. We've got a garage that was once the most famous guitar factory in the world
An electronics enthusiast and radio repair man, Leo Fender, got involved with guitars after customers kept bringing him their external pickups that needed repairs. Over the years, Fender would go on to design many world-renowned guitars that became the favored models of such virtuosos as Eric Clapton, Keith Richards, Jimi Hendrix, Jeff Beck, and Stevie Ray Vaughan. And he did so all from his Orange County plant located in Fullerton (120 E Santa Fe Ave), not far from where he was born. Today, they've paved paradise and put up a parking garage, but the sign remains the same.
7. The original Disneyland bandstand? It's now at an OC gardening business.
Disneyland's original bandstand has moved quite a bit in its 60-year-history. Before the park opened, it was located in the middle of Town Square, until Walt realized it obstructed guests' view of Sleeping Beauty Castle. For Disneyland's first year, the bandstand stood at Carnation Plaza Gardens, before another move to what is now New Orleans Square. When the Jungle Cruise expanded in 1962, the bandstand, for which there was no longer room in the park, was given to the city of Anaheim, which, by 1975, was getting ready to trash the entire structure. Roger's Gardens pulled a truck up the next day and hauled the piece of Disney history to its final resting place. Today the bandstand still sits amongst the beautifully landscaped grounds of Roger's Gardens, a hidden remnant of The Happiest Place on Earth.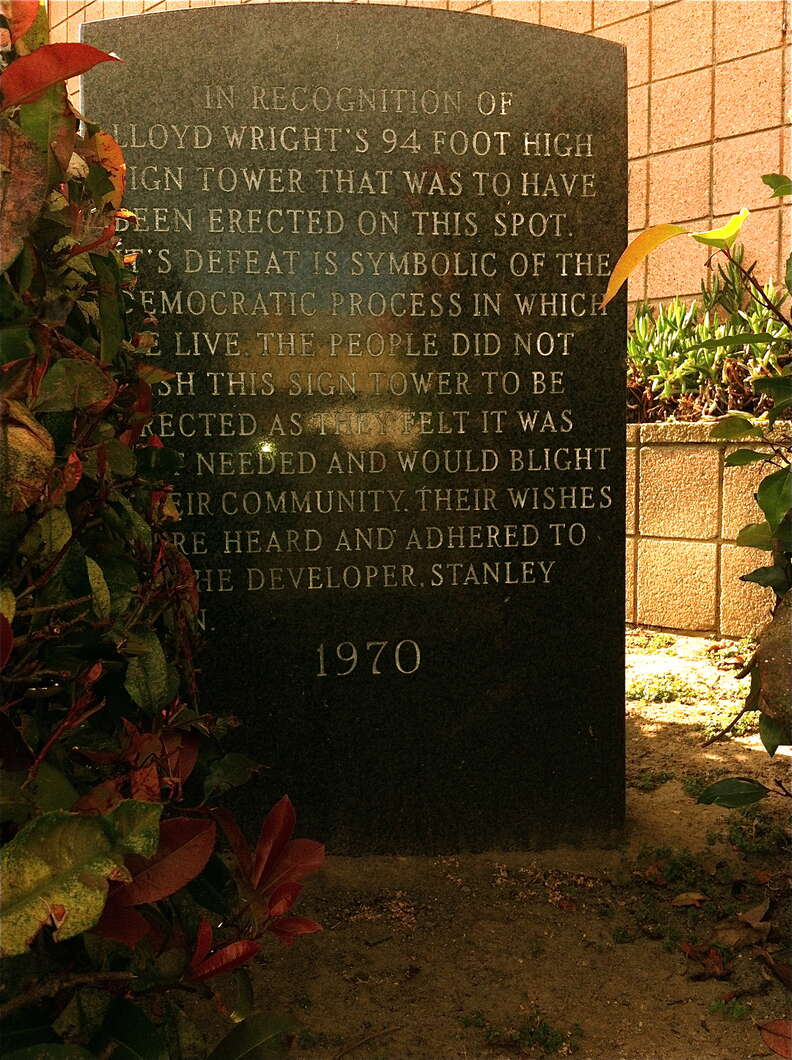 8. There's a gravestone... behind a gas station... for a tower?
Turns out, famed architect Frank Lloyd Wright's son, Frank Lloyd Wright Jr., was no architect slouch either -- he designed both the Hollywood Bowl and the Wayfarers Chapel. This mysterious Huntington Beach "tombstone" marks the site of where he wanted to build his crowing (and final) achievement -- a garish, futuristic, 94ft tower next to the Westfair Shopping Center and gas station (which he also designed) as an homage to the town's boomtown oil history. It became so controversial, it got him all but run out of town. The marker was placed by the developer to both commemorate the controversy, and get one last dig in at Wright. (If you're looking for it, it's located right behind the gas station.)
9. There's a theater bathroom that movie star Bette Davis helped design. Wait... what?
Newport's Lido Live theater, an architectural gem that opened in 1938, has a unique layout -- the women's restroom is located downstairs, while the men's restroom is upstairs. The reason for this? None other than all-time-famous actress Bette Davis. Davis, who was a resident of Corona del Mar when the theater opened, stopped in one day and told the owner they had better open with one of her pictures. She also insisted on a sitting parlor for ladies, so that they had a place to smoke and fix their makeup. What was supposed to be the men's room became the ladies' parlor, which is still decorated with period pieces selected by Davis herself. As for the theater's first picture? A framed lobby card of Jezebel still hangs on the parlor's wall.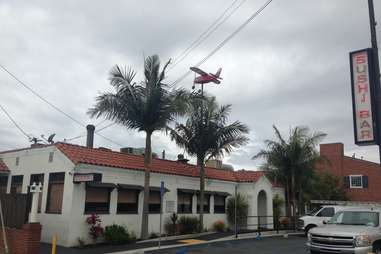 10. The two most famous aviators OF ALL TIME used to dine in Seal Beach
Many old-school OC residents have fond memories of the old Glide'er Inn on PCH, a plane-themed restaurant that, in 2000, became (and remains) a seafood place called Mahé. What few realize, though, is just who was amongst the restaurant's clientele during the early days of aviation. Originally attached to Crawford Field, a small local airstrip, the landmark building served both Charles Lindbergh and Amelia Earhart -- as well as Hollywood mogul-turned-notorious recluse Howard Hughes, all of whom signed the original guestbook, which you could peruse at the old Glide'er Inn. Today, the only signpost of the past is a lone model plane still mounted to the restaurant's roof.
Sign up here for our daily LA email and be the first to get all the food/drink/fun Los Angeles has to offer.
Chris Epting is an award-winning journalist and the author of 26 books including the recent Rock 'n' Roll in Orange County. You can follow him on Twitter @chrisepting.
Charles Epting is a recent graduate of the University of Southern California, where he studied US History. He is the author of four books, including Orange County Pioneers.