17 reasons you should still be a Lakers fan
The Lakers are terrible. Like, worst-record-since-they-moved-to-LA-in-1961 terrible. Worse than when Cedric Ceballos was their leading scorer. Worse than when Chris Mihm and Chucky Atkins were starters. Worse than when Smush Parker was still being invited to Ugly Betty night at Kobe's house. But you know what? There are still plenty of reasons you should keep being a Lakers fan. Here are 17.

1. These guys: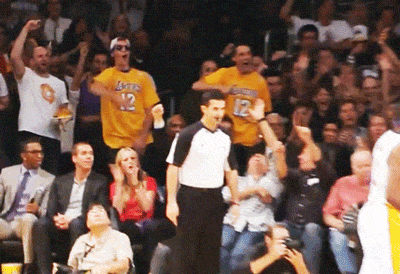 2. They're still 16-time champions
That's more than any team in the NBA... that matters.

3. The Laker Girls
3a. The Laker Girls auditions.
4. They'll probably have the No. 1 pick
1985, the first-ever NBA Lottery, Patrick Ewing -- already an East Coast icon after pwning everyone at Georgetown -- ends up going to the totally terrible Knicks after some super shadiness. If you watch the YouTube clip of the lottery, you'll see that when the fourth envelope is placed in the giant plastic ball of wonder, it gets slammed against the side of the ball, apparently causing a crease in the envelope. This was the EXACT SAME ENVELOPE David Stern picked to be the No. 1 pick. David Stern is gone, and so are the envelopes, but if you think the Lakers aren't getting the first pick, I've got a Kwame Brown rookie card to sell you.

5. Magic Goddamn Johnson
Just. Wow.
6. Lakers GM Mitch Kupchak will trade someone really terrible for someone really good
See: Pau Gasol from the Memphis Grizzlies for Kwame Brown (hahahahahahah), Javaris Crittenton (hahahahahahahahahahah), Aaron McKie (ha), and the draft rights to Marc Gasol (damn it).
7. There's no Laker Darrell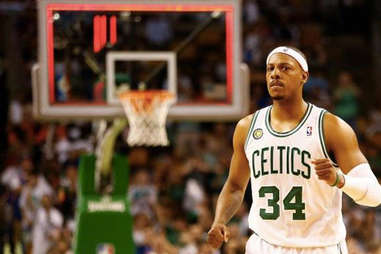 8. They never made you cheer for this guy
Or his wheelchair.
9. Derek Fisher's 0.4, Robert Horry's top-of-the-key, Kobe Bryant's 81
Also: Magic's junior sky hook and The Comeback.
10. You look good in purple

11. They have more people who were used for NBA logos than any other team
So, Jerry West.
12. With only three guys with guaranteed contracts next season, the Lakers will have a zillion dollars in cap room this off-season
There are lots of good dudes who want a zillion dollars. Like LeBron. Or Carmelo. Or LeBron AND Carmelo.
13. Jeanie and Phil's child will one day return to LA to save the Lakers

14. Steve Nash is peaking!
But not really!
15. What're you gonna do with all those Lakers car flags otherwise?
Really though, you have like three of them. And those're just the gold ones.
16. It's only a matter of time until Mike D'Antoni gets fired
Maybe not today. Maybe not tomorrow. But definitely in three days.

17. Jack Nicholson's not going to a Clippers games anytime soon
Or ever.
Grant Marek is a Senior Editor at Thrillist and still owns a Nick Van Exel jersey. Follow him on Twitter at @Grant_Marek.