8 California Towns You Need to Be Spending a Lot More Time in
You already know all of the reasons you should hang out in San Francisco (food and views), Los Angeles (attractive people and good bars), and San Diego (beaches and panda bears). But what you maybe don't already know is that California is chock-full of other small cities (towns, even) that also have a ton of fun stuff to do and see, even more delicious stuff to eat and drink, and are definitely worth a visit. For example, these eight places, which boast everything from trail rides along the coast to an alleyway filled with bubble gum.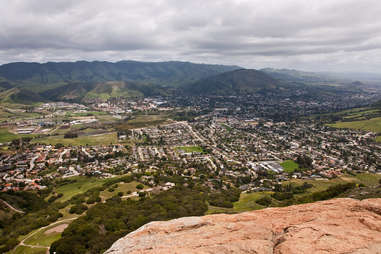 San Luis Obispo
Why it's so great: SLO was named the happiest city in America and not just because it's the birthplace of Zac Efron (although that probably had something to do with it, right?). It also offers biking, hiking, surfing, kayaking, sea caves (!!), farm-to-fork eating, and wine/craft beer drinking in addition to, you know, being one of the most gorgeous towns along the coast of California. Don't miss The Madonna Inn, with its 110 themed rooms and urine-activated waterfall urinal (you read that right) or Bubblegum Alley, where people have been sticking their chewed and germ-covered gum for decades.
Must-eat foods: Tri-tip at Old San Luis BBQ, tacos on blue corn tortillas at Frutiland La Casa del Sabor, and fresh fish on the patio at Tognazzini's Dockside Restaurant & Fish Market.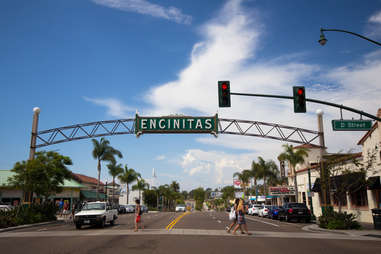 Encinitas
Why it's so great: Perfect weather, unspoiled beaches, and... um, do you really need more than that? Encinitas is all about the 1960s beach culture vibe, but even if you're not grabbing your board to hit Swami's (the most popular surf break), you'll still find plenty to do, like swimming, beach volleyball, paddle boarding, barbecuing beachside, or lighting up a bonfire after dark. You'll also want to hit up Lou's Records if music stores are your jam.
Must-eat foods: The shrimp, bacon, and chorizo taco from Bull Taco and a breakfast burrito from Pipes Cafe.

Healdsburg
Why it's so great: Everyone loves to go to Napa, but the cool kids know that when it comes to wine country, Healdsburg's where it's at. This small town has everything you could want within walking distance, PLUS amazing wineries just a short drive away. While you're there, reserve a cabana by the pool and play bocce at the Francis Ford Coppola Winery. And, if you're up for it, bike one of the wine-cycling loops.
Must-eat foods: Go to Spoonbar for farm-to-bar cocktails, Barndiva for crispy Sonoma duck leg on the patio, and Healdsburg Bar & Grill for its famous burger.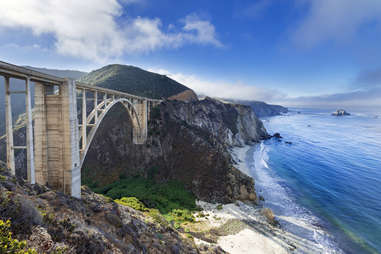 Big Sur
Why it's so great: If you want to stay in Big Sur, you basically have the choice of either camping or throwing down $1,000/night for a room at the Post Ranch Inn. So probably camping. Also: fill up your tank before you get there since the area's three gas stations are known for having some of the highest-priced gas in the country. Also, don't plan on Tindering while you're there since cell service is pretty much non-existent. That sounds terrible, you say? It's actually what makes Big Sur one of the best places in California to visit: stunning views and landscapes that haven't been developed or commercialized. While you're there, explore the roads off of Hwy 1, visit Pfeiffer Beach, and hike to McWay Falls.
Must-eat foods: Espresso and sweet treats from the Big Sur Bakery (get there early before all the good stuff's gone) and anything at Sierra Mar, Post Ranch Inn's hard-to-get-into-for-a-reason restaurant. (Pro tip: Sierra Mar has a $55 prix fixe lunch menu.)
Ojai
Why it's so great: Ojai is a little nest of a town surrounded by orange groves, oak trees, and the Santa Ynez Mountains. It's less of a place to get after it all day and more of a place where taking a siesta in the middle of the day feels like the right move. Check out the galleries and boutiques Downtown, cruise around the farmers market (Sundays only), go olive oil tasting (or, better yet: wine tasting), or if you're looking for more of an adventure, enjoy a trail ride in the foothills of the Los Padres National Forest. Whatever you do, try to catch "the pink moment" when you can see the reflection of the setting sun on the mountains. Oh, and you should probably stop by Ojai Valley Taxidermy, which is exactly what it sounds like: an amazing place to see lifelike dead animals.
Must-eat foods: Anything from a roadside fruit stand, pizza from Boccali's, and one of the signature sandwiches from Ojai Café Emporium.

Why it's so great: First thing's first: the locals pronounce it "wa-LA-la." Second thing's second: this is the place to go for super-chill California coastal perfection, including whales, redwoods, craggy bluffs, white sandy beaches, and a river for lazy floats (water levels permitting). Third thing's last: thanks to the ocean winds and a mild micro-climate, Gualala is often sunny when the surrounding coastal areas are socked in by fog.
Must-eat foods: Big Boy Breakfast at Trinks Cafe and Texas-style wood pit BBQ at Bones Roadhouse.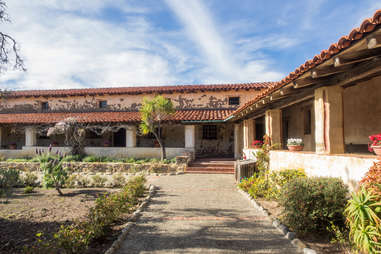 Carmel-by-the-Sea
Why it's so great: Carmel's a little more upscale (and touristy) than some of the other beach towns on this list (Clint Eastwood used to the mayor, for heaven's sake), but that's part of its charm. Well, that and the fact that it has some of the best golf courses in California. (Looking at you, Pebble Beach.) But you don't have to drop a lot of cash to enjoy this little town on the Monterey Peninsula. You can explore the shops, horseback ride along the coast, or go to the Land Rover Experience Driving School. Okay, so that last one requires a few Benjamins. Totally worth it though.
Must-eat foods: The Sunday Jazz Brunch at the Mission Ranch and a grab-and-go sandwich from Salumeria Luca Italian Deli & Bakery.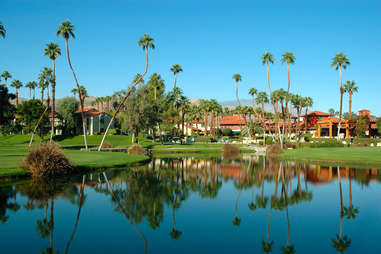 Palm Springs
Why it's so great: Is Palm Springs too obvious for this list? Perhaps. But we couldn't leave off our favorite destination for lounging by the pool, playing golf AT NIGHT, more lounging by the pool, and then also: lounging by the pool. Oh also: it's really pretty because it's a town in a desert surrounded by mountains. And it's got a sweet mid-century resort town vibe. AND POOLS.
Must-eat foods: The bacon flight at Cheeky's, the baby back ribs at Smoke Tree BBQ Bar & Grill, and the pupu platter at Tonga Hut.
Daisy Barringer is a San Francisco-based writer and she enjoys singing Taylor Swift's entire discography very loudly on all road trips. Let her know where she should go next on Twitter @daisy.