As you've probably heard by now, the NFL has decided to hold this year's Super Bowl in New Jersey at MetLife Stadium, home of the New York Giants and Jets. It's a very dumb idea. It's going to be a terrible event. And it all could've been avoided if they had just decided to host it in LA.
Why? Well, 1) we've got the perfect fan base for a Super Bowl (a town filled with people whose favorite team is always whatever team is doing the best at the moment), 2) we've got the perfect weather, and 3) these other nine reasons...
1. It's going to be f***ing cold
Temperatures are expected to dip into the 20s, with a decent chance of a snowy field... because, hey, New Jersey is a cold, depressing place to be in the Winter. Get ready to see plenty of crowd-shots of miserable-looking people who paid crazy amounts of money for the opportunity to be miserable-looking.
2. The final score is going to be something like 6-2
Who cares about those freezing rich a-hole fans, you say? You're going to watch the game on a comfortable couch in your home with your friends anyway, right? Well that's going to suck almost as much: football in the snow makes passing, running, catching, hiking, handing off, kicking, cutting, jumping (and pretty much everything that leads to scoring) much more difficult.
3. The game might be moved to a different day
Already got your hotel room/airline tickets? Too bad! There's a chance the game will be moved to Friday, Saturday, Monday, or possibly even next weekend in the event of a blizzard being forecast for gameday.
4. Which means your inability to function on Monday is going to be sad instead of funny
The Super Bowl is the ultimate opportunity to cover up your serious, secret drinking problem. Everybody comes in feeling terrible on Super Bowl Monday. But what if they do change the date? Get ready for that awkward office intervention you've been dreading since they first gave you the job.
5. Yeah, LA has its share of traffic problems, but…
... what if somebody does something to hurt Chris Christie's feelings this week? There could be a lot of people stuck on the road instead of in their seats.
6. We're going to have to look at Eli Manning's face
With Broncos QB Peyton Manning involved (and Eli's team hosting), it's a safe bet we are going to see plenty of camera shots of the whole Manning family: Archie, Eli, and the other Manning brother (Papa John, I think?). Get ready for four hours of Eli making dumb faces.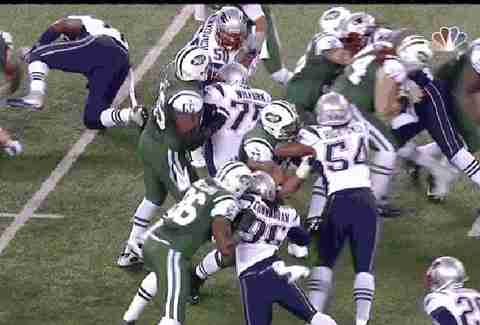 7. The butt-fumble happened in this stadium.
8. We're going to have to see Peyton Manning's cold fivehead
Here is what Peyton's face looks like when the helmet comes off. Good luck enjoying your snacks after seeing what 20-degree weather does to that thing.
9. And finally, Pete Carroll might win
In cold weather, Manning basically turns into Tim Tebow. His career record is 4-7 in games with subfreezing temperatures at kickoff. That gives us about a 63 percent chance of Pete Carroll putting his hands on a Super Bowl trophy. I don't know about you, but I don't want to live in a world where that happens.