An insider's guide to LA's underground wrestling scene
Because dudes and ladies (maybe) fakely beating each other up in crazy costumes is super awesome, you should check out these underground wrestling events, all of which're insanely over-the-top, ridiculous, and a LOT more entertaining than watching Hulk Hogan's "comeback".

Lucha VaVOOM
Flying midgets, crazy-contortionists, and commentary from stand-up comics has made this long-running, totally insane show a must-see. The burlesque performers in-between bouts is merely the icing on the cake. Very, very good-looking icing.
Next Show: March 14th at El Rey; Tickets.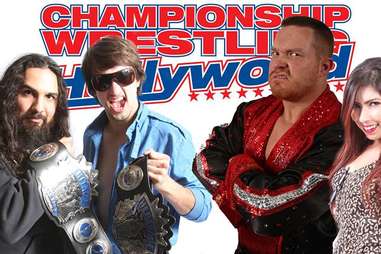 Championship Wrestling from Hollywood
Not to be confused with Championship Wrestling from North Hollywood (because no one wants to ugh, go to the Valley), this league's a relative newbie (it's been going since 2010), has FIFTY wrestlers (including Percy Pringle III, Johnny Goodtime, and Hobo), and's broadcast nationally, albeit on an obscure channel on Dish Network. So there's that.
Next Show: March 23rd at Oceanview Pavilion, Port Hueneme.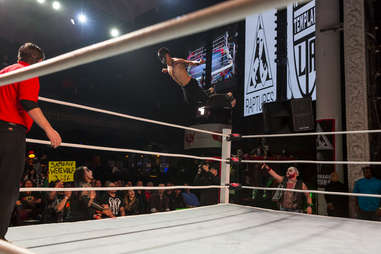 Territory League Wrestling
Now in its second season, this monthly match at The Avalon merges dance culture with wrestling. DJs spin while the wrestlers get down, with the association bringing teams from all over the country (San Francisco Bay City Union suuuuuuuuucks!) to throw down in what's sorta like tag-team wrestling on a Barry Bonds-level of steroids (so... all of them).
Next Show: April 13th at The Avalon.
Brian Kendrick's School of Pro Wrestling
In case you like being really sweaty and slamming your body against other dudes in hopes of maybe someday turning out like Mickey Rourke, you can train with a former WWE guy at this school. And in case you want to see amateurs who've already done that and are "trained", they've got open-to-the-public shows, as well.
Next Show: TBA

Pro Wrestling Guerrilla
For a decade, this Valley-based club's been a haven for stunt-oriented athletes who're down with absurdity (like the alien mask-wearing Super Dragon), and acts as a kind of farm system for the WWE, meaning that the dude you see here today could be the next Iron Sheik tomorrow.
Next Show: March 28th at The American Legion in Reseda.
Jeff Miller is Thrillist LA's Senior City Editor, and would cry like a baby if you put him in a choke-hold. You can Tweet him @ThrillistLA and Instagram @JeffMillerLA.