12 things you didn't know about the Playboy Mansion
To the naked (!) eye, Playboy's infamous Holmby Hills estate looks like any other Beverly Hills mansion. Turns out, though, once you strip (!!) off the facade, you'll expose (!!!!!!!!!!!!) plenty of booze, babes, and, well, these 12 uncensored things:

1. The mansion was purchased from a chess master
Hef and the Playboy family didn't own the mansion until 1971, when they purchased it from Louis D. Statham. The house, built in 1927, was as unique as its owner -- a famous chess player, engineer, and inventor, who also created measuring devices for NASA spaceships. At the time, it commanded the highest price paid for a property of its kind in Los Angeles, selling for $1.1 million.
2. There's a curfew
When you think of the Playboy Mansion, you probably picture all-night, clothing-very-optional parties -- but that isn't the case most evenings. One of Hef's former girlfriends revealed that there was a strict curfew, under which you had to be in the house by 9pm unless you were out with him. And though shacking up in a massive mansion might not seem so bad, at least a few of the girls weren't even allowed in the kitchen to grab a drink; they had to order food up to their rooms.

3. John Lennon almost got banned
While separated from Yoko Ono, John Lennon did what any mega-millionaire man dealing with heartbreak would: he went on a bender at the Playboy Mansion and put a cigarette out on an original Matisse painting. The Beatles legend later apologized to Hef, they hugged it out, and the painting still hangs in the mansion -- complete with cigarette print.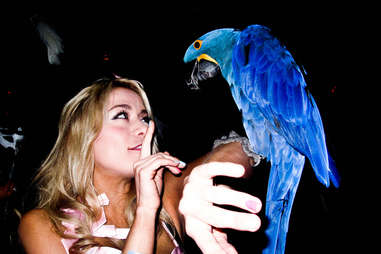 4. Hef doesn't actually own the place
Despite being a millionaire many times over, Hugh Hefner doesn't actually own the infamous Playboy Mansion. Playboy's parent company, Icon Acquisition Holdings, is the technical owner and Hef has to rent out each room and cover all expenses -- including food and parties. The bills total in the millions each year.

5. It has some unique permits
What makes for a really awesome party? Fireworks and wildlife of course. Well, the mansion has permits for both. It's the only private home in LA with its own pyrotechnics license, and one of a few with a zoo license, which is put to good use: there's a big cage full of monkeys and tons of birds, plus a peacock that roams the property.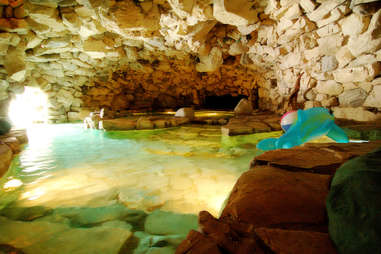 6. The grotto has a lint problem
The grotto may be the most famous part of the mansion, since it's where Playmates are known to strip naked and make use of their flotation devices. You'll be surprised to know that the origination of the no-clothes policy didn't come from sexcapades, however, but rather because lint would get in the drains if people wore clothing.

7. Girlfriends get an allowance
Though they may seem one and the same, there is a stark difference between being a Playmate or one of the girlfriends. If you're the former, you get a one-time payment to appear in the magazine. The latter? An allowance of $1,000 a week, a new car, free dental and medical treatment, clothes, hairdos, make-up, facials, and, probably, all the cosmetic enhancements you could possibly want.
8. There are multiple secret rooms
The wine cellar in the house is accessed through a secret hidden panel in a nondescript hallway that wasn't even filmed on the reality show because they still use it as a safe during parties. Then there's the Elvis Room, where -- rumor has it -- Elvis stayed with eight Playboy bunnies at a time. That room is also closed to the public.

9. Hef has a scrapbook room
Just because he's the Godfather of Playboy, doesn't mean he's not also a sentimental guy. One of Hef's favorite spots is the scrapbook room, located on the third floor and accessed by a secret staircase and master key. He has thousands of volumes of... something, dating back to 1943.
10. Two Guinness World Record certificates hang in the house
We're pretty sure Hef and the mansion hold quite a number of more conspicuous records, but officially, he holds the record for the largest collection of personal scrapbooks and the longest career as an editor-in-chief for the same magazine.

11. The Chicago Playboy Mansion became condos
Before the LA mansion we all know and love came to be, there was the Chicago version that Hef purchased in 1959, which had a brass plate on the door with the Latin inscription Si Non Oscillas, Noli Tintinnare ("If you don't swing, don't ring"). But, after years of hosting raunchy parties, the 72-room Victorian home was sold and used for more innocent reasons. The Art Institute of Chicago bought it and turned it into student housing, and, in the mid-90s, a developer turned the place into seven multi-million dollar family residences.

12. The CDC was called after one party
Yes, there was an outbreak at the mansion -- in February 2011, 123 people came down with a fever and respiratory illness after attending a DOMAINfest Global conference held at the Playboy Mansion. Epidemiologists from the Los Angeles County Department of Public Health reported their findings at a Centers for Disease Control conference, saying that the spread of Legionnaires' disease stemmed from a whirlpool hot tub in the grotto where they found bacteria. Sexy!
Sign up here for our daily LA email and be the first to get all the food/drink/fun Los Angeles has to offer.
Jordi Lippe's a freelance writer and aspiring TV host, and can be found at JordiLippe.com.