9 Boutique Hotels in California That Are Worth a Road Trip
Finding cool places to road trip to in California? Super easy. Finding cool places to stay when you find cool places to road trip to in California? Totally less super easy, which's why we put together this list of nine legitimately awesome boutique hotels in total-duh road trip destinations across the state. Vaya con dios!
 
South Lake Tahoe
Love camping, except for the part where you, uh, camp? This quirky, modern, 50-room resort -- just a few minutes from the Heavenly Gondola and the lake itself -- features a few rooms with indoor tents, forest murals, picnic tables, and faux-log fires. Knock back a local beer at the lobby brewpub, roast some s'mores over a fire pit, and settle into the rooftop hot tub for a view of the mountains and roughly 400 trillion stars.
Sparrows Lodge
Palm Springs
Originally built in the 1950s as a resort getaway for Hollywood big shots dubbed Castle's Red Barn, the hotel hit-making couple behind Sparrows Lodge stripped the original down to its bones and remade it into an insanely laid-back hipster hacienda hideaway. None of the 20 rooms have TVs or phones, but you can entertain yourself at the check-in desk WHICH DOUBLES AS A BAR, at the outdoor pool and open-24/7 hot tub, or with a short ride into town on a loaner bike. Oh right, and there's a full horseshoe game hidden in the back in case you're into doing one of the 21 things required for The Best Palm Springs Trip Ever.
The Pearl
San Diego
This revamped mid-century motel hosts all kinds of badassery on the regular ("dive-in" poolside movie nights! $1 happy hour oysters!!), enjoyed by guests in 23 stylish, soundproofed (hey now) rooms. The swanky lounge extends to the pool's patio, where you can tuck into locally sourced grub and beers brewed just down the street. Bonus: you'll get 15% off your dinner bill if it ever rains -- but, yo, it's San Diego. It never, ever will.
The Wayfarer
Santa Barbara
Located on the Urban Wine Trail just a block from State St and three blocks from the beach, this Funk Zone hotspot bills itself as an upscale hostel, but offers several private rooms with fancy faux-fur touches and 42" TVs. Hang out by the heated pool, play big-ass versions of Jenga and Connect Four, or meet new folks around the communal breakfast table. Wait, free sunset bike tours, too? Yuuuup.
Glen Oaks Big Sur
Big Sur
Built in 1957 with adobe and local redwood, the modern version of this former motor lodge still sticks to natural materials and a green aesthetic. Surrounded by old-growth forest, there are 16 rooms in the main lodge, plus eight fairy tale-ish cabins (with complimentary s'mores kits!) and two cottages beside the pebbly rush of the Big Sur River. Heated floors, walk-in showers, Wi-Fi -- and in some units, kitchens -- provide creature comforts, and the on-site, art-filled Big Sur Roadhouse serves three daily meals and snacks made from local produce, as well as house-made soft pretzels.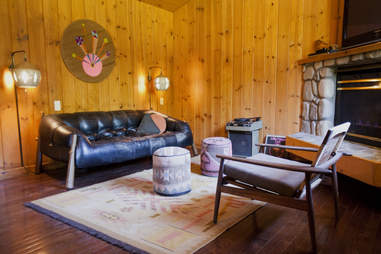 Ojai Rancho Inn
Ojai
This rustic-chic update of a '50s roadside motel has 18 rooms -- all with a log cabin feel (bed frames are hewn from actual logs) -- and furnishings made by local designers. Set in the center/vortex of a neo-hippie artists' town just 90min North of LA, it's next door to a wine and beer bar, close to a long, shaded bike path and mountain hikes, and, in summer, hosts live poolside concerts by local bands.
Inn Paradiso
Paso Robles
Located in the secret-rich wine valley halfway between LA and San Francisco, the 1970s meet art nouveau in this kooky, relaxing, art-filled ramble, which offers four huge guest rooms (including a three-floor loft in an adjacent building), an even bigger lawn, and ITS OWN GODDAMN TEQUILA! Ten minutes from Paso's historic town square, kick back in a shaded hammock with a snifter of the house reposado, enjoy breakfasts home-made with the inn's garden produce, and stumble from your whirlpool tub to a stone fireplace (and back again).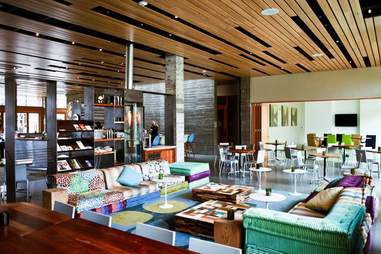 H2 Hotel
Healdsburg
A block off the Downtown plaza in this Sonoma Valley mecca, H2 is a 36-room, LEED-certified eco-retreat -- the embodiment of Northern California, from its undulating, living roof to its creek-side pool. Almost everything here is locally sourced, from the farm-to-table produce and wines at Spoonbar, to treatment products in the on-site spa, a whole gallery's worth of artwork, and reclaimed building materials. Chill out on your room's private patio or balcony, or borrow a bike and go wine tasting at nearby vineyards.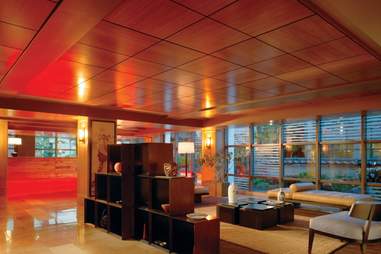 Hotel Kabuki
San Francisco
Like driving six hours and ending up RIGHT IN THE MIDDLE OF TOKYO, this modern, 218-room ryokan run wild offers shoji sliding screens, a Zen garden & koi pond, and an izakaya bar. The shopping mecca of Japan Center is next door, and two blocks away, you can try out some alternative healing and communal hot/cold baths at the Kabuki Springs & Spa. Afternoon sake is complimentary, in-room honor bars are stocked with Japanese teas and snacks, and instead of traditional bathrobes, you'll find sexy little kimonos.
Sign up here for our daily LA email and be the first to get all the food/drink/fun Los Angeles has to offer.
Melanie Wynne, the Travel Editor for The Points Guy, has lived in LA since 1993 and can't seem to get enough of exploring California -- but she's willing to try. Follow her on Twitter @wynnewin.