Even though it's like, only February, Spring is just a little bit away (March 20th!), which means it'll get slightly warmer, girls'll be wearing slightly more flowy dresses, and there'll be way more awesome events going on -- like these 12, which should round out your Spring bucket list quite nicely.
Recommended Video
Wine Workouts Are Just What We Need in our Fitness Routines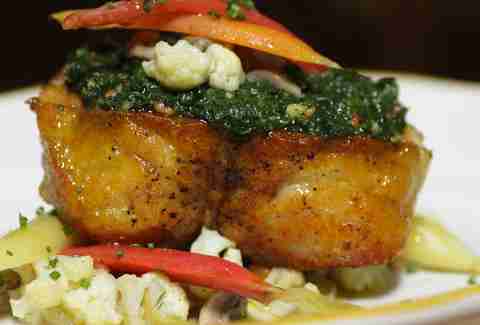 What: Hobnob with famous chefs at the All Star Chef Classic
When: March 21-23
Where: LA Live
Please pack your knives and go... see crazy-talented chefs face off during the first-ever All Star Chef Classic, a three-day merging of restaurant-stadium antics and more traditional modern food-event style bites.
What: Watch the Dodgers play down under
When: March 22-23
Where: Vaucluse
Watch the Dodgers beat the hell out of the Diamondbacks in Australia... by not going to Australia and instead, checking the games out on the TVs at the Australia-themed restaurant Vaucluse -- all while chomping down on some legit Aussie lamb. G'day, indeed.
What: Sit outside and watch The Big Lebowski on the big screen
When: March 29
Where: Electric Dusk Drive In
Roll into Downtown's Electric Dusk Drive In for a screening of The Big Lebowski -- you can watch it in your car, or outside in a lawn chair... just make sure you abide by the few rules they do have, dude.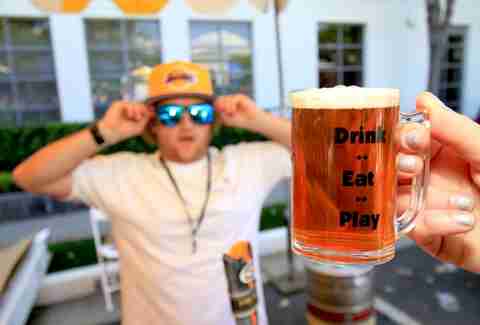 What: Drink LOTS OF BEER at the LA Beer Festival
When: April 5th
Where: LA Center Studios
The annual LA Beer Festival's moved to LA Center Studios, but still has dozens of all-you-can-drink beers, top-notch food trucks, and fun cover bands like indie-rockers Black Crystal Wolf Kids... which I may or may not be in. Also: lots of girls wearing pretzel necklaces.
What: See tons of music for very, very cheap at Brokechella
When: April 19th
Where: TBD
Actualchella out of your wallet's wheelhouse? The annual Brokechella fest arrives with dozens of local bands for less than the cost of a cup of coffee.
What: Catch the next wave of humor at the LA Comedy Fest
When: April 24-May 4
Where: Various Locations
The LA Comedy Fest hits the city with hilarious films, stand up, and improv from a bunch of funny mother f-ers. In past years, cast members from from Always Sunny, Fred Willard, Janeane Garofalo, and Seth Meyers all made appearances.
What: Hit the desert for Coachella
When: April 11-20th
Where: Empire Polo Club, Indio
So, um, Outkast is headlining Coachella both weekends. And Arcade Fire is gonna be there, and Muse, and Beck. Look, you're either going or you're not. (You're going.)
What: Practice your salsa dancing at Fiesta Broadway
When: April 27th
Where: Broadway, Downtown LA
If you're not Mexican, you've probably never heard of this pre-Cinco celebration, but now's your time to get down: Broadway gets closed completely as tens of thousands of Latinos (and you!) hit Downtown LA for a massive, celebratory dance party.
What: Drink up at LA Winefest
When: May 31st; June 1st
Where: Raleigh Studios
Sip and stroll for the ninth year of this classic Melrose fest, which also includes food trucks and bands while you're all-you-can-drinking.
What: Gloat in your ability to drink outside
When: All... Spring... Long
Where: Multiple Locations
Literally find any day in the Spring to skip work Ferris Bueller-style and have a drink outside at one of our picks for the best spots to drink outdoors in the city. Then post about it on FB/Twitter and tag all of your East Coast friends suffering through another Polar Vortex.

What: Watch the World Cup at Tom Bergin's
When: June 12th
Where: Tom Bergin's
If you're gonna watch the World Cup, it just feels right to do it at a legit Irish pub, rather than some anonymous sports bar... which's why you're going to recently re-opened Tom Bergin's, where the dudes behind the bar have the kind of accents that make you hope you're rooting for the right team.
What: Embrace your inner-nerd at Hero Complex
When: TBD
Where: TCL Chinese Theater
While the guests and movies (and the dates) are still TBD, your attendance shouldn't be, for this annual, kinda-Comic Con-ish, LA Times-sponsored screening festival, which in the past has had screenings of sci-fi classics like Independence Day, followed by Q&As with the filmmakers.
Jeff Miller is the Senior City Editor of Thrillist LA, and may or may not be the bandleader of Black Crystal Wolf Kids, who you can follow on Twitter at @blkcrstlwlfkds. Also, he's at @thrillistla. And Instagram @jeffmillerla.