California's 10 Best Water Parks, Ranked
Editor's Note: Is there anyone more qualified to rank the best water parks in California than Rick West, a dude who's been writing about theme parks for 20+ years? No. No there is not, which is why we asked him to do exactly that.
Much like the members of the Avengers, not all California water parks are created equal (seriously, Hawkeye's power is... really good aim??), which is why we put together this list of the best ones, and then unapologetically ranked the heck out of them, from 10 to 1.
(Oh, and if you're worried about the drought, well, so are we: read this and feel better that 1) they're recycling the same water over and over for the most part, and 2) some cities are actually recommending you go to water parks instead of filling your pool, which you definitely have, cause you're so rich and stuff.)
Clovis
Best attraction
: GhostSlider, a high-energy slide that sends guests zipping down a flume into a large "super bowl" before you drop through the center into a pool below.
The location is, uh, challenging, but Wild Water Adventure is a favorite of Central California/Fresno locals thanks to everything from speed slides to rapids adventures. The park also keeps the action going into the night with movie screenings and other special events. The introduction of "Slideboarding" later this summer --
which is sorta like a cross between a water slide and a video game
-- could move it up this list if it delivers as promised.
Raging Waters San Jose
San Jose
Best attraction
: Sidewinder, a twisting, racing slide that pits four riders against each other at a time as they careen head-first down a heart-pounding speed course.
Not as packed-with-attractions as its SoCal counterpart, NorCal's Raging Waters parks still have the Bay Area on lockdown, thanks to a bevy of high-intensity slides and cool-off zones great for triple-digit days.
Sacramento
Best attraction
: Dragon's Den, which sends two riders on a double tube down five stories of twisting turns, sending them through a "bowl" feature and then down another drop, through a water curtain into the run-out zone.
Another member of the Raging Waters family, this park offers a fantastic reprieve for locals dealing with the brutal summer heat in our state's capital, and not locals who wanna check out
the new Oakland
. The park offers a wide range of attractions, from slides to an 800ft-long lazy river to a heart-arresting four-story half-pipe you can free fall down via tube.
Concord
Best attraction:
Break Point Plunge, a trap door thrill slide that sends riders speeding through a 270ft-long looping course.
Expect wave pools, a wide assortment of creative slide attractions (
Break Point Plunge
, FTW), and not nearly as many Kevin Costner sightings as you'd expect from the name.
Santa Clara
Best attraction:
Didgeridoo Falls, which lets you send up to five people on a large raft spinning and sliding rapidly through a series of curves from atop a 54ft-tall launch platform.
Boomerang Bay is one of those park-within-a-park situations where guests wanting to access the water park must buy a ticket to California's Great America, a seasonal thrill park next to San Jose. While the water stuff itself is good, it gets a mid-list bump for its proximity to roller coasters.
Aquatica San Diego
Chula Vista
Best attraction:
Taumata Racer, a 375ft-long racing slide that pits guests against each other down its slope and through a 180-degree banking turn before zipping across the finish line.
It may be billed as "SeaWorld's Water Park," but that's as disingenuous as anything you learned from
Blackfish
: Aquatica's actually several miles away, in Chula Vista. That said, it's got some killer slides: the aforementioned Taumata Racer's a heart-pumper, and the three-slides-in-one Kiwi Curl's got a totally-in-the-dark option.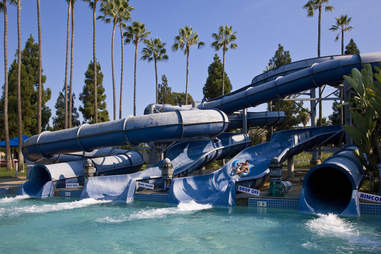 Knott's Soak City Buena Park
Buena Park
Best attraction
: Pacific Spin, a multi-person raft ride that features a 132ft-long tunnel and 75ft drop into a six-story funnel.
Downside: not as many slides as some of its SoCal neighbors; LOTS of kids. Upside: mere feet away from Knott's Berry Farm and Mrs. Knott's Chicken Dinner Restaurant. Boom.
LEGOLAND California Resort
Carlsbad
Top attraction
: Legends of CHIMA. Okay, this takes some explaining: The LEGOLAND Water Park is fairly unique in that it is a huge facility built within the existing LEGOLAND California theme park -- and Legends of CHIMA is a minipark WITHIN the park that has a ton of hands-on LEGO-rific attractions, all as part of it (build a boat with LEGOs and float it!!!).
It's mellower than some of the above (and below) options, though if you're looking for thrills, Pirate Reef is a high-octane flume ride, and there are dueling-racer slides as well. Also, Pirate Reef LOOKS LIKE IT'S MADE OF GIANT PIRATE LEGOS!!!
Six Flags Hurricane Harbor
Valencia
Top attraction
: Bonzai Pipelines, an intense thrill experience where guests are dropped 50ft through a trap door into the rest of the 200ft slide course.
Hurricane Harbor has long been one of LA's best water parks, with plenty of thrill slides, dive-in movies (where you float in a giant pool and watch a movie), and three raft slides that will shoot you out of the mouths of giant Tiki statues. Added bonus: once you're done, you can throw on some clothes and go get your hair blow-dried on a coaster at Magic Mountain -- the best roller coaster park in SoCal (YEAH, WE SAID IT, DISNEYLAND) -- right next door.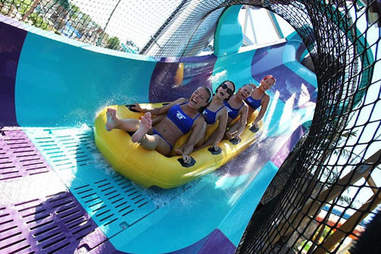 Raging Waters San Dimas
San Dimas
Top attraction
: Aqua Rocket, a hydromagnetic slide that sends four people at a time on a roller coaster-like ride with hills and drops at 30mph.
Not only does it get, like, all the points for doubling as Waterloo in
Bill & Ted's Excellent Adventure
, but Raging Waters San Dimas is also the most-packed water park in the state, with 12 high-energy slide attractions and even more obstacle courses, wave pools, and opportunities to embarrassingly lose a swimsuit. See you there.
Rick West is the Founder/Editor of ThemeParkAdventure.com and also the Creative Programming Producer for ScareLA, a large-scale Halloween/horror convention that takes place each summer in Los Angeles, featuring the top names in the haunted attraction industry. Find him at @themeparkadventure on Instagram and @TPAMagazine on Twitter/Periscope.