Never stick crumpled-up dollars in the jukebox again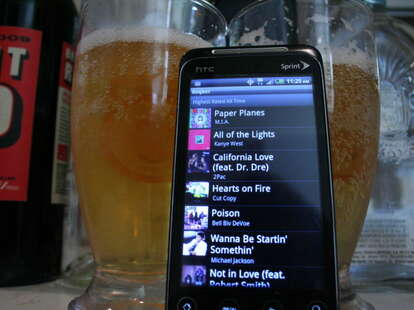 Because walking all the way up to the jukebox to put on another Amy Grant song is both tiring and embarrassing, there is now Roqbot; launching tomorrow in participating LA bars, it's a smart phone app that works like a digital jukebox, allowing users to pick the music from the safety of their own booth, and avoid eye contact when someone shouts out, "Who just put on Amy's surprisingly emotional duet with Peter Cetera?".
The basics are pretty simple: when you get to the bar (more and more are signing up each day!), check in (a la Foursquare) and search their extensive cloud music service (plus Last.fm, iTunes, and Facebook favorite bands) for the song of your choice, then once your heart settles on "Every Heartbeat", pop it into the queue, snag another Red Dog, and wait for all the other patrons to start a slow clap as soon as they hear the first few bars. But wait, there's more: you can also gain credits towards moving your inspirational ballad up the list via options like giving an email address, rounding up votes from other patrons, or dropping cash, plus while you're scrolling through songs, you can see exclusive, Roqbdot-only drink specials displayed by the bar, though that probably doesn't matter to you, since you're a fan of '80s Christian pop crossovers.
The launch party's tomorrow at 901 Bar & Grill near USC, with top DJs getting sweet gift certificate prizes, though if you're not into the gift, you can always just give it to your Baby, Baby.