Surviving a zombie attack, one dice-roll at a time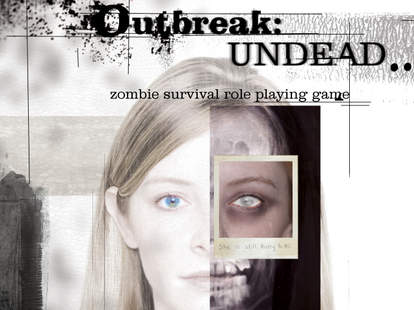 Though role-playing games were basically invented by cool kids to help them get laid all the time, there's a rare chance you may never have been popular enough to pull off a cape, so we're going to break down the zombie apocalypse RPG Outbreak: Undead for you with a FAQ so thorough, Thoreau would be like, "Mine's spelled differently, but that is quite thorough".
Wait, so is this a video game?

No, son! It's a role-playing game from the dudes at Hunters Books, designed to "simulate the events of a zombie uprising" in which you "try your chance at survival".
Sweet, zombies are the new Sh*t People Say! Or maybe the old Sh*t People Say. Either way, I'm in, though only ironically of course. How do I start?

You purchase the book (or download the PDF), which breaks down the core rules, and features the player's guide, a game-master's guide, and a zombie guide.
Okay I totally started downloading it (winks in the mirror). But while it's still downloading (winks again), why don't you give me some highlights of exactly what I'm getting?

Sure. You'll get character templates for survivor archetypes (firemen, military personnel, civilians, Chevy's hostesses, etc.), a breakdown of what you can use as weapons (hint: basically everything), and bios of the different types of undead, including Mario Batali-sized Gluttons, Carl Lewis-fast Ghouls, and wailing Banshees thankfully not based on the worst X-Men character not named Jubilee.
Nice, I'm "sold"! But as those quotation marks indicate, I'm really only ironically sold, unless there's something tangible, free, and potentially rife with booze to help really sell me?

Well, if you go to the launch party for their new expansion pack on Saturday, the designers'll show you the game while plying you with drinks from an open bar and tunes from a non-dead DJ.
Great. I'm going to attend and probably get laid and stuff because I was extremely popular and had no social anxiety in high school.

That's not really a question, but fantastic. Don't forget your cape.