LA's first, and only, all-you-can-drink swashbuckler soiree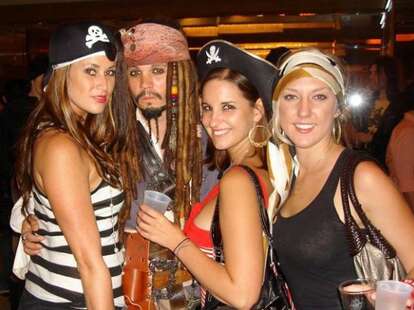 If there's one thing Thrillist has, it's a wealth of pirate readers. Finally catering specifically to them: The Pirate Fest, a 4hr buccaneer-filled fete in WeHo with all-you-can-drink skull-and-bones booze, a bacon buffet, buxom burlesque corsairs, and "the best pirate performers from all over the globe". Since even pirates themselves are unsure of how to approach a given event, here's what you should do if you just happen to be one of the following four famed bucs/Thrillist readers:
If you're Edward Teach Blackbeard… you're totally a famous, fearsome English pirate (who probably spends a ton of time daydreaming about "tea-and-crumpet-ing" Kate Middleton), which's all the more reason to get a VIP Booth ticket to ensure your very own personal sexy pirate server, plus a good view of Dirty Little Secrets, a peg-leg-raising band of buxom burlesque-ians.
If you're Black Bart Roberts… um, duh, you're Welsh, and the most successful pirate of the Golden Age of Piracy, which means you've always enjoyed the finer things in life, and should continue to with The PF's bacon buffet, a lavish spread of piggy treats like bacon apps, desserts, and hot dogs.
If you're Captain Henry Morgan… you're not only a well-groined liquor tycoon, but also a former Royal Navy admiral and privateer, who loved raiding Spanish settlements in the Caribbean, so you probably already know the Disney-quality dress-up-ers from Caribbean Pirates for Hire, who'll be mixed in with the rest of the guests and down to take pictures you'll Treasure Island forever.
If you're William Captain Kidd… the Scottish ladies freaking love you, mostly because you looted 2000lbs of Sterling from the French island of Marie-Galante. So hide that in some attic, or, better yet, Adam's Attic, the venerable SoCal pop rockers who'll be playing live pirate-y jams, aka what Thrillist LA readers get stuck in on the 405 because, again, you're all pirates.