12 Reasons to Take a Trip to Catalina Island
Wild buffalo, karaoke, and day drinking await.
Catalina Island is famously just 26 miles across the sea from LA proper, but it feels like another world: the mostly-uninhabited island, and its tiny, charming oceanside town of Avalon (and the even smaller seaside town of Two Harbors), are about as far removed from the intensity of the city as anywhere you can get for a day or weekend trip.
Getting there is a breeze. You can take a one-hour ferry via Catalina Express from either Long Beach or San Pedro to Avalon, or if you get seasick and have money to burn, take a helicopter over. From there, you'll step into a semi-time machine: the town was established in the 1920s by William Wrigley (yes, of chewing gum fame) and at one time was both a training ground for the Chicago Cubs and a destination for Hollywood royalty, who danced in the lavish ballroom at the iconic Catalina Casino (which, fun fact, was never used for gambling, only entertainment). Lots of the old-school charm that made it popular in the roaring '20s still exists in Avalon, though updates over the past decade have helped bring it into the 21st century, meaning it's a great place to chill, party, or explore the outdoors, depending on what your vibe is. Here's what to do to make your trip a memorable one.
If you've never been to Avalon before, perhaps the best place to start is in a rented golf cart, the preferred mode of transport on an island so small that most residents don't even have cars. The carts are available day-of on either side of the boardwalk, and a self-guided tour takes between one and two hours, to give you the overall sense of where you're going to go on the rest of your trip. You can take it all the way to the Casino and Descanso Beach, up to the Wrigley Memorial and gardens, and around to the most picturesque vistas on the island.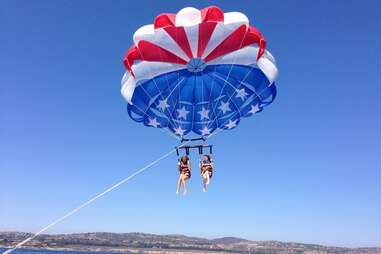 If you'd rather take in the whole of the island from up above, sign up for a parasail: you'll get into a speedboat with about eight other people and take turns being strapped into a harness attached to a massive parachute, and then flown 800 feet in the air above the water. Though it seems extreme-sports-ish, it's actually pretty relaxing once you're up there, with a nice ocean breeze and literally endless views. An attached-to-the-chute dip into the water at the end of your flight is optional but recommended. Book in advance here or find the office at 105 Pebbly Beach Rd, across from the basketball court.
The first bar you'll see on your left side as you start your walk on the main boardwalk is Luau Larry's, a tiny burger-and-beer-and-tiki-drink joint that's been there for decades and is the home of one of Catalina's longest-running traditions: getting your Wiki Wacked. It's not nearly as dirty as it sounds: basically, a Wiki Wacker is a sweet, delicious cocktail with Cruzan aged light rum, Parrott brandy, grenadine, and pineapple juice, but the kicker is the hat that comes with it: a massive, strawed extravaganza that's basically a must-have souvenir from the island; you'll see 'em all over as you walk through Avalon.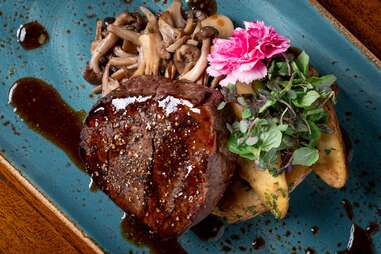 Avalon used to have a reputation as a food desert, and the longstanding restaurants were better known for their kitsch than their food or ambience. That changed when Avalon Grille opened a little over a decade ago: the sleek design felt modern and sophisticated, and the food, which includes deliciousness like pan-seared scallops with a chimichurri sauce and a pepper-crusted NY steak, is next-level. Other nicer options include M Restaurant and Bluewater Grill, while classics like Antonio's (known for their day-old spaghetti) and Pete's Plaza Cafe (for late-night eats) still hit the spot.
There aren't a ton of nighttime activities in the quiet town of Avalon, which means the center-hub for drinking/partying/peacocking after dark is El Galleon, a nautically-themed restaurant with great prime rib and an even better karaoke songbook. Every night (except for Tuesday) myriad bar crawls/bachelorette parties/cougar hunting expeditions begin here with everything from "Sweet Caroline" to "7 Rings" belted at full blast before the parties move to the dive bar The Marlin and the cheesy-in-the-best-ways dance club the Chi Chi.
Just past the casino is Descanso Beach, long known as "booze beach" for, well, its party-hearty daytime drinking culture. Though it used to be under-developed, it's now got everything from private cabanas with bottle service to weekend DJs to a full cash bar and restaurant, along with kayak, snorkel, and stand-up paddle board rentals for when you get tired of just lazing around. It's also the gateway for adventurers on the island to...
Just up the hill from the lawn above Descanso is the check-in for two of the most high-octane experiences on the island: the zipline adventure, which takes you high above the trees for five 30 mph zips, and the aerial adventure, a self-guided ropes course with five different paths ranging from the honestly-still-pretty-tough beginner to a Black Diamond that's actually pretty demonic (picture 30-foot-high jumps from one dangling log to another).
American bison were introduced to the island for a movie shoot early in the 20th century and (surprise, surprise) multiplied thereafter. Catalina Island Conservancy maintains the herd at about 150 to protect the bison and the landscape, so you're unlikely to see one strolling through town, but it's worth taking the Bison Expedition tour both to check out the massive creatures in person and also to see the mostly-untouched nature in the interior of the island, accessible only on these tours and on major multi-day hikes.
See your favorite sea animals on a boat tour
There are a ton of different boat tours offered on the island: if you're more of a let's-see-all-the-things-on-the-ocean-floor type, book yourself a glass-bottom boat tour, where you'll check out all sort of sea creatures, including the iconic garibaldi, the protected California state fish that looks like a massive goldfish. If you're there during on-season in the summer months, you should definitely take a trip on the Flying Fish voyage, a nighttime excursion in which, yes, fish fly out of the water for 30-foot sprints. If you'd rather be mammal-hunting (and prefer something a bit speedier), take a daytime trip on the Sea Life Safari to watch for seals and dolphins. And if you don't like tours at all, you can rent a motorboat from Joe's Rent-a-Boat right on the pier, which can provide a great launching pad to explore some of the more remote beaches on the island.
The Atwater's located right in the heart of Avalon and has been there since the '20s, but underwent a massive renovation in 2019 that unquestionably made it one of the nicest places to stay on the island. The rooms are outfitted in island-inspired, modern decor; the lobby is massive and classic; and amenities include two splits of sparkling wine upon arrival and discounts at a ton of other attractions on the island. And, oh yeah, the beds are comfortable and there's great coffee right outside the front door.
One of the newest and most welcome additions to the island is a full-service day-spa. If your idea of an oceanside retreat is getting a massage/facial/etc, going for a dip, sitting in a sauna and watching the boats go by out the oceanside windows, well, you're in luck. They've got nine full-treatment rooms, a pool and jacuzzi, and separate saunas for men and women in 15,000-square feet of blissed out wellness.
If your trip lasts a couple days or more, it's worth getting out of Avalon and visiting its even smaller, even slower cousin: Two Harbors is a short boat trip away and feels even more like an escape than Avalon: all that's there is basically one restaurant (with a burger that's honestly worth the trip in and of itself), some kayak and snorkel rental kiosks, a campground, and one tiny hotel with just twelve rooms. It's a great spot to go for complete off-the-grid hiking and relaxing, and a completely worthwhile day-trip-within-your-weekend-trip for a change of scenery.
Jeff Miller has been visiting Catalina regularly since he was three years old and still tries to go once a year to visit his late mother, who has a permanent spot by the tree closest to the pier right on the beach in Avalon. Say hi if you get a chance.
Fruit sandwiches, ya'll
:
@jeffmillerla
on Insta.