Your Comprehensive On-A-Budget Guide to Mammoth
Fact: Mammoth is even spend-ier than it used to be. Fact That Supports That Fact: Most businesses have been charging an additional 2% on every dollar spent to cover marketing costs for the town as well as an airline subsidy that's necessary because almost everyone in LA takes the five-hour drive to Mammoth instead of flying. That in mind, we've assembled this: the best on-a-budget guide to Mammoth that has ever been written, for you, because we're the best ever.
Thank us later. Or now. You can definitely thank us now.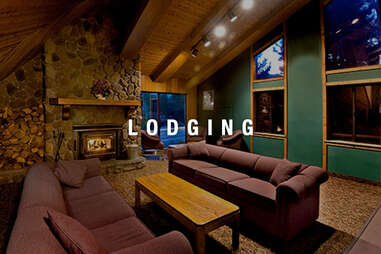 The Deal: Affordable rooms ($100 and up), no resort fee, free Wi-Fi, free shuttle, awesome continental breakfast
The Lowdown: Whether you're renting a condo or a hotel room, you'll be down to embrace your inner-'70s when it comes to lodging, especially if it means scoring a cheap place to crash. The Sierra Lodge hooks it up on the '70s decor and cheap front, but the rooms are huge and, unlike their competitors, include free Wi-Fi, no resort fee (!), a kitchenette, and a fridge. It's a short walk or free shuttle to The Village and if you do hoof it, road sodas are encouraged because there's no open container law in Mammoth (REPEAT: NO OPEN CONTAINER LAW IN MAMMOTH). A continental breakfast that includes the usual suspects of fruit, pastries, and bagels, and seriously above-average coffee is also part of the package. There're also gratis ski lockers and covered parking.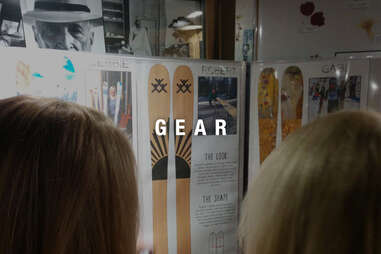 The Deal: 30%-75% off snowboard gear
The Lowdown: Paying full boat on snowboard gear gets pricey in a hurry, but the Bishop sister store to the much larger (and far more expensive) Mammoth Wave Rave has killer deals on boards, boots, bindings, and soft goods. Bonus: Instagrams of the awesome mural by snowboarding legends Jamie Lynn and Bryan Iguchi are free.

The Deal: $450 bespoke skis
The Lowdown: Yeah, "custom" and "good deal" rarely appear in the same sentence, but Community Skis is the rare exception. Located on Berner St, behind The Village parking lot, the staff'll walk you through the process of a bespoke set of skis that can even include custom graphics for an additional $200. Then, a dude who looks like De Niro in Taxi Driver will build them for you, so you know they'll be good -- or, if you don't trust that, and for some reason want to use your own hands, you can sign up for a DIY workshop where you build 'em by yourself.
The Deal: $2 beers, $4 wells, $4 wine & bubbly, and half-off wings and pizza at happy hour (Mon-Thur, 4-6pm; Fri-Sun, 2-6pm)
The Lowdown: Located in The Village, just a few steps from The Village Gondola, Smokeyard's central location makes it a great first stop after skiing. Said location also provides a great excuse for why you're still in your ski boots at midnight. With consistently good bar food, the only bummer about this daily happy hour is that it's only offered in the bar, which can fill up fast. They also have plenty of vegetarian and gluten-free options, because, uh, Sarah's with you and you know she's gonna want that. Standouts include tri-tip and curry chicken skewers ($6), loaded mac & cheeses ($9), and four-cheese pizza ($8 -- about the price of a slice on the mountain).

The Deal: $5.50 breakfast burritos ($3 after 1pm) and $2.50 mimosas from 9:30-11am with breakfast purchase
The Lowdown: Getting food quickly in Mammoth is about as easy as getting somewhere quickly on the 405 at 9am, but Stellar Brew pre-makes breakfast burritos, so you can get to the hill, or just start eating, quickly. The tortilla-wrapped handhelds include two eggs, potatoes, green pepper, and onions, as well as your choice of bacon and cheddar; turkey and pepper jack; spinach, tomato, and feta; or jalapeño, salsa, and cheddar. This is also one of the few places in town that caters to diets ranging from vegan to paleo and gluten-free. And if you're somehow motivated to slope it up early, no problem -- they open at 5:30am.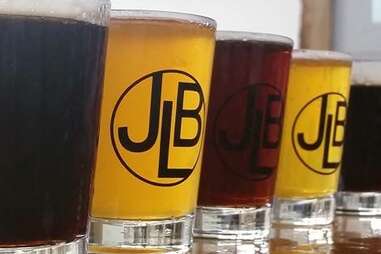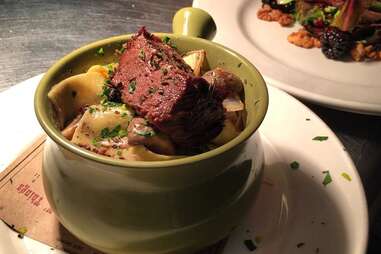 The Deal: $6 mules; half-off wine, well drinks, and beer during happy hour (daily 3:30-5:30pm)
The Lowdown: Consistently some of the best foodie-friendly eats in Mammoth, they're worth getting here early to get a seat as well as a great view of the sun setting. The garlic turkey meatballs ($6), short rib grilled cheese ($9), and turkey pastrami ($7) are all fantastic.

The Deal: $6 Coors-and-a-shot; $5 bar food menu during Happy Hour (4-7pm daily)
The Lowdown: With pool, foosball, a killer jukebox, and a great staff, the Clock is the best dive bar in Mammoth. And that would be true even if they didn't have the best post-ski dish on the planet: totchos. What the eff are totchos? Oh, just nachos with FRIKKING TATER TOTS INSTEAD OF CHIPS. Not that you're even considering ordering anything else, but the $5 happy hour menu also includes fish & chips, pretzel & german sausage, and two corn dogs with fries.

The Deal: $4 Angus cheeseburger and fries, $2 PBRs, $3.75 wells, and $4.50 pints during Happy Hour (daily 4-6:30pm)
The Lowdown: Next to Wave Rave on Main St, Slocums is a Mammoth institution. Dark wood and leather dominate this joint that's cozy in a you-may-fade-to-black-while-"Don't Stop Believing"-plays sort of way. The $2 PBR longnecks go all night and the $4 Angus burger with fries is a no brainer.
The Deal: $72 lift tickets; awesome lessons
The Lowdown: Just 20 minutes from Mammoth (take the Scenic Loop at least one way to mix up the views), June is the anti-Mammoth. Lift tickets are $23 less than Mammoth's and it's almost never crowded, so it's especially a great place to go on holiday weekends. Lessons are also a few bucks less and it's not uncommon to sign up for a group lesson and be the only one in the class (wooop!). Plus, kids under 12 ski/ride for free, no strings attached. Other than that whole thing where you're now stuck having a kid.

The Deal: Rentals delivered to you
The Lowdown: Unless you love the smell of stinky feet, long lines, and the delicate timbre of tantrums thrown by children and child-like adults, there's no reason to rent at a brick-and-mortar location. Black Tie delivers your rental kit to your condo or hotel room for just about the same price. Prices vary depending on gear and length of rental, but rent in advance to get the best deal.
Sign up here for our daily LA email and be the first to get all the food/drink/fun Los Angeles has to offer.
Stephen Krcmar lived in Mammoth Lakes full-time from 2008-2012. He's been splitting his time between LA and the mountain town ever since, because doing so is the new bicoastal. Last winter he skied more than 70 days and hit almost as many happy hours. He's written about snowboarding and the outdoors for The New York Times, Men's Journal, and Maxim.