The People of Coachella 2016... as Seen Through Instagram
There's a long-standing criticism of Coachella that it's become less of a festival about music and more of an excuse for people to gain more likes on Instagram -- which is why we asked the social-media-photo app that runs your life to help us figure out what the best and/or most-liked pics were from the fest, featuring actual people who were there (and, yes, some models. WHO ARE PEOPLE TOO!!!):
I see no dirty anything in this shot. Except maybe man-splits.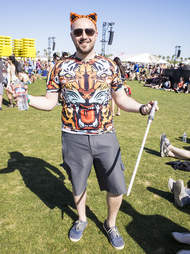 Annie Lesser
Not an instagram photo, but still: best getup ever. Including the cane.
 
Seriously, you can't beat that Ferris wheel.
 
Wait... this guy found a place to sit somewhere???
 

Uh... you're welcome? We're not sure what for but, yeah.
 
She is totally checking out his tits.
Sign up here for our daily LA email and be the first to get all the food/drink/fun Los Angeles has to offer.
Jeff Miller will see you back on the field this weekend. See HIS Instagrams (which didn't make this list) at @jeffmillerla or yell at him to check yours out at @thrillistla on twitter.