Does your LA 'hood suck? An exploration.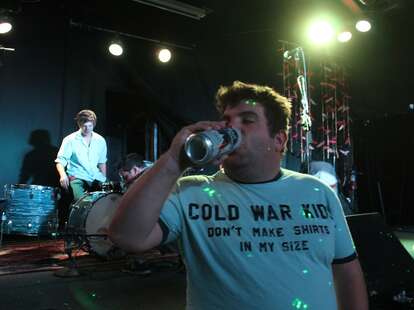 Complainers often deride LA as a city without a center -- a collection of neighborhoods tied together by a series of sometimes-unmoving freeways. Living here, people clearly take that to heart -- when was the last time your friend in Santa Monica went East of Lincoln, amiright? But it's not just Westsiders who consider their neighborhoods sacred ground -- everyone has pretty entrenched opinions. Here's what everyone else is saying behind your back, about the neighborhood you hold so dear to your heart
Downtown: You moved to LA from NY, Chicago, or SF because you heard the weather was great, but then once you got here you decided you weren't comfortable with having "space" or actually seeing the sun, so you moved Downtown to an overpriced "loft space" that's actually just a studio apartment because you missed living in a "real city". Enjoy that hobo poop outside your door
Silverlake/Los Feliz: Your 2yr-old's Ramones onesie doesn't hide the fact that you have a 2yr-old. Also, you're at the age when you need to realize you're never gonna make any real money being an artist. Time to get a job, sir
Echo Park: Yes, the tacos are delicious, but how would you feel if you were a hard-working Mexican immigrant who finally was able to afford his own place, only to be displaced by some dude who is really good at making coffee and owns, like, 14 Fender Mustangs? Do you feel good about yourself now? You shouldn't
Highland Park: Will be Echo Park five years from now.
Beverly Hills: If you don't spend all your days wondering what's going to happen when the 99% finally realize that this few square miles is where, like, most of the 1% actually live, then you are living in total denial. Also, you're probably 76 years-old, so you're probably not reading this anyway, because what's a computer? And who are those youngsters on your lawn?

Mid-Wilshire/ Fairfax/ Carthay Circle/ Beverly Hills Adjacent: It's easy to get all high-and-mighty about actually being centrally-located in a city with no center, until you realize there are ABSOLUTELY NO FREEWAYS THAT GO ANYWHERE NEAR YOU AND YOU'RE GONNA HIT CRIPPLING TRAFFIC TO GO, LIKE, TWO MILES IN ANY DIRECTION. And walking to The Grove to visit a bunch of chain stores isn't all that special. Also: what is the name of the neighborhood you live in? Oh, right. You don't even know.

Studio City/North Hollywood: Your mom must be so proud of the fact that you're working in TV, but what she doesn't actually know about your job as a PA on The Millers as Will Arnett's coffee-and-bagel bitch won't kill her. If you're lucky enough to have gotten that far up the production chain, that is.

Chatsworth: You're in porn. It's not as glamorous as you thought. At all.

West Hollywood: West Hollywood has a significant gay population, which is absolutely cool. What's not cool is the crazy overpriced weed at the dispensaries there… we've heard. It's seriously 2x as expensive for a dime (again, rumor has it) on Santa Monica Blvd between La Cienega and Highland than it is anywhere else in the city. WHY IS LA's WEED-SMOKING GAY POPULATION BEING PRICE-GOUGED?!
Venice: Either you've got dreadlocks or you're somehow crazy-rich at 27. Or both, in which case, congrats on your startup. Why aren't you living in San Francisco? Oh, right. Their beaches suck.

Koreatown: Either you're actually Korean (in which case, awesome, enjoy all that amazing food!), or you can't speak Korean and you've heard about all this amazing food in your neighborhood, but the menus kind of confuse you and... maybe it's time to order pizza. Again.

Santa Monica: College is over... or is it? Either way, you know that Friday's gonna start at O'Briens, then move down the street to Library Ale House, then end up at the Basement, where you'll wait in line for an hour before seeing some cover band as you desperately try to pick up whatever's left at 145a. And then Saturday's gonna start at O'Briens...

Hollywood: Your friends from Iowa are so impressed you made it to Hollywood. WOW. If only they knew about all the pukey club girls, never-ending club oontz, dudes who still think it's 1987, and nightly helicopter searches.

The South Bay: Bro, we know you're, like, super-happy to be living by the beach, bra, and, like, you've got a ton of amazing new restaurants that're really geared towards those "adults" that live next door, brosephus, but, like, doesn't shotgunning Coors Light ever get old, bro?

Yes, yes, we know we missed some others. So tell us what people are saying about any/all of those places behind their backs in the comments section below.