I Had My 86-Year-Old Grandma Review Lucha VaVOOM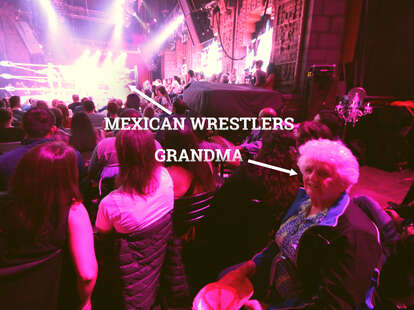 The over-the-top-wrestling-orgy of sexy ladies, masked men, and overall debauchery known as Lucha VaVOOM has long been a you've-either-seen-it-or-what-the-F-is-wrong-with-you proposition. And since nothing is wrong with my 86-year-old Grandma Connie (as you know, she's the best), I decided it was time to bring her into the "you've seen it" camp.
So, last week, I took her on her first-ever trip to the Mayan for one of the craziest nights ever. Check it out -- in quotes:
"You gotta make sure you have proof I was here. Hat forwards or backwards?"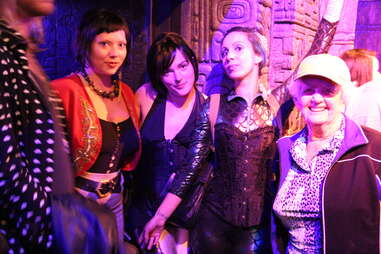 "That one to my right is wearing something so skintight! I'd love to see how she gets into that! I'm sure you'd love to see her get out of it!"
Lucha Pledge: "I solemnly swear that I will not believe what I see tonight!!!" (Spoiler alert: she didn't.)
"That hurts! That's an ouch, for sure."
"I'm in love with the masks! These guys are real acrobats."
"I wasn't sure if that was a man or a woman. Not that it matters. Great makeup!"
"Ooh, I gotta get a picture of this girl!"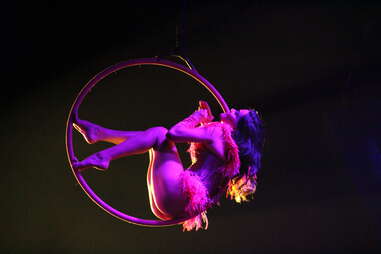 "How does she do that? I get a nosebleed if I'm up that high."
"These costumes are marvelous. Just plain MARVELOUS!"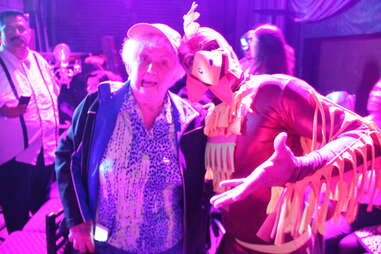 "He was really nice. But he was schvitzing all over!!!"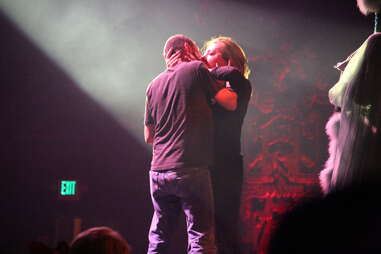 "Your Grandpa and I used to kiss like this. The problem was, he couldn't stand for five minutes after."
"I didn't like the ladies wrestling the man. There should have been more ladies. And they should have either been very ladylike, or huge and muscular."
"Many years ago our friend Jay was visiting. He was prim and proper and your Grandpa and I took him to a burlesque show, I don't remember where. He was so embarrassed. He turned bright red. I liked it, though!"
"I think I gotta get a mask before I leave. Should I get this one?"
"Oh, I'm definitely getting this one."
Sign up here for our daily LA email and be the first to get all the food/drink/fun Los Angeles has to offer.
Jeff Miller's Grandma is so much cooler than yours. You can argue about it with him at @jeffmillerla on Instagram and @ThrillistLA on Twitter.