At some point, your least favorite relative (hi, Aunt Liz!) is going to visit, and they're going to force you to take them to one (or many) of LA's tourist attractions... some of which are kind of horrible, and some of which are actually kind of not so horrible.
Well, this guide should help -- it ranks them all from worst to least-worst, plus hooks up helpful hacks to make even the best of them suck way less.
Recommended Video
Tuna Eyeball with Timothy DeLaGhetto and Ben Sinclair
11. Hollywood & Highland/Walk of Fame
You'll be assaulted by people in Batman outfits, forced to look at platitudes from Hollywood stars, and have to walk down Hollywood Blvd... where you'll be asked for change from people who actually think they ARE Batman.
How to make it suck less: If you schedule your trip around a premiere or WoF dedication, you can get your relatives' "Where can we see a celebrity?" questions out of the way early. Or you can ignore their questions, and avoid both of these at all costs.
10. The Hollywood Sign
Everyone wants to see it. But then, what's next? Nothing. Nothing is next.
How to make it suck less: You can hike to a pretty awesome spot behind the sign, which isn't quite what your family is expecting -- but they're all idiots, so who cares.
9. Third Street Promenade
It's not so much that it sucks, it's more like, what's the point? It's a mall... it's crowded... it's outdoors... and that's kind of it. A crowded, outdoor mall (and yeah, there are a few of those on this list).
How to make it suck less: Thankfully, the attached & also outdoor Santa Monica Place is both less crowded and less chain-y. The restaurants there range from good to very good, but the pro-tip is to people-watch from above at Sonoma Wine Garden.
8. The Grove
Another outdoor mall, only this time, they'll be looking for a celeb thanks to EXTRA constantly shooting there.
How to make it suck less: Let 'em watch Mario Lopez do his thing while you have a drink next door at the mellow-and-awesome bar at the Farmer's Market.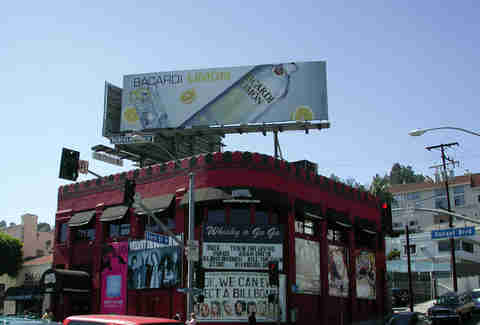 7. Sunset Strip
Sure, in 1988, any music-minded visitor could just bar-hop on Sunset to conceivably see one of LA's best up-and-coming bands. But these days, that action is in Silverlake or Echo Park, despite every tourist's insistence on hitting one of the Strip's iconic clubs... which can be totally hit-or-miss (okay honestly, there are a lot that are all 'miss').
How to make it suck less: Beloved local promoters Goldenvoice recently took over booking The Roxy, which means shows there are far more consistent than they were just a year ago. It also doesn't hurt that it's down the street from great restaurants like Gorge and great bars like Pearl's, either.
6. Venice Beach
Depending on what day of the week you head to Venice, it's either going to be a s-show or an absolute s-show. As a local, there's only so much excitement you can get from people-watching muscle men, dudes trying to sell you their terrible hip-hop CDs, and women in bikinis trying to get you to apply for a "medical card".
How to make it suck less: First, parking: suck up the couple-bucks-more it costs and park at the very end of Washington. Not only is it close to the boardwalk, but it's an easy-out and less crowded than the other public lot at the end of Venice. Second: the thing that's easy to forget about Venice Beach is how great it actually is to be on the beach itself, so bring a towel & a book and let your friends do their thing while you actually sit in the sand for once. Third: rent bikes (or bring bikes) and pedal to the Santa Monica Pier, which is closer than you think and has a seriously fun roller coaster.    
5. Universal Studios
We're getting into the not-really-sucky-but-just-kind-of-a-bother zone here, 'cause Universal -- with its Back to the Future courtyards and Transformers rides and silly Jaws effects -- can be super fun if it's not slammed, which is the key. When the park's crazy-crowded, lines can be interminable.
How to make it suck less: This probably isn't breaking news, but get to the park early and do the tram first. It's all the way in the back, so most tourists will dilly-dally before making it over there, but it takes the most time both line-wise and ride-wise.
When it's time for lunch, don't eat in the park -- once you're in, they'll let you in-and-out, which is all the more reason to take the tram down to Lankershim and walk to, uh, In-N-Out. And speaking of that tram, it basically starts at the Metro station there... which we're not saying you should park at illegally, but uh, yeah.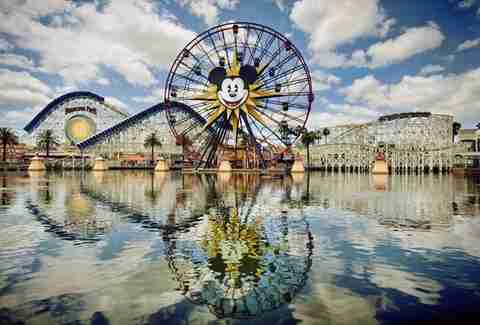 4. Disneyland/California Adventure
Clearly we love Disneyland, but we're not going to deny the immense frustration from when you've been in line for four hours for a 30-second ride. Yeah, that sucks.
How to make it suck less: Three words: single. Rider. Line. Unless you're traveling with a super-little kid or your Aunt is super-high-maintenance, single rider lines are the best thing about Disney. You wait in them together for a small percentage of the normal line time before riding separately, but SOMETIMES EVEN ON THE SAME TRAIN. Often, a two-hour wait becomes 10 minutes. Believe.
3. Griffith Park Observatory
The Griffith Park Observatory is not actually a bad place, it's just a little meh. It was featured in a James Dean movie (so your cousins will want to see it) and the view is still awesome, but getting there -- and parking -- is always a pain.
How to make it suck less: Though they did away with the heady, Pink Floyd laserium shows a while ago, the Planetarium has four science-based interactive seminars that'll still make your head spin... especially if you've, uh, decided to go in on that "medical card" at Venice Beach.
2. The Getty
Other than parking, the Getty's actually alright. Sure, it's a somewhat-boring art gallery, but they've got wine, really cool gardens, and that amazing view again. And admission is free, which totally doesn't suck.
How to make it suck less: Their ultra-free concert series, "... Off The 405" (sometimes it's Fridays, sometimes it's Saturdays, so check our master calendar), is always booked with artists you'll dig, so timing a visit around those shows means even more to do... which is more bang for no bucks.
1. The Hollywood Bowl
Long regarded as one of the best live music venues in the country, virtually nothing sucks about the Hollywood Bowl: the programming's great (even when it's classical music, it's got a conductor who's basically a manic savant conducting), the weather's always perfect, and you can BYOB and food. Yeah, The Bowl rules...
How to make it suck less (... except for parking): Though now that rideshares exist, that's a beatable problem: find a spot in a non-blocked-off neighborhood a mile-or-so away from The Bowl (go East of Vine or West of La Brea and slightly South, or Studio City), and take a car to The Bowl. When it's time to leave (this is key), walk ALL THE WAY DOWNHILL to Hollywood, and make a left or right to avoid all the Bowl traffic/avoid an uphill hike before calling your pickup. Bam: you spent as much money as you would have to park, and avoided the stack. 
Jeff Miller is Thrillist LA's Senior City Editor and he goes to The Hollywood Bowl kind of a lot. Follow him on Twitter and Instagram.