Making all those aspiring actors working in coffee shops wayyyyyyyyyyyy more useful, LA goes hard in the paint for Halloween with the country's most ludicrously scary, legitimately awesome Oct 31st attractions. We went to them all, changed our underwear a bunch, and settled on this list of your scariest options.
When: Fri-Sun through November 2, as well as October 16, 23, and 30
Where: Universal Studios Hollywood, Universal City
What: Long considered the gold standard of LA Halloween events, Universal has a leg up no one else does: it has the licenses for its scariest pop-culture properties, which means this year includes a new state-of-the-art Alien vs. Predator maze with an insane ending, a recreation of all of From Dusk 'Til Dawn, and a Walking Dead experience that perfectly captures everything that happens on the road to Terminus, other than, y'know, CAAAAAARRRRLLLLL.
It's so scary that... you'll be tempted to remove The Walking Dead from your DVR and then be all like, nah, that's never happening.
When: Fri-Sat through November 1 starting October 4, also including October 26
Where: Jan's Marketplace, Thousand Oaks
What: This massive, singular maze succeeds for almost the exact opposite reason Halloween Horror Nights does: instead of being staffed with all pros, this scrappy-but-horrifying haunt is volunteer-only, which has meant that -- for 15 years -- enthusiasts have been checking out all the other games in town and then bettering them here. Expect literal chills (they control the temperature room-to-room, meaning that the terrifying refrigerated meat locker is actually refrigerated) as well as a spinning tunnel that'll confuse the hell out of you.
It's so scary that... you'll forget you're in a mall, above a Gold's Gym. Seriously.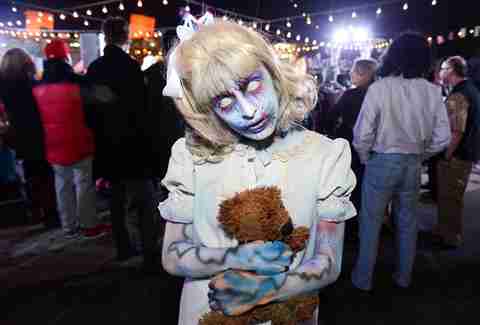 When: Thur-Sun through November 2, as well as October 29
Where: The Queen Mary, Long Beach
What: This effects-laden haunt has monstrous flames, head-spinning oddball twists, and the utilization of one of the most famous "actually haunted" spots in the world, thanks to the notoriously spectre-laden Queen Mary. This year, they've added three new mazes (including one that puts the action in a formal dance from the '30s and another based on a supposedly-true story of a guy who hacked himself to bits in one of the rooms), and "Encounter," which is a separate-ticketed maze that also gets you a behind-the-scenes tour of the ship itself.
It's so scary that... that's it. Seriously, it's SO scary.
When: Thur-Sun through October 31, as well as October 29
Where: The Old Zoo, Griffith Park
What: The people behind The Great Horror Campout return to Griffith Park for one of LA's most epic Halloween events -- since you're stuck on an actual tractor for the ENTIRE thing, it means there's really no running away from ghouls/spectres/clowns. Yep. God damn clowns. The special effects are always top-notch (look out for the birds!), and this year they've also dropped an insane new asylum attraction called House of the Horsemen, which promises "Pestilence. War. Famine. And Death. Stand before them in judgement." Uh, nope!
It's so scary that... NOPE!!!
When: TBA
Where: TBA (except October 31 at the Forum)
What: This notorious scare zone focuses on the psychological willies, which means instead of dudes in rubber masks jumping out at you and screaming, you're required to sign a waiver saying you're OK with people touching you/nudity/claustrophobia/being asked to perform gross tasks. You can guess what happens next.
It's so scary that... there's no way you're not bringing it up with your therapist. Or getting one.
When: Thu-Sat October 17-November 1, plus October 26
Where: Secret location, revealed with ticket purchase
What: It's like some dudes went to Blackout and were like, "nuh-uh, not quite scary enough", and then decided to do their own. Yep.
It's so scary that... your therapist will need... a therapist.
When: Thur-Sun through October 31, as well as October 22 and 29
Where: Knotts Berry Farm, Buena Park
What: Definitely the biggest scare attraction in town (since they use the whole park), Knotts' mazes are sometimes odd (there's one based on Pinocchio, which is actually creepy, and one based on Edgar Allen Poe's stories mixed with, uh, EDM, which... isn't), but this year's new feature totally makes it worthwhile: a zombie scenario role-playing game/maze called Special Ops that's kind of like adult laser tag, with a next-level gun (it cocks!) and, uh, ZOMBIES THAT DIE WHEN YOU SHOOT THEM IN THE HEAD.
It's so scary that... watching that scene in Raiders of the Lost Ark where the dude's face melts the F off on repeat for the rest of your life doesn't actually sound that bad in comparison.
When: Wed-Sun through November 2
Where: 2323 Beverly Blvd; MacArthur Park
What: After last year's kinda-not-so-good Purge-themed maze, the dudes behind the movie decided, hey, what if we put people in a scenario where they have to figure out how to escape from a dude holding them hostage to kill them IN the Purge? And what if they then had to get through a much-better maze/game, where you work with your teammates to first get out of a cage -- and then figure out where keys, codes, and more are to beat the clock out.
It's so scary that... you'll have to remember MIDDLE SCHOOL MATH to complete it. AHHHHHHHHHHHH!!!!!!!
When: Thur-Sun through November 2, as well as October 22 and 29 (more dates TBA)
Where: The Fitzgerald House, W Adams
What: This event was a total game-changer when it debuted a few years ago -- a fully-interactive, horror movie-type scenario takes place around you, with special effects that rival anything you've seen onscreen. In the past, people have flown, been yanked across rooms, and walked on ceilings, thanks to a creator who's done tons of time on-set. This year's already sold out, but they're hinting that more dates'll be announced soon, so keep an eye out at that link above.
It's so scary that... have you ever seen In The Mouth Of Madness or The Shining or The Conjuring? Yeah. That scary.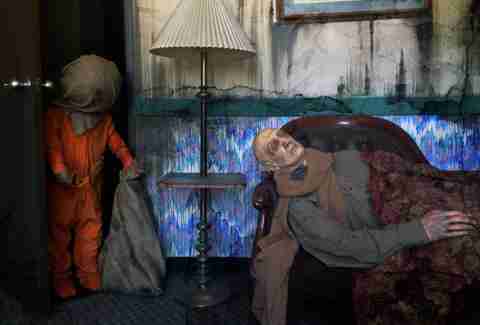 When: Fri-Sat through November 1, as well as October 21
Where: 131 E Imperial Hwy, Fullerton
What: The OC's kinda-year-round-haunt (they reinvigorate and change themes seasonally) is doing an all-new scare zone for the 'Ween, based on the "Bloody Mary" story of how some crazy person kills you when you say their name in the mirror three times.
It's so scary that... seriously, just look at the little dude in the orange jumpsuit pictured above!
Sign up here for our daily Los Angeles email and be the first to get all the food/drink/fun LA has to offer.
Jeff Miller is Thrillist LA's Senior City Editor and is obsessed with Halloween. Let him know what else he should hit this year at @thrillistla on Twitter and @jeffmillerla on Instagram.