In Memory of Vin Scully, 16 Things You Didn't Know About the Legend
The greatest broadcaster of all time passed away this week, these fun facts will help you remember him fondly.
In the summer of 1958, the soundtrack of LA's summer included The Everly Brothers, Elvis, Perez Prado, and Vin Scully. In 2016, it was Rihanna, Adele, YG, and Vin Scully. For 67 summers, Scully was the voice of the Dodgers, starting in Brooklyn in 1950 and ending in Los Angeles when he retired in 2016. On August 2, 2022, Vin Scully passed away at the age of 94. With his death, millions of Angelenos lost an essential pillar of the city, a walking history book, and a surrogate grandfather.
When the Dodgers won the World Series in 1959, Scully was on the mic. He called Koufax's perfect game, Kershaw's no hitter, Kirk Gibson's Home Run, and Madison Bumgarner's crazy snake/rabbit situation. Scully was there when Hank Aaron broke Babe Ruth's all-time Home Run record, he was on the radio when your cousin nailed himself with a bottle rocket at the cookout, and it was his voice that floated out of the speakers as I drifted off to sleep in the back seat of the family car on the way home from the beach.
Scully lived an extraordinary life, with an unmatched roster of stories and a truly magical way of telling them. He also knew exactly how to use negative space, to step away and let the roar of the crowd in the background say what needed to be said.
Before one of Scully's final seasons—his 66th, in 2014—we put together a list of fun facts and anecdotes about Scully and his career. Here are those facts, with a few updates:
1. Vin once raced against Jackie Robinson
A native New Yorker, Scully grew up ice skating and has boasted in the past that he "could skate". In the early 1950s, while announcing for the Brooklyn Dodgers, he invited Jackie Robinson to join him for an evening skate on a rink in the Catskills. Jackie, having never skated before, challenged Vin to a race... which he probably lost, because again, Vin "COULD SKATE".
2. He was responsible for player names returning to the Dodgers' home jerseys
When Frank McCourt took the names off the back of the Dodgers' home jerseys in 2006, it was Vin Scully who lobbied to get them put back in 2007. Scully requested that the jerseys include names so that he could learn the names of all the new players. "When Vin Scully asks for something, you have to give it to him," McCourt told MLB. "So starting in 2007, the names will be back."
3. ​Vin once asked Dodgers fans, live on a broadcast, "What's a hashtag?"
God bless him.
4. Up until 1995, Vin owned all of the Dodgers Championship Rings except one
Vin was given a Championship Ring for each of the team's five World Series championships in LA, but didn't receive one for the franchise's World Series victory with Brooklyn in 1955, because only "uniformed personnel" got those. Decades later, Tommy Lasorda's wife, Jo, met a man at church who had worked for the ring manufacturer and was still in possession of the mold for the '55 ring. Upon hearing this news, the team's owner at the time, Peter O'Malley, paid to have two new rings made: one for Tommy, and one for Vin.
5. The Hall-of-Famer did his own extensive research for the stories he told on air
Scully did interviews and read extensively, clipping out stories about players throughout the years and jotting down notes on index cards. He also kept a media guide for each team, a yellow highlighter, and his trusty, leather-bound scorebook handy—an old-school, custom-made tool of the trade he used for more than four decades.
6. It was football, not baseball, that provided Vin his career breakthrough
Still a student at Fordham University, Vin got his break after impressing legendary Brooklyn Dodgers announcer Red Barber, then the Sports Director of CBS Radio Network, while doing play-by-play for a college football game at Fenway Park in November of 1949. With no room for him in the press box, Scully had to call the game while sitting at a card table on the roof in the frigid cold. Despite not having his coat or gloves with him, Vin never mentioned the conditions during the broadcast. Boss.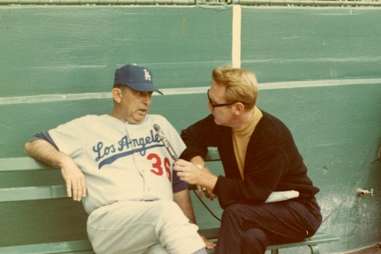 7. Vin was the youngest announcer to call a World Series
Red Barber bowed out of the 1953 World Series due to a salary dispute with sponsor Gillette, and the then-25-year-old Scully became the youngest broadcaster ever to do a World Series game (a record that holds to this day). Before calling his first World Series game, he was so nervous that he threw up. While on the air, he questioned an umpire's call, and on the drive home felt so badly about it, he nearly threw up again…
8. Vin called "The Catch," perhaps the NFL's most memorable play
While he's known for his iconic baseball calls (Kirk Gibson's dramatic homer in the '88 World Series, Bill Buckner's infamous error which led to the Mets winning the '86 World Series, Sandy Koufax's four no-hitters, and Henry Aaron's 715th home run), few know that he also made the call on what may be the most famous football moment in NFL postseason history: Dwight Clark's touchdown catch in the NFC Championship Game on January 10, 1982, made in his final NFL telecast for CBS.
9. Vin once played college baseball vs. President George H.W. Bush
Scully played centerfield for the Fordham University Rams baseball team, and was the leadoff hitter for a game in 1947 against Yale and then-first baseman (and future US President) George H.W. Bush.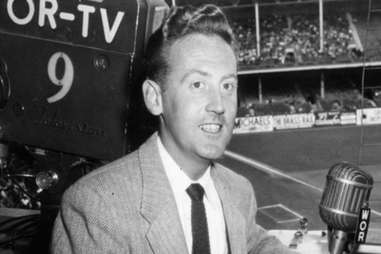 10. Vin once hosted a game show on NBC
It Takes Two ran from 1969-70, wherein three celebrity couples competed by answering a series of questions.
11. Vin's dream job if he didn't get his real dream job? A song and dance man (if that were still a thing)
A member in a barbershop quartet in college, he once sang "Take Me Out to the Ball Game" at Wrigley Field and danced on a Dodgers promotional video.
12. The most famous and beloved Dodgers figure of all time's two favorite players are... Giants?
Proving nobody's perfect (he was so close!), Scully has -- on multiple occasions -- said the best player he ever saw was Willie Mays (a New York and San Francisco Giant), and his favorite player growing up was Mel Ott --also a New York Giant.
13. The umpires saluted him before every game
Vin always prided himself on being friendly with the umpires. At one game, Crew Chief Bruce Froemming and his fellow umpires turned and doffed their caps to him in the broadcast booth. The moment was captured by Dodgers photographer Jon SooHoo, and ever after, umpire crews acknowledged Vin at the beginning of every series.
14. Vin has two streets named after him, one in LA and one across the country
In 1982, the Dodgers honored Scully by naming a street running through their once-famous Spring Training residence—Dodgertown in Vero Beach, FL—after him. The very modest Scully declined requests to name a street near Dodger Stadium after him for many years, but in 2016 the stretch of road between Sunset and the stadium was renamed Vin Scully Avenue in his honor.
15. He was a treasure trove of knowledge on Twitter, even after he retired
Despite some early faux pas, Scully eventually embraced the platform and became an expert at it. He shared 70-year-old stories with better clarity and more focused details than many of us could tell from last week, kept up with the current teams, chatted with other celebrities, and was just a genuinely lovely presence on the site.
16. His final sign off as a broadcaster was perfect
Just go watch it.
Stanley Brooks is an Emmy-winning producer and director of the feature film "Perfect Sisters", as well as the founder of The Hollywood Indies Little League, a non-profit dedicated to bringing little league baseball to South Los Angeles; he's also been a Dodgers season ticket holder since 1964.
Ben Mesirow
is an Echo Park native who writes TV, fiction, food, and sports. At one time or another, his writing has appeared in The
LA Times
,
Litro
,
McSweeney's Internet Tendency
,
Los Angeles Magazine
, and scratched into dozens of desks at Walter Reed Middle School.