15 Things You Never, Ever Knew About Dodger Stadium
They call it Blue Heaven.
It's home to Vin Scully (best announcer ever), Sandy Koufax (best pitcher ever), Clayton Kershaw (on his way to best pitcher ever), Dodger Dogs (not the best hot dog ever, but good), and, oh, four big-ass World Series banners. It's the third-oldest stadium in the country, seats the most people, and according to Instagram, is the second-most Instagrammed spot on EARTH. In other words, it's easily one of the coolest places in LA. So, this MLB Opening Day, let's get to know the home of the 2015 World Champion Los Angeles Dodgers (CALLING IT NOW!!!).
Here are 15 things you had no idea were a thing at Dodger Stadium, all of which'll make you love it all the more. (P.S. Giants suck.)
There's a hidden Japanese garden behind parking lot 6
The legend goes like this: when Dodger Stadium opened, famous Japanese sportswriter Sotaro Suzuki was so amazed by the new stadium he commissioned a Japanese garden built -- complete with wooden bridge, rock garden, and a stone lantern -- in the hills beyond the right field pavilion. The garden, which dates back to 1965, is now gated off and has fallen into disrepair over the last decade (thanks McCourt!) but the stone lantern remains. Rumor has it you can even see its light shining during night games.

The stadium has its own ZIP Code
Back in 2009 the USPS made Dodger Stadium the first-ever sports stadium in the country to have its own ZIP Code (90090), probably to handle the massive amounts of hate mail addressed to Frank McCourt. Interestingly enough, the ZIP Code area is officially designated as Dodgertown, USA, a term which fans are required by law to say in the voice of an old-timey 1930s radio announcer.
Grilled Dodger Dogs FTW
Wait... grilled? Not steamed? Yep. Seek out the way-more-flavorful char-grilled Dodger Dogs, which're only available at the stand right behind home plate on each level.

The Pope once held mass there
When PJP2 (Pope John Paul II) came to town in 1987, there wasn't a church big enough to hold the swarms of Catholic followers who came to cheer on his Holiness. So mass was held at Dodger Stadium for 63,000 attendees, still the stadium's largest crowd ever. Even weirder, they let Ricardo Montalban co-host, and thankfully he. Didn't. Try. To. Kill. The. Pope.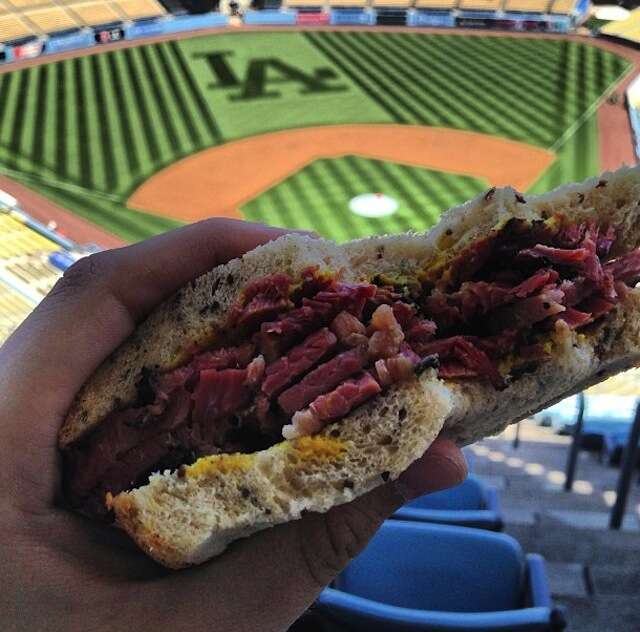 You can eat lunch at Dodger Stadium when there's no game
On any day there isn't an afternoon game, go to the stadium's main gate and tell them you want to visit the team store. Drive up to parking lot P, park, walk right past the store through the open stadium gates, and take a seat in the upper deck overlooking a completely empty Dodger Stadium. Don't worry, security isn't going to tackle you. All this is totally legit. Just unwrap the Langer's pastrami sandwich you brought with you and enjoy the view, with no one there to bother you.

Nancy Bea Hefley is one of the last remaining organists
Most baseball stadiums no longer have live organists, which shouldn't surprise anyone, but one of the few exceptions is keyboard queen Nancy Bea Hefley, who has been rocking the pipes at Dodger Stadium since 1988. Though she plays less than she used to, you can still hear her iconic melodies and cheeky audio puns played before and after each game, during "Take Me out to the Ballgame," and when a new pitcher comes in, which beats the hell of whatever lame Pitbull track most stadiums blast.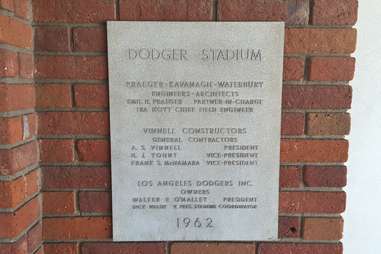 There is a time capsule buried in the top deck
When the zombie apocalypse finally hits, you can rest assured that one piece of Dodger Stadium history will remain untouched. In 1962 the team buried a time capsule filled with memorabilia from the 1959 World Series (and Dodger Stadium's first-ever opening day) behind a metal plaque in the Top Deck. If you want to find it, just look for the penny-crushing souvenir machine -- it's right next to it.
The stadium's design was inspired by Tomorrowland
Architecture buffs know that Dodger Stadium is one of the largest examples of mid-century modernism in the country, and that's due to the sweet, streamlined design envisioned by chief architect Captain Emil Praeger (cool name) and then Dodgers owner Walter O'Malley (notsomuch). Rumor has it that old man O'Malley was so blown away by Tomorrowland at his buddy Walt Disney's park (the old Tomorrowland, BTW, not the current Jules Verne steampunk version) that he incorporated similar futuristic touches into his own "destination park." He ended up having to scrap his dream of monorail trams though (seriously).

The best way to bring in food? The Chego Maneuver.
Philippe's, Mexicali, Eastside Market Deli -- these are all great places to pick up food before a game (saving your precious money for $11 beers at the game). But the Home Run King of them all is Chego, which offers a deal breaker... CURBSIDE PICKUP. Here's the move: drive North on Hill St and pull up outside Far East Plaza to pick up your pre-ordered food. Then, head one block East to Broadway and go North to Solano Ave, then turn left. This will lead you to the totally under-used Academy Gate, which is way less gridlocked than any other entrance. Roy Choi Rice Bowls + Parking in Less Than 10 Minutes + Dodger Baseball = Magic.
There have only been 17 rainouts since 1962
Even more crazy, from 1962 to 1976 the Dodgers were rained out only once. Then from April 1988 until April 1999, there were wasn't a single rainout (for 11 years!). It's still a major league record.

Except, once, the stadium TOTALLY FLOODED
Remember how we just said it doesn't rain at Dodger Stadium? Well, except that one time it did... a lot. In 1965 the entire stadium turned into a giant lake due to a massive rain storm that flooded both dugouts, the field, and the first couple rows of seats. And, yes, they made the batboy go swimming to save the team equipment.
The world's most famous Peanut Man works there
Roger Owens knows how to throw his nuts around. For 57 years, the most famous vendor in Dodger Stadium has been tossing bags of peanuts with deadly behind-the-back accuracy, flashy showmanship, and lots of corny Dad jokes. He's been on countless TV shows and had a book written about him, but he's still out there every game slanging sacks. We once saw him clear 30 rows of seats with a single throw, no joke. Even more nuts: Dodger Stadium has FOUR OTHER peanut vendors who also have been working for 57 years.
The high five was invented there
It's October 2, 1977, and the Dodgers are battling the Houston Astros late in the season. Left fielder Dusty Baker (yes, that Dusty Baker) is at-bat, cracks a booming home run to help the Dodgers retake the lead, and as he rounds the bases with the crowd going nuts, his teammate Glen "King Kong" Burke runs up from the dugout, throws his palm up in the air to meet Baker's and then... *EPIC HAND SLAP*. The first high-five ever recorded. The world of bros hasn't been the same since.
You can get married on the field
$5,000 rents you home plate for the ceremony. $25,000 gets you the whole field. Or, if you feel like proposing during a game, you can pay $75 for a personalized message on the scoreboard banner, or shell out $2,500 to have the entire down-on-one-knee thing broadcast live on the Jumbotron.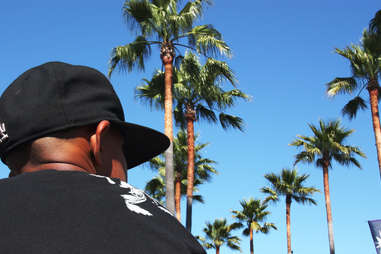 Even the palm trees are famous
No Dodgers TV broadcast is complete without a few gratuitous palm tree shots, especially the iconic "Three Sisters" -- a three-pronged trio of trees that sits behind the left field bullpen. The trees were actually uprooted and moved in 2014 to make room for bullpen renovations, but they were put back in their original location, where they're now standing as tall as ever.
Sign up here for our daily LA email and be the first to get all the food/drink/fun Los Angeles has to offer.
Garrett Snyder is a freelance writer and aspiring sabermetrics whiz based in Los Angeles. He's been a Dodger fan since moving to LA a decade ago, and still believes in Juan Pierre. You can find him on Twitter and Instagram @G_sny.