I Went to LA's First-Ever Stoned Gamer Championship Tournament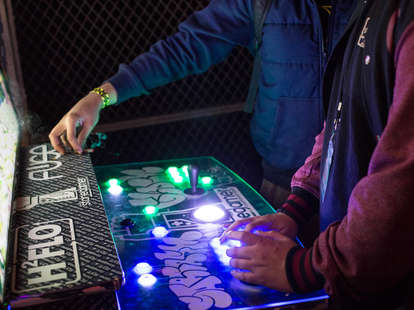 Dan Gentile/Thrillist
Dan Gentile/Thrillist
Spoiler alert: Four hours into the first-ever Stoned Gamer championship, I come down with a terrible case of cottonmouth. So like a normal person, I buy a "regular" water. But that's not what the gamers here drink -- each e-athlete hydrates with a free bottle of cannabis water.
As a writer visiting Los Angeles from Austin, I don't expect water to get me stoned. Sure, I smoke regularly (sorry Mom!), but the marijuana economy I know is confined to a friend's living room. LA may as well be another planet when it comes to cannabis, and there's no better way to acclimate than spectating at the world's first-ever professional weed video game tournament, which happened this past Saturday at an undisclosed location in DTLA.
Since, uh, just going to the world's first stoner video gamer tournament wouldn't be quite ridiculous enough, I also decided to follow around Angela Mazzanti, a competitor who is also a Suicide Girls-style model with 343K Instagram followers.
Honestly, going into it I definitely thought this thing would be a joke.
And when I walked in, I realized that to some extent, this event is the absolute stoned ceiling of stereotypes -- but with surprisingly professional polish. The 16 qualifying events blatantly broke the law, and last Saturday's championship was the first since California's vote on legalization. Depending on your point of view, it's a joyous celebration of personal liberties or a parent's worst nightmare.
Either way, it's definitely not a joke.
The industrial two-story warehouse venue in Downtown LA hosting The Stoned Gamer Grand Finale reminds me of the Foot Clan hideout in the original Teenage Mutant Ninja Turtles movie, except with suited security guards and a staff checking medical marijuana licenses. An EDM DJ provides the soundtrack while hundreds of "patients" browse a trade show's worth of edible companies, sampling everything from THC donuts to CBD body oils. Naturally there's also figurative buffets of "flower", the industry term for good ol'-fashioned herb. Console games project throughout onto a huge screen, plus there's an old-school stand-up arcade room. A concession stand staffed by a cute girl in a cut-off T-shirt that reads "Weed, Pizza, and Boys With Tattoos" serves, you guessed it, pizza. These "regular" slices are lukewarm, but upstairs a booth serves freshly baked pies... with weed in them.
A sample bong rip of Pot Rocks-branded flower makes me feel like a stranger in a stoned land, but for Angela these types of functions are weekly occurrences. Heavily tattooed, rail-thin, with a wide, friendly smile, she uses social media savviness to build her career as a weed industry professional. She even organizes her own charity event called Compassesh, which collects donations for local food banks and Toys for Tots.
Today she's one of 64 e-athletes competing for a treasure chest full of enough "medicine" to stay "perfectly healthy" for a year. Titles like Counter-Strike: Global Offensive and League of Legends dominate professional online gaming, but the Stoned Gamer tournament goes decidedly old-school with a championship of Marvel vs. Capcom 2 -- the 2000 Dreamcast game that combined canonized characters from the Street Fighter franchise and comic heroes long before they dominated box offices. Gameplay looks visceral and a bit cerebral, with the right combination of luck and strategy, plus enough 20-year-old visual fireworks to look great on a 10ft projection screen.
"I feel that it's very important to treat this as an actual sport," says Zeus, the founder, emcee, and Shutter Shades-wearing organizer of the tournament. He equates gaming to MMA, in that you build champions, challengers, and an entire fight culture. Stoned Gamer is making a DIY grab at a slice of the $252 million dollar yearly e-sports pie, which many gamers obviously believe is best enjoyed baked.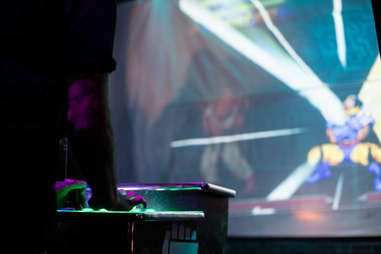 Watching others play video games isn't always exciting, but at times Marvel vs. Capcom makes for legitimately great entertainment. Close matches draw cheers while Zeus barks commentary into a mic. The most skilled athletes pick characters based on their specific strengths. Cable excels at keeping opponents pinned with long range firepower, Doctor Doom dominates air combat, and Guile's powerful ground attacks can knock out opponents in one swift sonic boom. Special moves explode with the most eye-grabbing graphics 1997 had to offer, and despite the fact that I've never really played this game, I find myself cheering along.
The rest of the crowd skews millennial, but to its credit includes a spectrum of races, demographics, and levels of social (or just plain stoned) awkwardness. As this rapidly growing tribe steps out of the shadows, businesses see an opportunity. Throughout the event, Angela interviews a handful of growers, gamers, and even CEOs. One of the more composed interviews features the staff of Toke With, a streaming video app that connects solo stoners with friends. The founder speaks about how legal restrictions lead to isolation, and his service offers a safe space to be yourself and medicate.
There's no doubt that the gaming stage serves as that type of safe space. Comically large joints circulate and some players "medicate" with powerful hits of hash oil before stepping to the controller, but when Angela grabs the joystick she's stone sober. Maybe the lack of performance-enhancing drugs handicap her, though: She loses her first round match in a blowout. She's eliminated, but as another gamer named Stoned Monkey tells me, everyone here is a winner.
With Angela out of the tournament, it gives me time to hang out before the finals. I'm like a kid who broke the lock to the candy store -- I feel a little guilty, and can't decide what to eat first. I'm also scared of blowing my assignment by eating too powerful a brownie (aka pulling a Maureen Dowd). Thankfully the vendors take note of my lightweight status and I don't bite off more than my brain can chew.
Everyone manning the booths comes ready with a friendly sales pitch. Chef D, the pizza maker from Papa'z Potionz, explains how he uses the same cannabis extraction formula as cancer-fighting pioneer Rick Simpson. A scantily clad booth girl from Caviar Gold tries to make me sign some kind of waiver, and I awkwardly scurry towards Dr. Red's Apothecary for some free Snickerdoodle fudge samples. Once they kick in I buy that "regular" water, find a couch, and wait patiently to join a FIFA micro-tournament. But before it's my turn I wander to a Mortal Kombat machine for some satisfying button-mashing.
On my next round of snacking I find myself in a fascinating chat with Family First Pharming about DEA raids, but cut the conversation short because it's time for the tournament finale. The championship round is a best-of-five match-up between Real Deal Neal and Zzyzx, the number two and three seeded players. At this point Zeus' voice is hoarse, screaming into the mic like Dick Vital and philosophizing like a blazed Jeff Van Gundy.
"It's you versus yourself, not you versus him. The only obstacle is in your head. You have to conquer yourself," Zeus says before the final round.
Despite the epic build-up, it ends as another one-sided match, with Zzyzx's team of Magneto, Cable, and Doctor Doom sweeping Real Deal Neal in three matches. After hoisting a Stoned Gamer championship chain necklace and a literal treasure chest of edibles, Zzyzx marches off the stage to high fives and hugs.
Although in the end I'm still hesitant to place this type of e-gaming in the same category as traditional professional sports, it's undeniably a serious competition. Zzyzx traveled three hours to play, and who am I to say his stone-cold sweep wasn't a momentous achievement. So like any good sports reporter, I corner him afterwards for a recap interview. And like most athletes, his victory leaves him at a loss for words.
"I can't believe it happened. I'm stoned out of my mind, but I stayed focused. Just where I wanted to be."
Sign up here for our daily LA email and be the first to get all the food/drink/fun Los Angeles has to offer.
Dan Gentile is a freelance writer based in Austin, TX. He'd once again like to apologize to his mother for taking so much "medication." Follow him to more stoner guilt at @Dannosphere.