'South Park': The Interactive Museum Is Now Open in Beverly Hills
The Paley Center For Media
You know all those times you've been sitting in a hazy room, watching South Park, laughing your ass off, thinking, "Man, it'd be awesome to hang with Cartman/meet Mr. Hankey/shake hands with Satan?" Well, now you can (I mean, sorta): there's a massive South Park exhibit in honor of the show's 20th season that just launched at the Paley Center for Media, is totally free, will be there until September 25th, and is mostly comprised of massive 2D and 3D setups that allow you to immerse yourself into the South Park world (and post it on social media, obviously).
The exhibit debuted at Comic-Con in San Diego, and organizers worked with the show's creators to choose some of the most iconic scenes from the show -- and either left space for a person to become a part of it or inserted characters that can be picked up and moved to allow space for you/your friends/Chef to get into the scenes, including: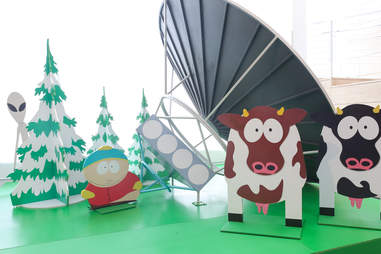 The Paley Center For Media
The very first episode, "Cartman Gets an Anal Probe"...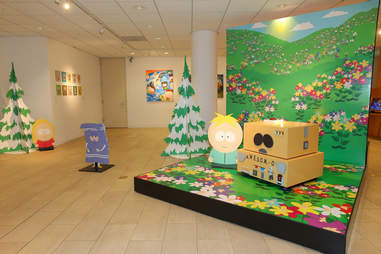 The Paley Center For Media
The Paley Center For Media
Satan's Throne (from a ton of episodes, including "Hell On Earth 2006")...
The Paley Center For Media
The critters from "Woodland Critter Christmas"...
The Paley Center For Media
And, uh, well... we'll let this one speak for itself (yes, those balls are big enough to sit on, for the photo op).
The Paley Center For Media
There are a ton more, as well as "normal" art for people who like that stuff, including cells from the show and surrealist art that's inspired by the show (including one pretty impressive piece that looks like Cartman's face, made from painted sides of books).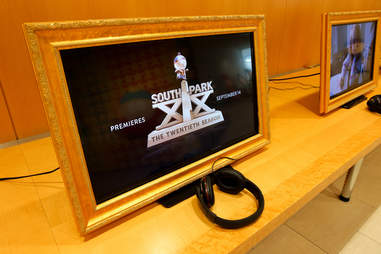 The Paley Center For Media
There's also a movie theater-sized screening room showing classic episodes, as well as these computers where you can choose your own from the entire series, which has been added into Paley's archives -- usually reserved for the most important shows in TV history, which now apparently includes one with talking poo. You bastards!
Sign up here for our daily LA email and be the first to get all the food/drink/fun Los Angeles has to offer.