14 Things You Don't Understand About Glendale (Unless You're From There)
If all you know about Glendale is that the Americana is there, and that there's a Katsuya at the Americana, which is there, then you know... exactly as much as everyone else does about Glendale. Time to change that: here are 14 things you don't understand about Glendale (unless you're from there).
Brand Blvd wasn't always about "brands"
The Hollander Cafeteria, The Lantern Chinese restaurant, Woolworth's Five and Dime Drugstore (with café in the back), and Damon's Steakhouse (still standing!) were here long before the Americana was a bougie glimmer in bougie Rick Caruso's bougie eye.
LINA LECARO/THRILLIST
No matter your age, Moonlight Rollerway feels like high school
And the best night is "Rainbow Night," the LGBT-friendly eve when everyone lets very, very loose.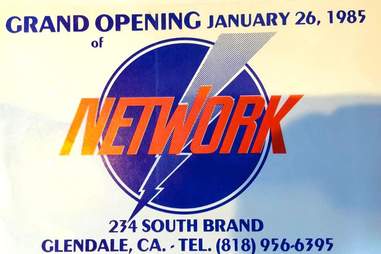 Lina Lecaro/Thrillist
Goths have always had love for Glendale
The venue known as Complex, formerly The Scene, has become one of the best venues for dark sounds in all of LA, but before that opened, the black-clad kiddies flocked to Glendale decades prior to glide about the dance floor at the Network, an (under-21) new-wave nightclub in the '80's, which eventually got shut down to due to neighborhood noise complaints.
 
Glendale was home to some of the most notorious LA serial killers... ever
Cousins Kenneth Bianchi and Angelo Buono, aka the "Hillside Stranglers," made Glendale their home in the '70s. The cousins claimed that most of their 14 confessed murders were committed at 703 E Colorado St, Buono's former upholstery shop, which has since been turned into an auto repair shop.
Lina Lecaro/Thrillist
Dinah's chicken is better cold
Also, pineapple coleslaw FTW.
 
Everyone used to party at Pacific Park
It's now an extension of Thomas Edison Elementary, but Pacific Park (on Pacific Ave) was THE spot for kiddie bashes in the '70s-'90s; falling off the deathtrap merry-go-round there was practically a rite of passage.
Lina Lecaro/Thrillist
There's more to Forest Lawn than remembering your grandma
Like, for instance, music-art gallery shows and speeches from world-renowned scientists. That kind of stuff.
 
There are almost as many Latinos as there are Armenians. Almost.
As anyone who's ever been to Carousel knows, Glendale has one of the largest Armenian populations in the US, but the Latino population is also huge -- nearly 20% of Glendale residents are Latino.
Everyone's a fan of the otherwise sort-of obscure band The Cramps
The legendary punkabilly stompers have lived in town for years, and even now that iconic lead singer Lux Interior has passed, his lady love/bandmate Ivy still remains immersed in Glendale's "Goo Goo Muck."
 
And notsomuch the less obscure band Good Charlotte
Joel and Benji, the GC twins, both lived in town until they got hitched (to Nicole Richie and Cameron Diaz, respectively) -- then moved out, tired of dealing with all the paparazzi and other BS that came along with it.
Our "Galleria" was/is just as cool as the one in the Valley...
Moon Unit Zappa's "Valley Girl" might have touted the mall in Sherman Oaks, but those of us who grew up in Glendale knew that we had everything they did, including totally tubular Contempo Casuals legwarmers. Like omigawd.
 
... and if you want to park at the Americana... just park at the Galleria
Instead of paying the newer mall's fees, locals just park at the free Galleria lot, and walk across, picking up toilet paper or whatever at Target on the way back to the car.
The Alex Theater is just as classic as the Chinese or the Vista
It's been around for 80 years, and before it was a venue for high school graduations, it was where old-school Hollywood stars like Charlie Chaplin had their movie premieres.
 
Chevy Chase -- the street -- was not named after Chevy Chase, the comedian
It was actually inspired by an old Scottish sing-along called "The Ballad of Chevy Chase". #TheMoreYouKnow.
Sign up here for our daily LA email and be the first to get all the food/drink/fun Los Angeles has to offer.
Veteran pop culture/music journalist Lina Lecaro's parents still live in Glendale across the street from Target, providing abundant TP pick-ups on the way to H&M. Follow Lina on Twitter @LinaLecaro.