LA's Great Horror Campout: It's this weekend, and we've got a hookup
Last month, we told you about the all-night, super-terrifying, interactive scavenger hunt/ sleepover party/ live horror movie, Great Horror Campout. This month, we're telling you that OH MY GOD IT'S THIS WEEKEND!! and WE JUST SCORED YOU $60 OFF THE TICKET PRICE!!!!
True story: click here for Friday tickets, click here for Saturday tickets, and make sure to enter "Thrillist" in the Offer Code box above the map for $60 off any ticket (while supplies last, 'natch).
Oh, and in case you want a refresher on all of the amazingness that awaits...
1. It's literally an all-night event
From 8pm-8am, you'll be in a total live-horror zone, with costumed creatures (chupacabra!) and legit sketchy rednecks/child molesters/clowns/anything you've ever been scared of, all of whom have the permission to touch/bag/kidnap/drag you. Seriously.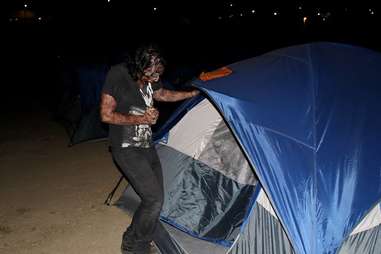 2. Your admission includes camping -- and a tent
Camping (and your tent) is included, with just-added, specially marked tents for two people, and for two zones: the fair-game zone pictured above (available in both two-and-four person tents), and a "yellow zone" that's for people who don't want any interaction with creatures at all/are huge losers.
3. It's not just a bunch of mazes; it's a scavenger hunt
The GHC is filled with "Hell Zones" with different creatures in each, guarding hidden "SCAG" (S**t Campers All Get). To win, you've gotta collect that SCAG, which can mean everything from standing still as a creature breathes horrifyingly in your ears, to dipping your arms into a vat of sticky, warm "blood", to being kidnapped by a dude who drives a van that says "Free Candy" and, potentially, thrown in the trunk of a car. Yes, also seriously.

4. They got extra funding from Mark Cuban on Shark Tank
Last year's event seemed as ridiculous as something like this could ever get, but this year they're using the biggest investment in Shark Tank history to make it even bigger. That means the creatures are even nastier and the scares more ridiculous, with organizers promising a gargantuan creature you need to "milk" to get prizes, a "Blood Tag" game similar to laser tag (but with water guns), and progressive SCAG that takes even more sleuthing to uncover.

5. This year's location? Already haunted.
Instead of a park Downtown, this year they're doing it in the abandoned zoo up at Griffith Park -- also the site of their yearly Haunted Hayride. The location includes abandoned monkey cages, now-still animal pens, and a never-before-explored-by-the-public, super-dark house that the organizers describe as a "house of wax"... um... yeah. Anxious.

6. The food's gonna be pretty great
After a semi-debacle with the food last year, they brought in some big guns: Street/Mud Hen Tavern's Susan Feniger and Kajsa Alger to make sure it's all good. There'll be pasta, burritos, pancakes, and more, included with admission.

7. The prizes mean you have to come back
Winners get a sash and patch that they can wear to future (or other city's) Campouts for special privileges, including discounts, front-of-line action, different zones, and more. So, it pays to get into it... or does it?

8. You can bail out at any time by screaming, "I Want My Mommy!"
Aka, you can be ridiculed by your friends for the rest of your life at any time by screaming, "I Want My Mommy!"
Jeff Miller is the Senior City Editor of Thrillist LA and is most scared of enclosed spaces. And chupacabras. And zombies. He'll be at the Campout again this year, and'll attempt to document it on Twitter at @thrillistla and Instagram at @jeffmillerla.