LA's most nightmarish Halloween attractions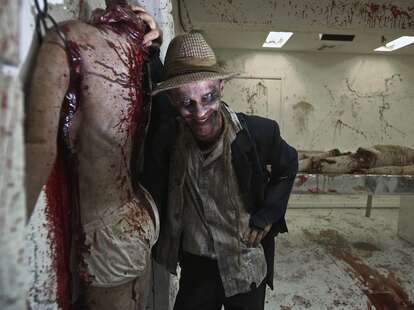 Los Angeles kind of has the upper hand on the rest of the country for ruin-your-pants scares this time of year; venues that put on Halloween attractions can actually hire from the upper echelon of Hollywood costume designers and effects artists, which means a slew of fright-fests that'll leave you with more nightmares than whoever green lit that Carrie remake...
Rob Zombie's Great American Nightmare
Where to find it: Pomona
After years of putting his creative efforts towards Universal's Halloween Horror Nights, Beavis and Butt-Head's favorite trash-horror director's busted out on his own, featuring three separate mazes and a concert each night (acts ranging from a Daft Punk tribute band to Reel Big Fish/Goldfinger... college memories!). Two of the mazes are based on Zombie's movies (with pretty ridiculous effects, including shotgun blasts to the head and scare-people on bungee chords), but the topper's "The Lords Of Salem": a pitch-black maze where you'll be required to walk with a hood over your head (hint: watch out for the electrified walls. Seriously.).
Delusion: Masque Of Mortality
Where to find it: Silverlake
For their third year, the world's first "haunted play" has upped the ante with a new labyrinthine location and a convoluted plot to boot, involving superhuman doctors spreading a worldwide plague in the 1930s. This isn't some sort of seated production, though -- it's more of a choose-your-own adventure, with audience members literally kidnapped mid-show who later become part of the horror... which's got the best effects you'll see this year, including levitating props, walls that write on themselves, and terrifying iconic costumes that you may or may not end up wearing before you leave.
Universal's Halloween Horror Nights
Where to find it: Universal City/ Mid-Valley
Universal's park-wide Horror Nights have long been the gold standard in LA haunts, and with good reason: with access to actual horror properties, they're able to put you literally on-set in the shows and movies that caused your girlfriend to bury her face in your shoulder, and caused you to look for a shoulder to bury your face in. That means a recreation of The Walking Dead's Woodbury (on a part of the backlot that's never been used for these events), and a descent into the hellacious nether regions of Dom DeLouise the Insidious franchise. Downside: lines are CRAZY-long, so to make it worthwhile, you gotta shell out for the front-of-line pass, or you'll just be stuck waiting to be scared all night.
Los Angeles Haunted Hayride
Where to find it: Los Feliz
The production ante's been upped -- highly -- for this year's event at Griffith Park, which uses a "based on true events" tag to recreate actual serial-killer horrors. John Wayne Gacy, Jeffrey Dahmer, and more, are represented, as are not-quite-based-on-anything scares including a coven of nuns without faces (pro-tip: look up!) and a fiery ritual sacrifice. Also next-level: "The In-Between", a maze that weaves between indoor and outdoor zones with pop-out effects that you unwittingly trigger.
Queen Mary's Dark Harbour
Where to find it: Long Beach
Considering that it takes place on-and-around the Queen Mary, which is theoretically haunted for real, or whatever, it's no surprise that the people behind this annual haunt try to raise the stakes yearly. This year's best addition? A claustrophobic clown-themed maze in the hangar that used to house the Spruce Goose, and five separately-priced "sideshows", two of which are legit scary and three of which are more "Halloween fun-time" scary.
Alone
Where to find it: Downtown
Very little is known about this brand-new happening, other than the following: it's 30 minutes long, you have to go in solo armed only with a flashlight, and you have to sign a waver saying that participants can touch you. So yeah, nothing to worry about.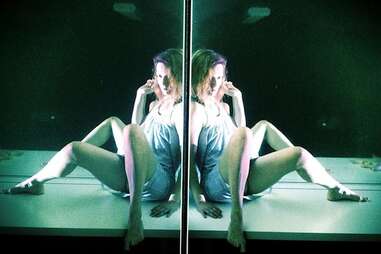 Blackout Haunted House
Where to find it: Downtown
Now in its second season in LA after killing it for years in NYC, Blackout's a psychologically-disturbing, touching-allowed, "I-have-to-put-my-hand-WHERE?!" immersive experience. This years' details are top-secret, but last year included actors putting plastic bags over participants heads, full-on-nudity, and an actually-terrifying moment of being alone in a dark room while a stranger breathes in your ear.
Knotts Scary Farm
Where to find it: Buena Park
Knotts' annual scare-fest is full of mazes that are charmingly simplistic and it offers a ton of bang-for-your-buck -- 11 mazes spread through the park, with an optional add-on that's got some fairly cool special effects in extra rooms, and a 12th reservation-only maze tailored to your own fears. This year, they've mined the public domain catalog to source some deep-seated fears, with a tech'd-up maze based on the works of Edgar Allen Poe and another featuring a demented Pinocchio. No lie.
Purge: Fear The Night
Where to find it: Downtown
Similar to Delusion, this "immersive theater" experience asks attendees to do various tasks all throughout the maze while interacting with actors. Unlike Delusion, this one's based on the "real world" of this year's thriller The Purge, which means masked people with knives threatening you and dudes in military outfits who order you to stand against walls and swear... a lot.