He gave you an RV ride with Bryan Cranston. Now Omaze co-founder Matt Pohlson's sharing his LA.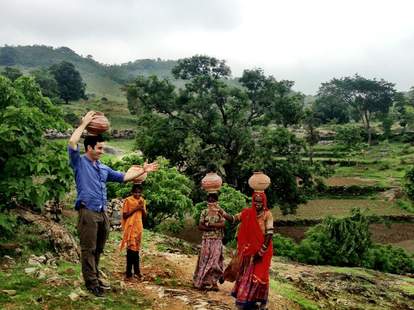 Sometimes, Omaze co-founder Matt Pohlson goes to India (see above -- sweet hats, right?). Sometimes, he revolutionizes the way charity and sweepstakes work through a model where folks donate money to various causes in order to become eligible to win once-in-a-lifetime experiences. Like glassblowing classes! Just kidding. More like riding in an RV to the Breaking Bad premiere with Walter White, or playing Battleship against Chairman of the Joint Chiefs of Staff Admiral Mullen. We asked Matt to tell us who in LA impressed him the most with their own fearless innovation. Here's what he came back with.
Innovative Dining Experience:Shunji
"I would define this as more of an experience than a restaurant", says Matt of the establishment led by a chef who began his career 30 years ago under none other than Nobu Matsuhisa himself. "They have all the skills for curation that typically define a great sushi spot, but in addition they serve dishes I've never seen anywhere else." For example? "They offer a tomato served Agedashi tofu style, which may not sound appetizing, but will blow your mind. They also offer a sake that Shunji devised that you can only get there." One thing that doesn't stand out about Shunji: "Like all great LA sushi restaurants, it's located in a nondescript strip mall in West LA."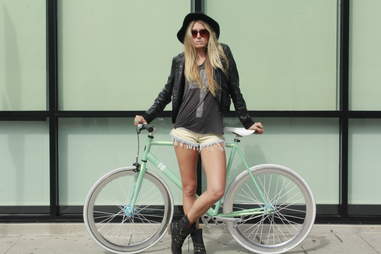 Innovative Beach Ride:Solé Bicycles
"Solé not only pioneered combining bolder color combos, they figured out how to make the fixie affordable" says Venice resident Matt. His favorite? The Foamside, "but I'm only writing that in the hopes that someone who works there will read this and want to send me a free one".
Innovative Live Performer:Justin Willman
"Justin's Magic Meltdown is the best live show of any kind I've seen in the last couple years", says Matt of the spectacle that'll resume at Meltdown Comics in September. "He doesn't do the whole 'I am bending the laws of physics and nature you should be wowed by me' magician thing. It's more like the most innovative variety show you've ever seen, where magic fits together perfectly with the musical acts, comedy, and Justin riffing with the crowd. He's one of those guys you see once and know he'll have his own TV show one day."
Innovative Workout:Sweat Garage
"What I love about this place is that the work out kicks your ass and flies by", says Matt of the N. Fairfax facility whose hybrid class of running, weights, plyometrics, jump rope, and tabata training typically last just an hour. As for what the hell tabata is: "I'm not really sure, but they tell you that you're doing it, and it sounds cool."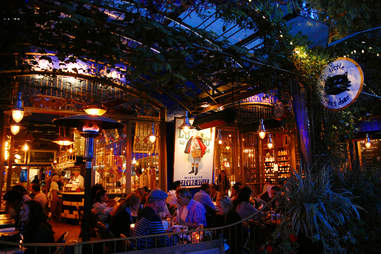 Innovative Outside Seating:Little Next Door
"For having the best weather of any major city in the US and maybe the world, LA does not have enough outdoor cafes. Little Door has a beautiful outdoor patio, great French food, and excellent coffee. You almost feel like you're in Europe when you're hanging out there."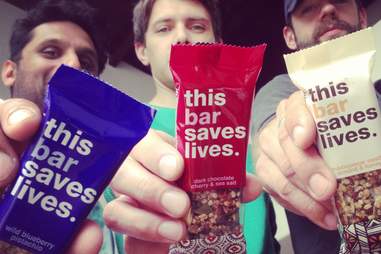 Innovative Hunger Buster:This Bar Saves Lives
"I live off snack bars, and these are the best I've ever tasted." But it's not just the taste, it's that for some, these things are more valuable than a 100 Grand: "For every bar you buy, they give a life-saving packet of food to someone in the developing world. Being in the cause space, one becomes a little wary of companies using the one-for-one model strictly for promotional purposes, but these guys are the real deal. They invest a huge percentage of their proceeds to combat hunger and work with the top non-profits in the space."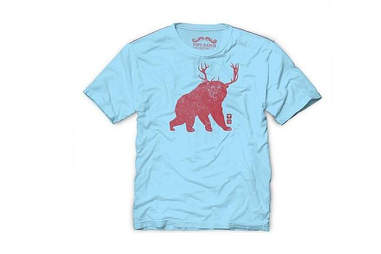 Innovative Gear:Topo Ranch
For truly unique beach style, stop by their Abbot Kinney brick & mortar. For truly unique friendliness in a world where so many can be cold and uninviting, hit up their First Fridays parties.
Facebook
Innovative End of the World:The Tasting Kitchen
The brunch (see above) is spectacular, but this place also serves Matt's favorite drink of all-time: the off-menu Apocalypto, which is bolstered by "some ginger magic" by Justin Pike, who's won more "Best Bartender" awards than Tom Hanks has Oscars.