A comprehensive guide to LA transit for the holidays
Okay, you're clearly going somewhere for the holiday season, and no matter where that somewhere is, we can help -- with these guides to traveling both in and out of LA for the next few weeks:
Every freeway in Los Angeles, ranked
Freeways: can't live with 'em, possibly have tried to live without 'em. But no matter how you slice it, there they are, in your life, just STARING AT YOU, daring you to hate them, especially when you're STUCK ON THEM FOR 4HRS on your way to X-mas dinner. Which is why we ranked them ALL for you, so you know which ones you'll end up hating the most. READ MORE
12 game-changing LAX hacks
With nine separate terminals, '70s-era infrastructure, far-away parking, and security lines that make the receding glaciers of Patagonia seem lightning-fast, LAX can be a total b*tch. Well, this holiday season is the holiday season you make the world's sixth-busiest airport your b*tch. Here are 12 hacks to LAX culled from a handful of LA's most frequent and shortcut-inclined fliers. READ MORE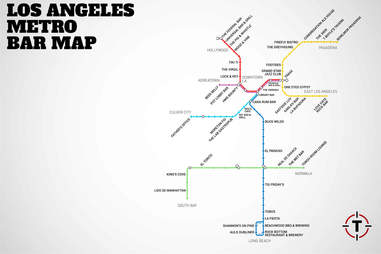 LA's first-ever Metro Rail bar map
This will blow your mind: LA has an urban rail system called the Metro Rail with six lines that serve 80 stations across LA, so, conceivably, it could get you to that one holiday party you have in that one place. But this will blow your mind even harder: we turned the Metro Rail Map into a Metro Rail Bar Map that breaks down the best bar within a 10min walk of every Metro stop (that actually has bars near it). READ MORE
MAP DATA ©2014 GOOGLE
The definitive West Hollywood parking heatmap
No matter how much you fight it, you're going to find yourself going out in WeHo (probably even this week for some ugly sweater thing) and as you're handing over $20 to a parking attendant who is definitely ripping you off, you're going to think to yourself, "Man, I'm definitely getting ripped off". No longer. READ MORE
12 reasons why LA's public transportation is actually awesome
Sure, you've heard from a ton of people that getting around LA without a car is basically the worst thing ever, ESPECIALLy during the uber-packed holiday season, but Gizmodo's urbanism editor, Alissa Walker -- one of LA's most outspoken proponents of public transportation -- is here to tell you that's actually totally wrong. Why? Well... READ MORE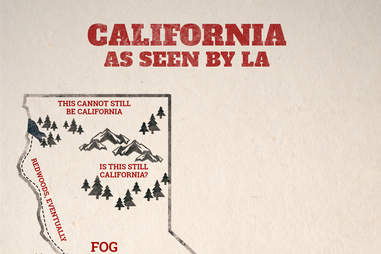 So you know how to properly refer to the 5
Sometimes, it's easy to forget that there's an ENORMOUS state out there surrounding LA, but there is, and we've definitely got a unique take on what that means. So, we set out to document it in map form -- here's how Angelenos view the rest of Cali, especially when it comes to travel on the 5, the 1, and the 15. READ MORE
Sign up here for our daily LA email and be the first to get all the food/drink/fun Los Angeles has to offer.
Jeff Miller is the Editor of Thrillist LA and will be transiting far, far away this season. Find out where on his Instagram @jeffmillerla or Twitter @ThrillistLA.