8 LA Sports Leagues You Should Actually Join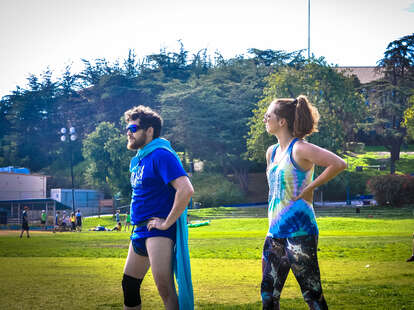 What, just because it's January you suddenly want to do something that's not eating and drinking all the time? FINE. Here're eight actually super-sweet recreational sports leagues (Chessboxing! Dodgeball! Wait... what's Chessboxing?) that also involve... lots of drinking and eating after games. What? Just because you don't want to do it all the time doesn't mean you want to not do it at all.

Meets: Thursdays (cornhole) and Sundays (kickball, flag football, volleyball, dodgeball)
Location: Busby's East on Thursdays and Parks around West LA on Sundays
Relive your former glory days as the champion kickballer/cornholer/dodgeballer/ballerballer(?) of your school while also having a shload of fun with one of the city's best coed multi-sport leagues, which also throws an occasional "Sunday Funday" league that does crazy stuff like sumo wrestling and life-sized foosball. Plus, you can show off your beer pong skills at the after-game parties held at nearby bars.
Next sign-up date: Now for available sports until spots are full

Meets: Tuesdays (North Hollywood), Wednesdays (Glassell Park and Highland Park), Thursdays (Venice), and Sundays (Glassell Park)
Location: North Hollywood, Glassell Park, Highland Park, and Venice
Neither yachts or Eagle Rock are involved here (sorry), but, thankfully, dodgeballs totally are. The league has a pretty solid philosophy, too: "Make new friends, throw balls at old ones, and support your local community at the same time." Words to live by.
Next sign-up date: Now, games begin the week of 1/20
Meets: Various dates, next event 1/17
Location: Systems Training Center, Hawthorne
No, that's not a typo. And yes, Chessboxing is as amazing as it sounds. Opponents engage in three minutes of chess, followed by three minutes of boxing, and then alternate for a half dozen rounds until someone wins by checkmate or a knockout. Proceeds go to the charity of the winner's choosing. Also: they just recruited RZA (yes, RZA) to help launch Chess Jiu Jitsu. The only question left: why haven't you signed up yet?
Next sign-up date: Rolling based on upcoming events (so contact them to get involved)
Meets: Wednesdays
Location: Bay Shore Lanes, Santa Monica
This coed league also offers tons of other great rec sports to play, like basketball and kickball, but since your athleticism only goes so far: boom, bowling. Plus, there's happy hour during league games and an end-of-season party/charity fundraiser. Also: plenty of excuses to drink White Russians.
Next sign-up date: Early registration ends 1/16, regular registration ends 2/6
Meets: Saturdays (matches) and Tuesdays & Thursdays (training)
Location: Daniel Webster Middle School, West LA (home matches)
Rugby is not only awesome for being the hooligan's sport played by gentleman, but if you join the Rugby Club there's free-flowing beer after matches at O'Brien's, as well as team drinking songs and other shenanigans. Yes, please.
Next sign-up date: ASAP for Spring season starting this month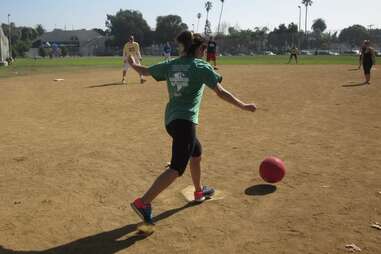 Meets: Mondays - Thursdays (SM) and Sundays (Venice)
Location: University High School, SM and Diamonds of Oakwood Rec Center, Venice
Planet Social offers lots of solid coed sports like softball, flag football, and dodgeball, but there's something special about kicking the crap out of a big rubber ball. Added bonuses: parties, happy hours, and other non-kicking social activities throughout the season.
Next sign-up date: Now, games begin week of 1/19
Meets: Select Fridays and Sundays
Location: LA Kings Valley Ice Center, Panorama City
You remember watching the Winter Olympics and saying to yourself: "Curling, now there's a sport I could totally play and still drink the same amount of beer as I do now." Well, now's your chance: get your feet on the ice at a monthly Learn To Curl sesh, and then sign up for either the five- or 10-week league depending on how committed you are to throwing and sweeping "the rocks." Bonus: there are off-ice social activities, too.
Next sign-up date: 1/19 for non-members
Meets: Tuesdays
Location: Venice Beach, North end parking lot in front of the Waterfront Café
Summer may seem a long way off, but this beach bocce league fills up fast and you don't want to miss out on throwing your balls in the sand this year. With plenty of trophies, prizes, costumes, and bikinis to go around, and lots of hanging out on the beach at sunset followed by beer drinking: what's not to like about this league?
Next sign-up date:Now, season starts 6/24
Sign up here for our daily LA email and be the first to get all the food/drink/fun Los Angeles has to offer.

Danny Jensen is a regular Thrillist contributor and now realizes his rec league basketball team, The Los Feliz Skunks, needs to incorporate more drinking into their training regimen. Throw a dodgeball at him on Twitter and Instagram.