The Best Underground Comedy Clubs in LA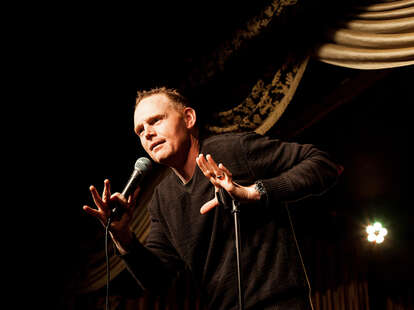 Sure, anybody & everybody can go see a show at The Comedy Store or the Laugh Factory, but if you really want to check out the seeds of what LA comedy is becoming (and avoid hordes of tourists) hit some of these lesser-known (and in some cases, completely secret) shows.

Where: East Hollywood
When: Once a month (check Facebook for details)
This comedy show/drinking game in an East Hollywood backyard (wait, wut?) features both the comics and audience saucing it up on free booze while following secret-to-the-comics "drink now" rules made up by the audience (drink every time they bring up drugs! Or sex! Or sexy drugs!). That means headliners like Matt Braunger (from MADtv) & Kyle Kinane (from Comedy Central's Drunk History) have more than a few while they're on stage, which means a rowdy-as-hell show, and, duh, a party-with-the-comics house party afterwards.
Comedy Night at Best Fish Taco
Where:Best Fish Taco in Ensenada, Los Feliz
When: Every 1st & 3rd Tuesday
This unassuming little taco shack on Hillhurst has seen Comedy Central-level headliners like Nick Kroll (Ruxin in The League), Hannibal Buress (Broad City), and Adam DeVine (Adam in Workaholics). Annnnnnnnd the whole thing is free!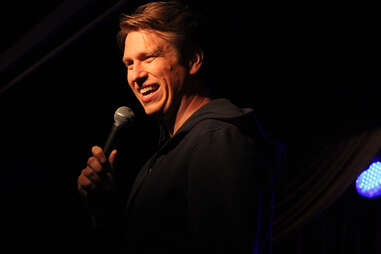 Where: The Virgil, Silver Lake
When: The last Tuesday of each month
Though the Virgil was envisioned as a rock club, the crafty cocktails and peanut butter stout have been making great comedy percolate as well; this killer night brings in headliners like Pete Holmes (CollegeHumor's Badman) and Joe Mande (Parks and Recreation writer).
Where: The Palace Restaurant, Los Feliz
When: Every Thursday
At this show in the back of a Chinese restaurant, a solid group of upcoming talent mixes with headliners as big as podcast hero Marc Maron & Grammy winner Tig Notaro.
Where: The Bigfoot Lodge, Atwater Village
When: Every Sunday
There are four guys who are key to LA's growing underground comedy scene, and their names are David Gborie, Josh Androsky, Miles K, and James Fritz. And you're in luck, 'cause they run Babe Island, a weekly free (FREE!) showcase at The Bigfoot Lodge. Vets like Maria Bamford and Kyle Kinane have laid anchor on Babe Island, so set sail immediately (no smoke monster on this island, though).
Where: The Virgil, Silver Lake
When: Every third Wednesday of the month
You'll see a lot of great stuff at the Super Serious Show -- in addition to standup, they've been known to rock a lot of improv, musical comedy, and video. Emerging talent has hit the stage, in addition to legends like Amy Schumer, Greg Proops, and Hannibal Buress. And it's The Virgil, so definitely hit the taco truck outside when you're done.
Where: Nerdmelt Showroom, Hollywood
When: Once a month (Check Facebook for specific dates)
Hosts Matt Donaher and Caitlin Durante have been crushing it at Meltdown with a totally original idea for a show: before the comics take the stage, Matt & Caitlin write different "challenges" (do your set in the third person! wear a costume! play a board game with an audience member while you tell your jokes!) and put them into a hat. Each comic draws from the hat before their set and incorporates them as best they can. Hilarity ensues.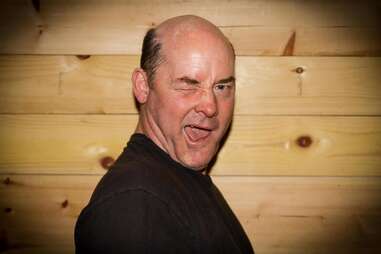 Where:1739 Public House, Los Feliz
When: Every Monday
It's worth fighting your way through the hordes of bros at Public House to make it to Fringe, which is essentially a showcase for up-and-comers to practice their sets for talk shows; it's mostly new talent, though Alonzo Bodden (Last Comic Standing winner) and Iliza Shlesinger (Last Comic Standing winner, also!) have passed through. Regardless, you'll leave satisfied: the whole thing's free -- and so's the pizza. And the beer!

Where: Secret locations
When: Secret dates
Crave's secret locations make it one of the most interesting comedy experiences in town -- that and the fact that it becomes a gigantic after-hours dance party when it's over. As creator Alex Hooper says, "comedy first, epic party afterwards." Comics like Demetri Martin (the dork in In a World..., and the main character in Taking Woodstock) and noted George W impersonator James Adomian have graced this secret stage with their secret presence. Secretly. But get on the email list and then you'll be all like "I know the secret!"
Sign up here for our daily LA email and be the first to get all the food/drink/fun Los Angeles has to offer.