All the reasons you still need to see Point Break Live!
The unbelievably funny, totally absurd, drinking-encouraged show Point Break Live! is bringing their original cast back to LA for the first time in two-plus years for an extended run, so here are six reasons why you should definitely go out of your way to check it out:
1. Each night, they hold audience-member auditions for someone to play the part of Keanu Reeves's Johnny Utah, who's followed around all night by a hottie carrying cue cards... so, yeah, you're gonna want to audition.
2. It's hot in LA, and you'll get wet. They do have "survival packs" with ponchos, but DO YOU REALLY NEED A PONCHO?!?!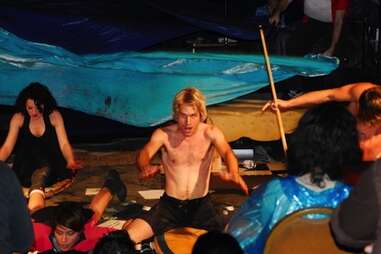 3. The "special effects" are epically and winningly lo-fi, which means you can hit Target, drop four Alexander Hamiltons, and recreate the show in your living room afterwards if you want to show your friends what they missed.
4. They sell meatball sandwiches at intermission. You will invariably want them to give you two.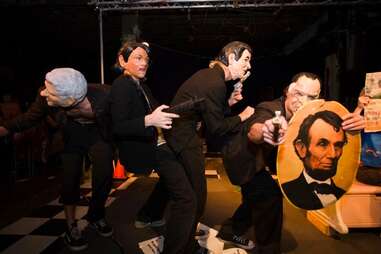 5. Even if you're not picked to be Keanu, you can end up in the show. The robbery scene, especially, means you or your neighbor may be up in (water-based) arms.
6. Once you've been like, "Yeah, this is rad", you can kinda do the same kinda thing with their Terminator Too Judgment Play show, which features a lot of the same cast and is also still raging in LA.