13 Things You DEFINITELY Deal With if You Live in Hollywood
Sure, Hollywood is crawling with awesomeness -- speakeasy-themed bars, movies in a cemetery, secret comedy clubs, historic music venues, and, like, crazily, stunningly beautiful people. But if you live there, you also know that it can be a real pain in the ass. If you call Hollywood home, here are 13 things you've come to accept about your 'hood:
1. Helicopters
One minute you're swapping Tinder tales with your neighbor. The next, all you can hear is [helicopter flies overhead] BLLLLLLLLLLLLLLLLLLLLLLLLL!

2. Rock 'n' Roll Ralph's parking lot
How badly do you want Humboldt Fog cheese? Obviously, badly enough to drive around looking for a place to park in the upper and lower lots... then on the street... and finally, car-stalking a shopper a block away so you can steal their spot.
3. Bicyclists riding on streets without a bike path
So, your legs can only move as fast as that 5-hour ENERGY drink allows you to. Buuuut that still doesn't stop you from darting out in front of BMWs and Mazdas. We love that you're conserving natural resources without a gel seat (brave!). Just don't get in our lane.

4. Westsiders
Why do you never want to hang? Hollywood's not that far. Oh, wait...
5. Slow-moving Walk of Fame tourists
Keep it moving, people. There are fifty more sidewalk stars ahead of you, and that pirate's not the real Johnny Depp. (Didn't mean to photo-bomb you, Stormtrooper!)

6. Hollywood Bowl traffic
Ed Sheeran's at the Hollywood Bowl this summer? Awesome. Let's just hang out in our cars until he turns 25.
7. Bartenders who are "mixologists"
We're sorry. We don't know the difference. We're just... so... thirsty. What are you doing to that ice????

8. Name-droppers
Yeah, it's super cool that Dan from The Black Keys texted you, and Dan from The Black Keys wants to party with you when Dan from The Black Keys hits LA to play a secret show that you got passes to from Dan from The Black Keys. But you sound a little manic when you keep saying "Dan from The Black Keys" over and over to anyone who will listen. Also, can I be your +1 for that party?
9. Scientologists
A free personality test? AND a free abduction? Never mind, I saw Going Clear -- I know that costs extra. Not interested.
10. Your favorite bars closing... and becoming something else
Maybe it was a rent thing. But that doesn't stop us from mourning the loss of Ye Coach & Horses, The Cat & Fiddle, and other "two words joined by an ampersand" bars...

11. The "flexibly-priced" parking lots
Wasn't it $6 earlier? And now it's $15? But only for 15 minutes? But if we're students at Second City, it's $8? We don't get it...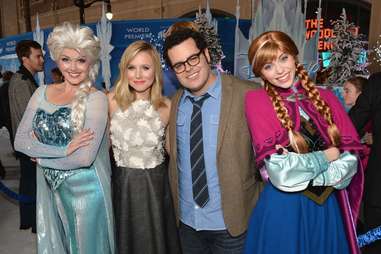 12. Special events
Aren't you excited!!! It's Frozen 3's red carpet premiere tonight at the El Capitan Theatre!!!!!!! And every street that leads to where you want to go is either a) closed or b) filled with cars, or c) closed AND filled with cars!!!!!!!! There's literally no way to let it goooooooo!!!!!!!!!!!!!!!!

13. Homeless people who pee on the sidewalk
We are wholeheartedly sorry that you're wandering the streets AND you had to relieve yourself. But that doesn't mean we want to play "Dodge the Stream" on the way to Urban Ramen.
Sign up here for our daily LA email and be the first to get all the food/drink/fun Los Angeles has to offer.
Michelle Spencer has lived in Hollywood for six years and sometimes walks up to Ralph's to avoid the parking situation -- even if it means passing peeing hobos. She's at @thermos62000 on Twitter and @rockingirlie on Instagram.