13 things you didn't know about the Magic Castle in LA
Joe Skilton
Joe Skilton
Surely, at some point, you've wondered what's up with the Magic Castle, that members-only mansion up by Yamashiro that has hosted basically all of the world's best magicians in a, uh, castle.
Soooooo, to help with that, we hit up an actual magician from the Castle (!), Joe Skilton (that's him, pictured at the Castle above), to give us the lowdown on what's actually up there -- along with images of the inside that you'll only see here (or if you land an invite, somehow):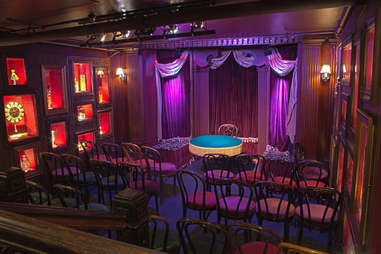 1. The Magic Castle opened in 1963
At the time, it only had one showroom -- this teeny-tiny little guy (now used as a showcase room for unpaid magicians to work on new material and handle crowd overflow). Its size, however, didn't stop Orson Welles and other film luminaries from being regulars.
2. Magic skills? Not required to join.
If the only magic you know is Uncle Bob's coin trick ("how'd it get behind your ear, Uncle Bob?!?!?"), skip the audition and become an associate member -- and then take magic classes at the Castle to work your way up.
3. Technically, nobody is a member of the Castle
Not even these dudes with glasses! Not even the one who's nodding off on the left!!! They're all members of the AMA -- The Academy of Magical Arts. The Magic Castle is the building... the AMA is the club.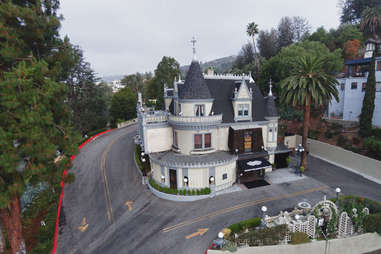 4. People actually once lived here
The Castle was a single-family residence built in 1908, and was originally intended to lord over a bunch of orange groves. Yep. In Hollywood.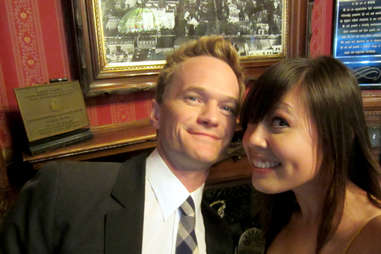 5. Neil Patrick Harris used to be the club's President
He legitimately held the title "Ambassador of Magic", which is maybe the most Barney-Stinson-fake-business-card title one could ever have, but Harris was legit -- and like Johnny Carson and Jason Alexander, he also performed at the club.
6. Suit & tie are required... but there are loaner clothes in case you forget
But trust us... you REALLY don't want that loaner jacket and tie. They're deliberately hideous, so people will know what you did.
7. It has five bars
Magic is great. After two bourbons? Magic is the greatest!
8. Even the entrance is magical
To get in, you have to say a password before a hidden door in the bookcase "magically" opens.
9. The Magic Castle is kind of LA's version of Hogwarts
It really seriously has a Junior Society that teaches teenagers how to be world-class magicians/find all of Voldemort's Horcruxes.
10. You can hold a séance to talk to Houdini's ghost
That's not what this classy lady (who is still a Castle regular!) is doing. But she could be, if she wanted to.
11. The clubhouse caught fire on Halloween in 2011
Nobody was hurt. Strange thing? It was the anniversary of Houdini's death. Even stranger... the theme party that night was called "Inferno" (this is the promo glass from that night).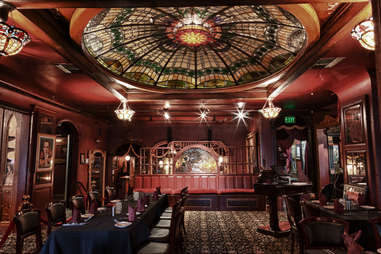 12. It isn't the only exclusive magic club in the world
There's also The Magic Circle in London (no relation). But The Magic Circle is only open one day each week. Because LA > London.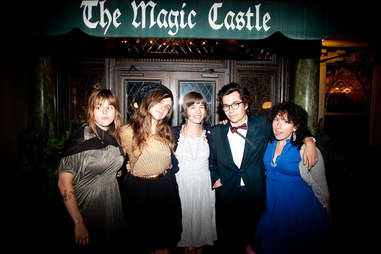 13. It has 30-day trial memberships
For $250, you'll get access (and access for a guest on weekdays) to the Castle, plus the Sunday brunch (the food is good! Seriously!), but you gotta move now: the trial memberships are being discontinued in January. Because, MAGIC CASTLE.
Sign up here for our daily LA email and be the first to get all the food/drink/fun Los Angeles has to offer.
Joe Skilton is an award-winning magician. Try to figure out how he does his tricks by hiring him at JoeSkilton.com.