Granting you way more than three wishes this holiday season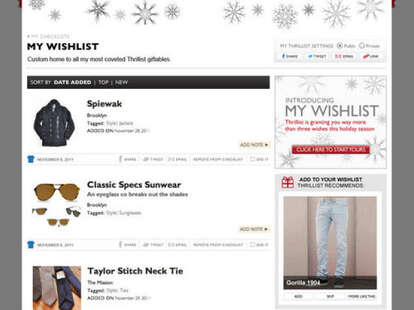 Unless you're dating a lipstick-clad, Spanx-wearing Mel Gibson again, your girlfriend probably can't read your mind, and neither can anyone else, so just tell them exactly what you want, with Thrillist's My Wishlist.
How it works: At the bottom of shopping-related Thrillist articles there's an "Add to My Wishlist" button. Whenever you see something that would make your life a paragon of satisfied contentment, click this button. You can also click "Add to My Thrillist" on any article on the web, and then click the "Add to Checklists" button.
The next time you're in My Thrillist open up your Checklists -- your Wishlist (and any other Checklists you created) will be waiting for you. Click into your Wishlist and use the share icons on the top right of the page to blast out these many, many tasteful desires to the legions of people living in your debt.
Whether you want everyone to stare at your crotch, marvel at your wardrobe, or just compliment your car...based furniture, the Wishlist ensures you'll get what you want even after Mel gets struck by lightning trying to find his secretary.