If there are three things every Angeleno loves, they've gotta be 1) 75 and sunny, 2) the Lakers (when they're good), and 3) epic police chases. Though the most amazing one of all time unquestionably remains the dude stealing a tank in San Diego, LA has had its fair share of "OH MY GOD IT'S ON EVERY CHANNEL!!!" pursuits.
Here's a power rank of the 10 craziest, which, for whatever reason, have almost all gone down in the past decade.
When: Dec 17th, 2014
Where: North Hollywood to Malibu
Many of us in LA live under the delusion that it takes 20 minutes to get anywhere in the city, but this guy almost actually made it happen. Beginning in NoHo, he manages to effortlessly take the LAPD on a 70mph tour through half the city down from the Valley, through Hollywood, West Hollywood, Mid-City, down to the 10, out to Santa Monica, and up the PCH and into Malibu where he was finally arrested.
When: June 5th, 2013
Where: Duarte to Pacoima
Unfortunately we don't get to see the alleged off-camera tricks performed by this fleeing motorcyclist, but what we do get to see is when he plays a bizarre, likely-under-the-influence highway game of whack-a-mole by hitting the mirrors of passing vehicles with his hand. Not surprisingly, he busts his hand, yet continues to lead cops for miles along the 210 until he finally rolls onto the dirt of a construction site and bails out before being arrested.
When: April 16th, 2013
Where: PCH
"Macarena"-style moves + high-speed chase = must-watch police chase. When he slowly stalks towards the officers to presumably offer them lessons, they decide to show him some moves of their own. Boom! (You'll have to provide your own soundtrack for this silent video.)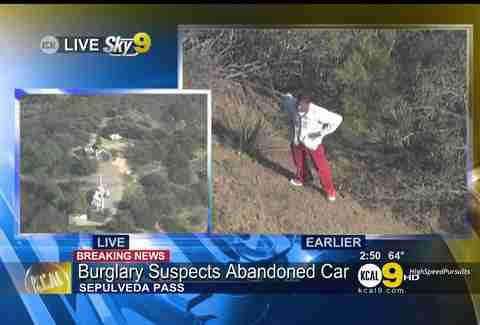 When: March 15th, 2013
Where: Topanga Canyon to the Skirball Center
Most of you have probably considered ditching your car R.E.M. --"Everybody Hurts"-style when you're stuck in crazy traffic on the 405, but these three thieves actually did it. Though their high-speed car chase may have been short-lived, their rugged hike into the woods along the Sepulveda Pass proved more of an adventure, complete with attempts to hide in a homeless encampment, wicked side cramps, and zero trail mix. Also making an appearance: off-road officers!!
When: July 10th, 2012
Where: Bell to Rancho Palos Verdes
Accused of lewd acts with minors, this ex-LAUSD teacher fled from the cops and was treated to the classic PIT maneuver by CHP, who spun his vehicle into a tractor-trailer. After a tense stand off, the apparently unfazed driver turned the truck around and continued to lead cops through the South Bay, until he launched the vehicle off the road, careened over an embankment, and into a building. (Spoiler alert: he survived.)
When: April 30th, 2013
Where: South LA
Somehow the driver of a stolen van managed to evade police through narrow neighborhood streets and keep driving despite multiple collisions and driving over spike strips laid out on the street by the police. But after he fled on foot, it only took a stretch of slick pavement to slip him up, cartoon-style, where he was then tackled by, like, the entire LAPD.
When: July 4th, 2014
Where: Westchester to WeHo
Okay, the whole video of this one doesn't exist, but it's too crazy a story not to include: after stealing a Tesla from a service center, this eco-conscious thief led the black and whites on a chase towards WeHo, causing one of the pursuing cruisers to crash along the way. As the car reached speeds over 100mph on surface streets, it struck a parked Lyft car, was launched airborne, struck two light poles and split in half (!!), ejecting the driver and sending the front half of the vehicle in flames towards other cars and wedged the back into a synagogue entrance.
When: February 9th, 2015
Where: DTLA to Montebello
This was literally like watching real-life Grand Theft Auto: a dude steals a car, flees from police, crashes into at least six other vehicles on a high-speed chase around Southeast LA, carjacks a women when he could no longer drive the first car, and then later flees on foot when traffic slowed his escape and he couldn't seem to carjack anyone else. When the nut brandished a gun on his last carjacking attempt, police opened fire and took him down on live TV.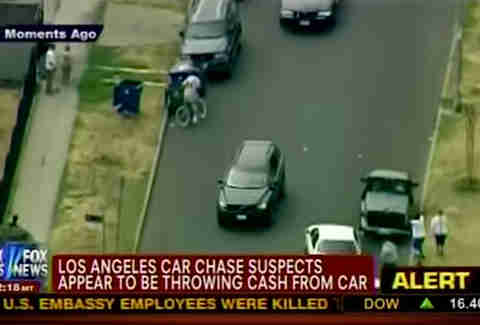 When: September 12th, 2012
Where: Canyon Country to South LA
A classic rags-to-riches-to-rags story, these armed bank robbers led police on a 40mi chase from Santa Clarita to South LA, where they decided to toss fistfuls of dollars out of the moving Volvo SUV to cheering crowds in the streets. By making it rain, the thieves likely intended to slow the cops, but ultimately halted their own getaway as hundreds flooded the streets to grab at the fluttering Benjamins, Jacksons, and Hamiltons.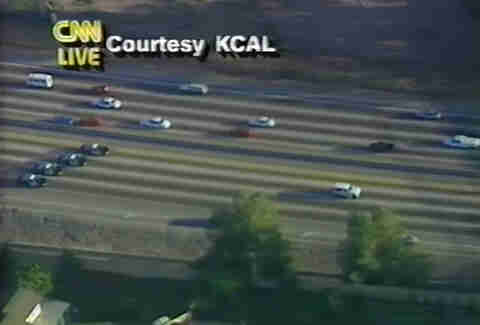 When: June 17th, 1994
Where: OC to Brentwood
Weirdly, most of these are newish, but No. 1 is, of course, a bona fide classic. Even if you didn't live in LA at the time, you probably remember where you were when OJ cruised the 405 from the OC to Brentwood in Al Cowlings' white Bronco with a slow-moving police armada and crowds of onlookers. Easily the most watched and high-profile police chase of all time (and considered one of the most memorable TV moments period), the pursuit may have been relatively tame and ended rather casually at his house, but even more than 20 years later it remains the champ. Bonus: when OJ finally surrendered, police found a fake goatee and mustache with makeup adhesive in the Bronco. Disguises!
Sign up here for our daily LA email and be the first to get all the food/drink/fun Los Angeles has to offer.
Danny Jensen is a regular Thrillist contributor and has thankfully avoided being in a high-speed chase so far, though he's watched plenty. Chase him down on Instagram and Twitter.