12 reasons why LA's public transportation is actually awesome
Sure, you've heard from a tonofpeople that getting around LA without a car is basically the worst thing ever, but Gizmodo's urbanism editor, Alissa Walker -- one of LA's most outspoken proponents of public transportation -- is here to tell you that's actually totally wrong. Why? Well...
1. LA's transit system is the fastest growing in the country
LA is in the middle of the biggest mass transit expansion in the US. Next year, the train from Downtown to Santa Monica will be finished (yes, seriously. No, seriously... stop laughing.). Also rad? You won't find the grossness you'd see in many other cities (SAN FRANCISCO), since many of the buses and trains are brand-new (fastest growing, remember?).
2. It's super-easy to navigate the system with a smartphone
The Metro app is actually excellent, especially if you use it in tandem with Google Maps (also excellent) to compare routes. The app even has real-time arrival information so you'll know exactly how long you have to wait.
3. Taking LA's buses and trains will add years to your life
Seriously, it's scientifically proven and also just kind of obvious. Who do you think lives a longer life: the dude spending 45 minutes catching up on Netflix and Candy Crush, or the dude swearing at the d*ckhead in the Tesla?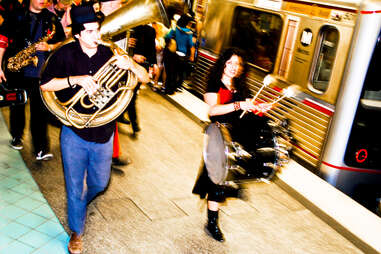 4. The people-watching is the best
The guy wearing a cowboy hat, spandex shorts, and nothing else? The woman carrying 15 Batman piñatas???
5. You can drink more than you ever have in your life
Okay, this is probably the real No. 1, especially if you're familiar with LA's first-ever Metro Rail Bar Map.
6. Even with all that extra drinking, you'll still lose weight
'Cause you'll be doing some walking. Or at least, you will as long as there isn't a train stop directly in front of Tony's Darts Away.
7. You never ever have to circle
Or deal with a meter. Or valet. Or park in a grimy garage. You don't need exact change. You don't have to deal with lots locking their gates at midnight. No tips. No parking. Ever. EVER!
8. It'll allow you to legitimately leave LA WITHOUT A CAR
Starting from Union Station, you can be checking into your hotel in Santa Barbara or San Diego within about three hours. Or book a sleeper car and wake up in Santa Fe or Marfa. When you take traffic into account, it's kind of like taking your car anyway, except for one very important difference: there's a bar car here.
9. Three words: rad. Graffiti. Instagrams.
Nine more words: that. You'll. Only. See. On. LA's. Public. Transit. System.
10. Waiting for your bus/train will never, ever be uncomfortable
Since we've got a climatological advantage on literally every other transit system in the country, you'll never have to freeze your cojones off at a bus stop, and you'll never have to dig through 6ft of snow to find the train station. You'll rarely even break a sweat while walking those final blocks to work.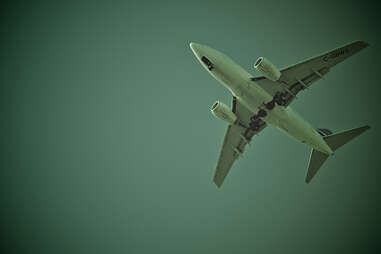 11. You can even get to the airport
Seriously. Okay, admittedly, the train doesn't go there yet, but you can get to the airport car-free. The FlyAway is a luxury bus that provides door-to-door service from LAX to six locations around LA for only $8 each way.
12. You'll be richer. So, so, SO much richer.
Fill up a TAP card at any rail station, and the system will deduct $1.50 for each trip. A buck-50! Here's a guaranteed way to save money when going out, too: take the bus or train one way and Uber it home. Then spend your extra cash on something you actually want to be doing. Like... say... drinking?

Alissa Walker is the Urbanism Editor at Gizmodo. You can follow her transit adventures at @awalkerinLA on Twitter.