11 Los Angeles secrets you didn't know existed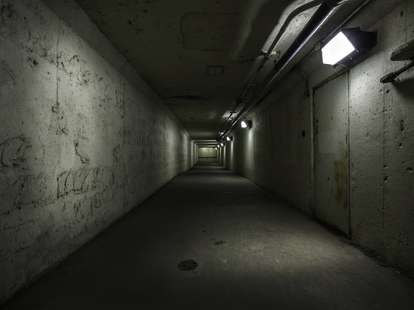 Shutterstock
Shutterstock
Since the only "secret" you know about in LA is that there are these canyons you can drive through as an alternative to the 405 (REALLY GUYS!!!), get far more into the actual nitty gritty with this guide to the real secrets of LA, including invisible oil derricks, underground prohibition tunnels, and "Ponyland".

1. One of the best views in the city? Try a public tennis court on a rooftop in WeHo.
On the first floor of the parking facility at 647 North San Vicente Blvd (adjacent to the West Hollywood Library), stop into the cashier's office to exchange your ID for a free key card, then take the elevator to the roof and step out onto the smooth, clean West Hollywood Park Tennis Courts. Play here is first-come, first-serve, but if you have to wait, you'll enjoy kick-ass views of the hills, both Hollywood and Beverly.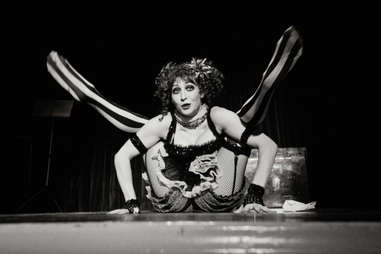 2. A tiny theater behind an Eastside mansion hosts some of the country's greatest magicians
Between the 1910s and '50s, Brookledge was the place to see vintage magic from performers like Houdini and Orson Welles. Now again, since 2009, this 70-seat theater (found in the lush backyard garden of the magical Larsen family's private home) has once again been staging the Brookledge Follies -- a vaudeville-style lineup of skilled magicians, contortionists, burlesque dancers, ventriloquists, and more. Much like a famous castle in Hollywood, though, Brookledge operates as an underground club; to attend one of their star-studded shows (where you might spot Moby, Ryan Gosling, or Neil Patrick Harris), you'll need to either snag an invite from an insider, or donate a chunk of change to their renovation efforts.
3. A rooftop garden grows in Little Tokyo
As long as you buy a drink from the bar/cafe at the hotel, you can wander through the Kyoto Garden atop the DoubleTree by Hilton Downtown. Originally planted in 1977 as part of the Japanese-owned New Otani Hotel (which closed in 2007), the Zen-like, half-acre garden features flowers, bonsai trees, waterfalls, and a curved walking bridge, as well as some stunning views of the city and the San Gabriels.
4. The Cabo Cantina on Sunset used to house a restaurant run by a utopian sex cult
In 1969, a long-haired, white-robed ex-Marine named Jim Baker (aka Father Yod) convinced upwards of 100 hippies to live/meditate/have sex with him in a three-bedroom house in Los Feliz, financing his crowded free-love-nest with a funky vegetarian cafe called The Source. Set in the heart of the Sunset Strip, The Source became popular with health-crazy stars of the early 1970s, who flocked there to eat Magic Mushroom Soup and "alfalfa sprouts and mashed yeast", the order Woody Allen famously placed there in Annie Hall. The restaurant was closed in 1974 when Yod moved his clan to Hawaii, and while the site (8301 W Sunset Blvd) has hosted a few spots since, it's now the loud, palapa-trimmed Mexican joint Cabo Cantina, which couldn't feel further from utopia if it tried (which it won't).
5. The longest stretch of the Berlin Wall outside of Berlin is... on Wilshire?
No longer helping to divide East and West Germany, this 10-segment, 25-ton, 40ft-long curtain of concrete stands in front of the Variety Building at 5900 Wilshire Blvd, sporting a mix of original Cold War-era murals and modern designs by street artists from LA and Berlin. Historical side note: this November will mark the 25th anniversary of the takedown of the Berlin Wall.
6. Hangover-healing waters bubble beneath a community center and through an adjacent park
Around the turn of the 19th century, oil speculators drilling 1,750ft below the surface of Vermont and Wilshire found an artesian spring instead, gushing with 104-degree, sodium-rich mineral water. From 1903 to 1951, this water fed the popular Bimini Baths complex and was sold in bottles as a cure for everything from arthritis to hangovers. These days, the Bresee Community Center sits atop much of the wellspring, but some of its possibly magical flow is funneled through the man-made marsh of Bimini Slough Ecology Park, at the corner of Bimini Pl and Second St, where riparian plants allegedly cleanse the water.
7. There's a network of former Prohibition booze-running tunnels under the streets of LA
Behind the Hall of Records (222 N Hill St) and just off the sidewalk, take an unmarked elevator to the bottom floor and you can explore some of the underground pedestrian tunnels that used to stretch underneath much of DTLA. During the Prohibition Era, these tunnels were used to shuttle booze, and one of them still runs right to the basement of Skid Row bar King Eddy Saloon. Much of the network has been declared an earthquake hazard and closed to the public, but the remaining tunnels run under several government buildings, including the Clara Shortridge Foltz Criminal Justice Center and the Stanley Mosk Courthouse.
8. A fake, windowless building on Pico Blvd is hiding a huge, working oil derrick
LA crazily has more than 55 active urban oil fields: About 3,700 derricks extract black gold from wells all over the city, and while hundreds of these bobbing metal rigs can be seen along La Cienega Blvd on the way to LAX, many more are disguised -- presumably so as not to offend people driving by in their oil-reliant cars. One of these contraptions is tucked into the shell of a 14-story, pale yellow building in West LA on Pico Blvd near Genesee Ave. Built in 1968 without a roof or windows, the faux tower hides a giant derrick that pumps light crude from global oil player Freeport-McMoran's wells in nearby Beverly Hills.
9. There's an abandoned Nazi compound in Rustic Canyon
During World War II, Winona and Norman Stephens, an LA couple with more money than sense, were persuaded by creepy German expat Herr Schmidt that, in the wake of Deutschland's triumph over Europe, the American government would dissolve into anarchy -- and they'd need a bunker to hide out in 'til the Third Reich got to town. The Stephens spent $4 million building Murphy's Ranch, an elaborate Lost-esque compound that included massive concrete water and diesel tanks and a power station, but ran out of money before their plans for a mansion could be completed -- ironically, by famed African-American architect Paul Williams. However, these gated and graffiti-covered ruins can still be explored by climbing a steep staircase above a creek bed in Will Rogers State Park.
10. There's an entire museum devoted to super-weird stuff that may or may not be real
In front of the 33 bus stop on Venice Blvd and Bagley Ave, the dark-green door of a small, two-tone building leads to the dimly lit recesses of the Museum of Jurassic Technology -- home to microscopic sculptures carved from grains of rice, a portrait gallery of canine cosmonauts, and "relics" collected from LA-area trailer parks. Some exhibits here seem to be based in fact, but if you look closer, the truth is fleeting. Head to the second floor and contemplate the possibilities over a free cup of tea from a Russian samovar, or read Mr. Wilson's Cabinet of Wonder, Lawrence Weschler's 1995 book about the museum.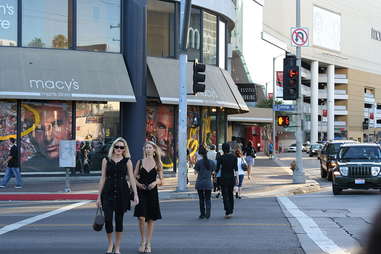 11. The Beverly Center used to be an amusement park
Sprawling across a busy Mid-City block, the big brown behemoth known as the Beverly Center is the mall we love to hate (except for the brand-new Uniqlo store -- that can stay). Long before it became the site of LA's most poorly designed parking lot, though, it was the year-round home of two beloved, family-run amusement parks: the Beverly Park carnival, and Ponyland -- which enabled city kids to saddle up, don cowboy hats, and ride Shetland and Welsh ponies 'round a ring. Both were opened in 1945, but by 1974 rising real estate prices pushed out Beverly Park (which left most of its rides rusting here for years), and then in 1978, the pint-size equines were trotted off to Angels Camp in the Sierras.
Sign up here for our daily LA email and be the first to get all the food/drink/fun Los Angeles has to offer.
Travel & lifestyle writer Melanie Wynne has lived in LA since 1993, and can't get enough of discovering random, wackadoodle stuff in the City of Angels and around the world. Follow her on Twitter @wynnewin.