There's a mythical time in Los Angeles, when the freeways roll nearly traffic-less all day and the city seems, magically, like the place you always imagined it could be. That time is between Christmas and New Year's, when transplants are home visiting family, school is out of session, and production and studios are (mostly) shut down -- which means, that time is right now. What to do with this newfound freedom? We've got some ideas for you:
Recommended Video
Ghost Kitchen: This NYC Restaurant Chain is Providing Free Catering for Health Care Workers
Take a day trip to Santa Monica
Whether you're taking the Metro (highly recommended!) or the 10, your trip West to the beach should be smooth sailing -- which means you can spend the day on the pier for the first time in, like, forever, and then eat at LA's best new restaurant, Erven, when you're spent.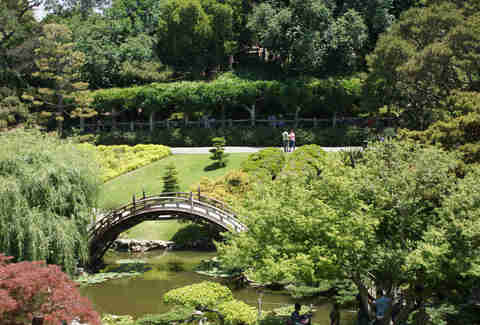 Spending time stuck in traffic to get to this beloved, beautiful, mellow garden in Pasadena always seems like a lost cause -- even if you can get zen while you're there, the trip home will raise your blood pressure back up, like, immediately. Not so this week -- and while you're there, grab some food, too: They've recently partnered with the chefs from Border Grill and Blue Window to up their eating ante.
Yeah, getting Downtown can be totally daunting, and parking -- no matter the traffic situation -- still can be crazily expensive. Which is why you should carpool to LA Live this week and split the $7 parking in the LA Live lot to see Rogue One in their 4DX theater. It's the only one of its kind in California, and it's worth it, especially for Star Wars: Seats move with the action, pew-pew stormtrooper shots ricochet off of your body, and the front of the room is filled with smoke every time a tie-fighter crashes. It's basically Disneyland's Star Tours -- for two and a half hours. And speaking of Disneyland...
Hit an amusement park
Disney itself is sort of a crapshoot (although if you do go, here's what you've got to do): The holidays also mean a lot of tourists are in LA, and a lot of tourists love Disneyland (same goes for Universal Studios, especially with Harry Potter there now). Magic Mountain and Knott's Berry Farm, though, which cater more to locals than those other parks, are often line-less or close to it this time of year.
Spend some time in the LBC
Long Beach has sort of become a local treasure in the past few years, but getting caught on the 405 getting there on a normal day makes it not so worthwhile. Over the holidays, though? Cake. Here's a bucket list to help you out if you're a newbie; if you've just got a few hours (and maybe your sister's kid in town for the holidays) hit the aquarium, which is one of the more impressive ones on the West Coast.
Go for dumplings (or Szechwan food) (or both) in the San Gabriel Valley
If you live west of La Brea, you may not want to make the hike to the SGV for dim sum even on weekends, when the interchanges near Downtown can be unmanageable. But this week, it may be time for a bang bang: Hit a dumpling spot first (we'll recommend Lunasia, but really you can't go wrong with just about anything out there) and then pivot to Chengdu Taste for their toothpick lamb. And then get home in under an hour. Bingo.
Take a long drive on PCH
And make it at least to Malibu Seafood. Or keep going from there. We won't tell anyone.
Grab a seat at a hard-to-reserve spot
Yeah, Bestia may be full-up already, but -- like nearly all of LA's best restaurants -- there are walk-up seats available for dinner, and with way less people in town, there should be far shorter lines as well. 
Explore Frogtown
This artists' collective on the East Side near the LA River's got very cool gallery spaces as well as one of LA's best new-ish sandwich shops (Wax Paper) and outdoor patios (Salazar). Usually it's more of a pain than it's worth; not so this week. Go forth.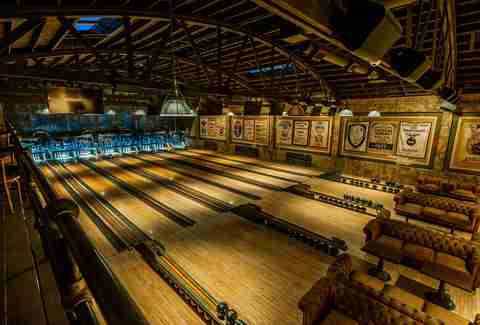 The steampunk-ish bowling alley on the rapidly gentrifying York St not only has the coolest bowling in LA (you can literally see the gears move as you bowl) but an amazing cocktail menu and a killer burger. That said, support the old-school 'hood post-bowling by grabbing tacos from one of the local trucks -- and, if you want to make a night of it, head over to The Hi Hat for one of the best new live-music venues in LA after dinner.
Hit the Rain Room at LACMA
Though the museum says this exhibition (a room where it's raining everywhere but where you're standing) is completely sold out through the end of its run in January, they sell tickets at the door when there are no-shows -- and the lines should be far shorter this week than any other. Of course, if you don't get in, LACMA's got other great exhibits as well, so no harm-no-foul.
Sign up here for our daily LA email and be the first to get all the food/drink/fun Los Angeles has to offer.