12 game-changing LAX hacks
With nine separate terminals, '70s-era infrastructure, far-away parking, and security lines that make the receding glaciers of Patagonia seem lightning-fast, LAX can be a total b*tch. Well, today's the day you make the world's sixth-busiest airport your b*tch. Here're 12 hacks to LAX culled from a handful of LA's most frequent and shortcut-inclined fliers.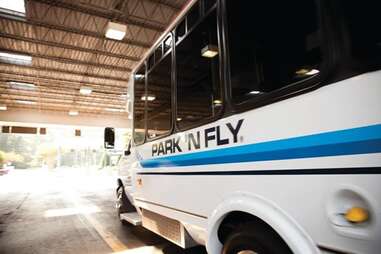 1. Park for way cheap
The first leg of any itinerary involves where to leave your car. No need to leave it in a janky airport lot in order to save a fortune. Pull into the Park 'N Fly instead -- it's the closest lot to the airport (you can literally walk to Terminal 1) -- and score 15% off your tab by flashing your Southwest frequent flyer membership card at check-out.

2. Skip every security line
You can now apply for TSA PreCheck for $85, or spend just $100 for Global Entry and get expedited Customs & Immigrations, as well as PreCheck. That means a faster line and no need to remove your liquids, keys, laptops, shoes, belt, or chain wallet.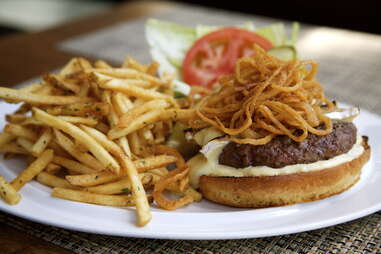 3. Eat Camembert cheeseburgers
Apart from upscale options at Tom Bradley International Terminal like ink.sack and 800 Degrees, the best food might just be at United's Terminal 7. B Grill by Boa Steakhouse has one of the most impressive menus at the airport -- and will still get you to your gate on time. Pro tip: order the Camembert cheeseburger with fried onion rings and tomato, then order it again, but get the second one to go.
4. Drink unlimited drinks for $40
Ah, the airline lounge. That paragon of tired taupe armchairs and day-old pretzels. At least Angelenos have the option to visit the country's first Virgin America Loft in Terminal 3 for just a $40 fee (most other lounges charge $50) and enjoy amenities like free Wi-Fi, snacks including otsu soba noodles and shrimp Caesar salad, and all-you-can-drink complimentary cocktails including the signature Mile-High Margarita -- perfect for pre-flight pre-gaming.

5. Stop waiting for the Airline Connections bus
The setback of having nine terminals is having to transit from one to another. Check this out though: if you're booking it from one of the low terminals to one of the highs (say, from 2 to 5), you don't have to wait for the Airline Connections bus under the blue signs. Take any of the LAX buses, because they'll stop at each terminal, too. Just don't take it if you're going from a higher to a lower terminal or you'll end up at the Green Line or in Parking Lot C.

6. Score back-door access
If you have an Amex Platinum Card (personal or business), you'll get Priority Pass Select membership, which means access to the Air Canada Maple Lounge in Terminal 2, the Virgin America Loft in Terminal 3, the Alaska Lounge in Terminal 6, AND the Korean Airlines Lounge at Tom Bradley. No need to buy a day pass. No need to shell out for yearly memberships.
7. These security lines are shorter than those ones. Use them.
If you're flying United, skip the line at Terminal 7 and go through Terminal 6 instead (they're connected past security), since it tends to be much shorter. Just walk along the outside of the terminal or the TSA reps will direct you back to the longer line. The same is true at American's Terminal 4 -- if you can get yourself past the airline rep at the Eastern end of the terminal monitoring boarding passes for Priority Access (say your companion has PreCheck and went ahead of you), you can get in a usually much-shorter security line.

8. Don't wait for your dumb boarding group
Listen carefully to those boarding announcements. It's not just first class passengers who get on first these days: if you've got elite status, even just on airline partners, they'll fast-track you through. Best part: most agents don't even double check.
9. Drink a beer, score an Uber
Uber cars have to have special credentials to enter LAX for pickups, but if you can get to one of the airport hotels on Century Blvd (and it's easy -- just take one of the free shuttles), you can call a ride from there and save yourself from having to book a regular Uber car. Try for the Sheraton one so you can stop by the hotel's beer bar (with about 100 beers in the bottle and over a dozen on tap) for a drink while you wait.

10. Get to the East side for $8
Need to get to or from the East side? Take the FlyAway shuttle to Union Station Downtown in about 45 minutes for just $8 and catch a taxi from there.

11. You can leave your bags where?
If you've got a long layover and want to get out into the city, or just to sun it up at the beach, take a taxi two minutes to LAX luggage storage and stow your gear for $7 a day. They'll even pick up and drop off your bags for an extra $5 each. Everyone's got baggage, after all.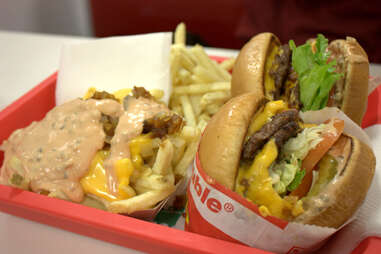 12. Flight delayed? Hit up In-N-Out without having to drive there.
Next time your flight gets delayed, take The Parking Spot shuttle to Sepulveda and magically you're at In-N-Out. Pro tip: get your fries "well-done".
Eric Rosen is a Managing Editor for The Points Guy and thinks more shuttles should take you directly to In-N-Out. Follow him on Twitter and check out his stuff at ThePointsGuy.com.