The greatest musical in the history of musicals. Ever. Of all-time.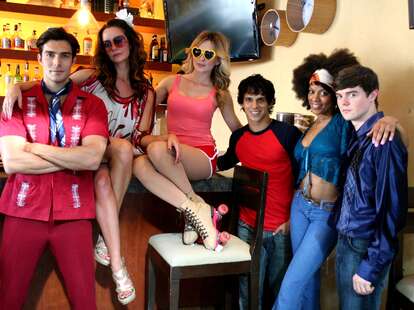 Opening Fri, For the Record: Boogie Nights is an R-rated, totally live, musically driven tribute to Paul Thomas Anderson's film lexicon, orchestrated by the same company that's produced similarly minded odes to John Hughes, Baz Luhrmann, and the Coen Brothers, which should be more than enough background to make you want to Fargo. But just in case..
This's the first to take place in the Rockwell Kitchen & Stage's new, twice-as-big-as-the-shoebox-it-was-in-before space, which's big enough to do crazily choreographed, in-character selections like a short-shorted Rollergirl-driven "Brand New Key" (from Boogie), an emotionally charged reading of Aimee Mann's "Wise Up" (Magnolia), and even some selections from There Will Be Blood and Punch Drunk Love, w/ songs by Jon Brion, which should ALSO be enough to make you want to Largo. Just in case you're all like "ugh, these're all gonna be terrible singer-actor-dancer-wannabes looking for a break", the cast is already, um, broken, w/ various members having appeared on Broadway in shiz like Les Mis, on TV shows like American Idol, and in movies including Death Proof -- see, you should definitely, er, g...Tarantino
Also amazing: they've even got a specialty hot dog menu w/ film-referencing franks, including the 10in "Big Diggler" and the mac-and-cheese-topped "Todd Porker", as well as a party-pop-and-booze-filled Punch Drunk Punch, which's, hello, just one more reason you should Faygo.