16 Things You Didn't Know About Griffith Park
Sure, maybe you've gone on a few hikes up to the Observatory or seen some shows at the Greek Theater, but how well do you really know Griffith Park? Based on this list, not super well. Because, as one of the largest urban parks in the country -- covering five times as much land as Central Park (SUCK IT, NYC) -- Griffith has way more stuff than you realized (and ghosts, lots of ghosts).
The Bat Cave is here
Like, the Batman Bat Cave. And we're not talking about Ben Affleck's hideout, or even Michael Keaton's lair. We're talking about the classic Adam West-era Batman, who used to disappear into the Bat Cave, aka the Bronson Caves, when they filmed the series in the park in the 1960s.
The Mount Hollywood Tunnel is where Marty was chased by Biff
If you're ever driving through the Mount Hollywood Tunnel and feel like someone is sneaking up behind you, you better check the back seat for your Sports Almanac. Not only is this tunnel where Marty was chased down on the hoverboard by Biff in Back to the Future II, but it also served as the filming location for the entrance to Toon Town in Who Framed Roger Rabbit, so get ready for that trippy scene, too.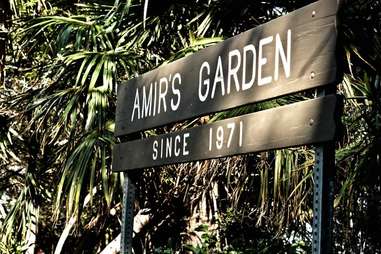 There's a secret garden hidden in the hills
Known as Amir's Garden, this magical oasis was created by Amir Dialameh, an Iranian immigrant and Griffith Park enthusiast, who was given permission from the city to create to a garden after a brush fire left the nearly five-acre plot decimated. He planted over 60 varieties of trees and shrubs, hand watering them all, and tended to the garden until he passed away in 2003. Passionate volunteers still maintain the garden, which you can visit if you're up for the hike.
The park's former owner and namesake first used the park for an ostrich farm
That's right, Colonel Griffith J. Griffith (they named him twice and his military rank may have been made up!) bought Rancho Los Feliz (the area that now includes the park and Los Feliz) in 1882 to raise ostriches. While the feathers were commonly used to make some rad-looking hats for ladies in those days, Griffith's main goal was to attract residents to his neighboring property developments. And it totally worked -- 14 years later, after making bank, Griffith donated 3,015 acres of the property to the city of LA.

There used to be an airfield in the park
One of Griffith's many grand schemes for the property, The Griffith Park Aerodrome, included a 2,000ft-long runway that was used by aviation pioneers and later the National Guard Air Service until it was demolished in 1939. Later the area was the site of the Roger Young Village -- temporary housing for vets returning from WWII -- and is now the site of the Autry National Center and parking for the LA Zoo.
It's thought to be cursed
Decades before Griffith bought the property; Rancho Los Feliz was run by Don Antonio Feliz who, on his deathbed with smallpox, was rumored to have promised the estate to another Don, instead of his niece Dona Petronilla. Legend (and possibly fictionalized accounts of frontier author Horace Bell) suggests that the niece put a curse on the property, a curse that may have been to blame for fires, deaths, and ghost encounters that have taken place over the park's history.
Cursed... and full of ghosts
There are enough ghost sightings spread over the years to keep Spengler, Venkman, and Stantz busy for a long while. There's the white specter of Dona Petronilla seen riding a horse, or Don Antonio Feliz's ghost showing up at parties (with an ostrich, no doubt), or hanging out at the Old Zoo. And then there's the lingering phantasm of Peg Entwistle, a distraught actress who was reportedly seen leaping to her death from the top of the Hollywood sign's "H". Or there are the ghostly sightings of a young Hollywood couple that were killed on October 31, 1976 when a tree crushed them while they were, um, enjoying each other's company on a picnic table. Yeah, and those are just the famous ones. No wonder the Haunted Hayride is so spooky.
Oh, yeah, and some dragon sightings
There've been multiple accounts from nutjo... um... people who have reported seeing dragons, excuse us, "pterosaurs," flying along Griffith Park near the LA river, as well as some other creepy creatures throughout the park. There have also been reports of some people who are waaaaaaaay too excited for the latest season of Game of Thrones.
The Griffith Observatory is in more movies and TV shows than most actors in LA
You've probably seen the bust of James Dean near the Griffith Observatory, which commemorates the young actor and his famous Rebel Without a Cause scenes (knife fight! Shoot out!) filmed here, but there are many other famous scenes from movies and TV where the Observatory plays a starring role. Like how about where Arnold arrived by time warp in The Terminator (and the upcoming Terminator Genisys )? Or where the Transformers perched, or The Rocketeer blasted off from the Planetarium's dome, or MacGyver lived in the show's pilot episode? Or Charlie's Angels, or Yes Man, or Dragnet, or... you get the idea.

Fern Dell Canyon used to be the site of a centuries-old Tongva village
If you enter the park near where Los Feliz Blvd heads down towards Western, you'll encounter a well-shaded, stream-lined, FernGully-like pathway that leads up towards the Trails Café. This portion of the park was designated by the Cultural Heritage Board as the site of a village of the Tongva people who lived in the area long before Griffith and his ostriches rolled up.
You can ride a horse to a BBQ
Sure, you could spend time leisurely trotting along on horseback with a date while checking out beautiful 360-degree views of Los Angeles -- OR you could ride your trusty steed straight to the BBQ waiting for you at the Sunset Ranch. Your call.
There's a train museum and two miniature trains that you can actually ride
On the Burbank side of Zoo Dr, there's the Travel Town Railroad outdoor museum, where kids, kid-like adults, and train nerds of all ages can learn about railroad history and actually cruise around on a mile-long miniature train ride. And at the Southeast corner of the park, there's another miniature train that's been running since 1948, which you can ride and we will still totally respect you.
You don't even have to head down to Disneyland to learn some Disney secrets -- just head to Griffith. Originally located in the back of his Holmby Hills house, and relocated to Travel Town in the park in 1999, the barn is where Walt would tinker with his miniature trains and brainstorm new ideas and projects, like, you know, cool theme parks.
One of the deadliest disasters in LA history took place in the park
In 1933, a fire broke out while thousands of workers were clearing dry brush and creating trails and roads as part of a Depression-era jobs program. Despite the efforts of the fire department, dry conditions, quickly changing winds, and a lack of water all led to the fire claiming the lives of 29 people.
Forget the trail mix, head to one of the best bakeries right in the park
Nobody wants your homemade gorp for a snack, so head to The Trails Café, a tiny bakery in a shack that turns out some tasty pastries, sandwiches, and snacks perfect for a hike to the Observatory. Sip on Stumptown coffee, grab a cheddar chive scone, or better yet, a hot dog on a stick wrapped in puff pastry, then start your hike. Or, you could have a slice of that freshly baked pie.

You can go to a star party at the Observatory
No, not some awards-season-celeb-debauchery fest. On one Saturday night each month (check the dates), the Observatory hosts free public star parties where you can peer at celestial bodies through the telescopes of amateur astronomers. Okay, maybe that does sound like a bit of debauchery.
Sign up here for our daily LA email and be the first to get all the food/drink/fun Los Angeles has to offer.
Danny Jensen is a regular Thrillist contributor and can be found at the Observatory trying to spot dragons with the telescopes. Haunt him on Twitter and Instagram.