Forget Runyon Canyon: Try These 10 Secret Hikes in LA Instead
From secret waterfalls to old mines and sandstone formations.
In LA, famous hikes like Runyon and Griffith tend to get all the glory. But there are a plethora of other amazing nature excursions in and around our city, scattered across our surrounding mountains, canyons, and forests, that fly under the radar...until now. We've unearthed 10 hidden-gem hikes enhanced with secret waterfalls, dramatic sandstone formations, old mines, and more—all great incentives to help you power through a tough ascent. Because there's never been a better time to get outdoors (while remaining safe and socially distant from your fellow hikers, of course), keep reading for 10 undercover trails suited to a range of skill levels.
Calabasas
Distance: 2 miles
A quick out-and-back two-miler in the Santa Monica Mountains, this kid-friendly trek leads to a graffiti-covered cement platform that once served as a fire lookout point. Now it offers up a vibrant backdrop worthy of your Instagram photos—particularly during sunrise when it appears as if you're floating above a sea of clouds. The best part? No two visits will ever be the same—not if the graffiti artists who display their colorful work here have anything to say about it! Look out for the entrance after the intersection of Saddle Peak and Stunt Roads.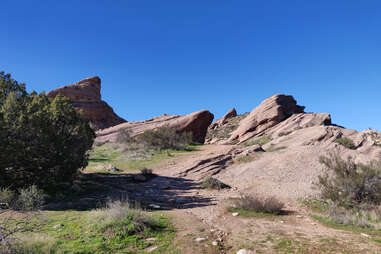 Santa Clarita
Distance: 2.6 miles
For a Joshua Tree alternative that's much closer and less trafficked, head to the 932-acre Vasquez Rocks Natural Area Park—named after notorious bandit Tiburcio Vasquez, who used the rocks as a hideout in 1874. Although the park has several easy-to-moderate hikes throughout—ranging from this mellow 2.6-mile loop to slightly more strenuous trails—build in time to scramble around the park's impressive geological wonders too. Sculpted by wind and water, the spectacular sandstone formations are tilted at sharp angles, which create an awe-striking desert landscape.
Wrightwood
Distance: 3.9 miles
Driving to this breathtaking hike in the Angeles National Forest is a bit of a trek, but well worth the adventure. The trail winds along the side of a mountain and deposits you at an abandoned mine—which, legend says, was named after the bighorn sheep that local mountain man Charles Tom Vincent was hunting when he discovered gold here in 1891. (If you have time, turn left at the first intersection for a detour to his well-maintained cabin.) At the ruins, you'll find hikers exploring mine shafts and posing for photos with tree-dotted mountains as a scenic backdrop, but exercise caution if you do the same—the structure's now over a hundred years old.
Azusa
Distance: 0.7 miles
Secret swings abound in Los Angeles (there's even an Instagram account devoted to them!), but one of the latest additions at Crystal Lake Trail boasts a view of the only naturally occurring lake in the San Gabriel Mountains. While it was originally named for its crystal-clear waters, today it's not quite as pellucid—but no worries, you're here for the swing (hint: it's off the main road, hidden in the tree line 300 feet from the lake). If you'd prefer a leisurely expedition over a true hike, this trail is for you (plus, you can even camp in the area).
Calabasas
Distance: 4.4 miles
An easy tree-shaded excursion that leads to a volcanic rock pool? Sign us up. This moderate hike is picturesque any time of year, but particularly in the warm summer months, when you'll spot visitors splashing about in the icy-cold swimming hole and rock climbers scaling the cliff walls (a setting from 1968's Planet of the Apes). Surrounded by craggy boulders and shrubbery, this oasis draws bigger crowds midday, so come early if you want more privacy (and don't forget the sunscreen).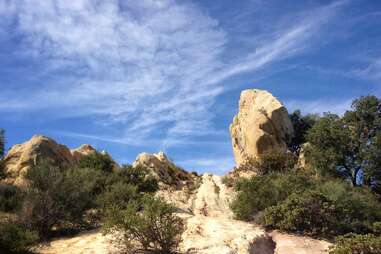 Malibu
Distance: 2 miles (the entire Backbone Trail is actually 12.2 miles out and back)
One thousand acres of the Santa Monica Mountains make up the Corral Canyon loop, but take the segment of Loop Trail that leads you to Corral Canyon Cave, aka Morrison's Cave, where Jim Morrison allegedly used to write. Although the entrance to the cave is now closed indefinitely due to graffiti-happy vandals, there's an unexpected bonus of fewer visitors to this trail. Plus, you can still enjoy the zen rock spiral at the base of the cave formation left as a tribute to "The End" and Morrison.
Whittier
Distance: 3.3 miles
Want some privacy on your urban hike? Sycamore Canyon in Whittier is still basically undiscovered, so you won't be crowded by tons of dog-walkers/yogis/dog-walking yogis. The trail's mostly a cinch, save for a few uphill ascents that make you feel like you're actually getting in a workout. With the occasional wildlife spotting and a stream that runs here all year long, it's the perfect adventure for the whole family—and, if you're so inclined, you can even camp in the center of the park.
Brentwood
Distance: 3.4 miles
Perhaps the most-discussed of all these hikes, the Murphy Ranch Trail takes you through an abandoned Nazi compound nestled in the middle of the mountains. The dummies that thought Germany would win and take over America built a little sanctuary here, which is fairly awesome. Your inner Indiana Jones will geek out over engine parts, crumbled huts, and even an overturned '40s VW Bus nestled into the woods. A word of warning in case you plan on bringing a four-legged friend (or a four-year-old): This hike involves climbing up a pretty punishing set of stairs.
Grotto Trail
Malibu
Distance: 3 miles
For awesome hidden natural wonders, look no farther than the Grotto Trail up Yerba Buena Rd. You'll navigate through waterfalls, caves, crazy boulders, and... well, grottos, which are basically begging for you to explore all their mysterious corners and crevices. The best time to go is during the spring post-rainy season, when the grass is green, wildflowers bloom, and the waterfall show is on full display. To top it all off, when you're done, you can order some grub to-go at nearby Neptune's Net.
Malibu
Distance: 3 miles
We've been fans of this place off the Pacific Coast Highway for years—thanks to its lovely waterfall and sweeping vistas—but what makes this loop hike truly unforgettable are the ruins of an abandoned mansion. Destroyed in a forest fire, the original foundation of Roberts Ranch House—along with an old bathtub, a bomb shelter, and ironically, several fireplaces—remains mostly intact and incredibly fun to survey.
Wilder Shaw is a writer and comedian who hopes this story tricks people into thinking he's in great shape. Ask to go waterfall hunting with him on Twitter at @WilderShaw_ and Instagram at @wildershaw.