What happens on a night out with Chef Curtis Stone? Well, Mexican wrestling, tasers...
Ray Katchatorian
Ray Katchatorian
Other than Crocodile Dundee and the kid who threw that huge party and refused to take off his sunglasses, you'd be hard-pressed to find a cooler Aussie than Curtis Stone. He's Top Chef Masters' host-judge, he's married to a Beverly Hills, 90210 cast member, and he just opened a prix fixe-only restaurant in Beverly Hills called Maude -- named after his Grandma -- where he's actually cooking just about every night, and -- in an absurdly ambitious move -- changing the entire menu monthly, based around one single ingredient.
We also heard he's, like, the nicest dude ever, which is why we asked him to grab a drink after he got off one night last week. He told us he'd be one and done since he had to get home to his wife and kid. That didn't happen.
11:04pm: Maude's theoretically closed, but there're still 1) four couples making sex-eyes at each other, and 2) a table full of men in suits taking photos of their food and gesticulating wildly. Stone's still working the stove, as he's been doing all night, concentrating on roasting perfectly moist beef cheek -- the final savory course on the menu. We hide in a corner -- he's clearly in the weeds.
11:13pm: We put down Candy Crush for a second to start drinking. Wine. Let's be classy. Impressive. His GM asks us how long we expect to be here. When we tell him we're having drinks with Curtis, he looks at us incredulously. "Good luck," he says. "He cleans his own stove."
11:34pm: Stone apologizes for his timing, a wide-eyed grin on his face, and invites us to the back of the kitchen. "I'm sorry I can't just leave. I need to clean my stove." He does, however, agree to a drink, and sips his beer in between tasks. Put away salt. Sip. Scrub burner. Sip. Take photo with the suit-men. Sip.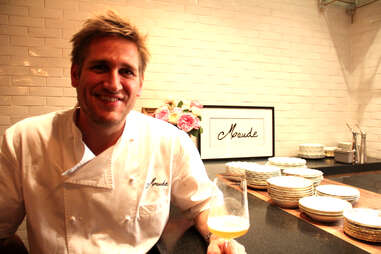 12:05am: Stone finally gets a second to sit down and talk. He makes sure we know he's happily married now... before confessing he ran game his first few months in LA at the unlikeliest of locations for an award-winning chef: Saddle Ranch. "I bulls**tted my way to get to LA," he says, before telling us about how he fit in at the bar. "I'd pretend to watch sports," he says. "I didn't even know what the sports were."
12:07am: Obviously, he's classed it up a bit -- when he goes out now, he says it's often to his favorite restaurants: Luques, Animal, and, if it's late, The Church Key or Red Medicine. And in a time crunch? He'll hit Pinche Tacos on Sunset. "That place is pretty good," he says. "I don't go out drinking all night anymore, though. My wife would kill me if I was drinking all night."
12:15am: Stone agrees to go drinking all night.
12:17am: We hop into Stone's SUV -- a Porsche -- where he apologizes for the mess. "My assistant puts a note with my schedule on the steering wheel at night," he tells us, pointing at the note, which reads: "Phone call with Forbes. 8:15am." Of course it does.
12:24am: We arrive at Stone's extremely unlikely late-night destination of choice -- the 3rd St Mexican wrestling-themed dive bar El Carmen. The second he pushes his way through the curtained door, he's recognized! "YOU'RE CURTIS STONE!" says the 20-something dude at the bar, yelling. "I WATCH YOU ON TV EVERY WEEK!" His girlfriend is incredulous, but Stone couldn't be nicer: he shakes hands, says hello, and places an order. We're having margaritas. YES.

12:31am: Stone crunches through a carnitas taco and sips his margarita, talking about having a hard time in the city the first few times he visited. "LA's a s**t city to visit," he says, "but an incredible city to live in. The beautiful thing is that it can be anything you want it to be. You can go to hipster-ville, or the beach, or Hollywood -- it can be whatever you want."
12:48am: We're telling Stone about how we recently saw a comedy show with Doug Benson smoking onstage at Largo while interviewing five of his friends. Stone is incredulous. "How'd they get away with that!?!?!" he asks. We tell him about vaporizers. He's wowed.
12:55am: Margaritas. Round two. And chips. Definitely chips.
1:03am: Mid-conversation, a woman walks past us in a far-too-small dress, with heaving, enormous, clearly fake breasts exploding out of her top. Everything stops. "She... uh..." Stone says. "God bless her!"
1:11am: Stone's thinking about his craziest LA night: "All of the craziest nights I've had in LA have been at a house party somewhere. LA closes so early -- I'm not used to it. I've lived in a bunch of spots -- but nowhere that stops at 2am. I'll give you a crazy night -- I've just got so many. I used to go out a lot. Not, like three nights a week..." he pauses. "Maybe two."
1:14am: "Just before I met my wife, I'd been with a couple buddies -- I don't remember where we'd been earlier, but we ended up at a party in the Hills. LA's one of those cities -- you never know what you're walking into. We ended up at this guy's house, and he had a band playing, overlooking LA. [We had] a lot of margaritas. I can remember trying to get home, and we got into an argument with the taxi driver at 6am. I was trying to explain to him where I lived, and he couldn't follow the accent, or I couldn't follow his. I was trying to explain where to go, and he just said, 'Get out. GET OUT.' We weren't anywhere close to where we could get another taxi. He insisted, 'Get out of my car'! F**K YOU!' He got so aggressive that I swore at him, he swore at me, we got macho with each other... and then the night ended with my friend yelling, 'HE'S GOT A TAZER!' We both ran up the street like girls... and then had a 45 minute walk home."
Not bad... but there's gotta be a crazier night, right?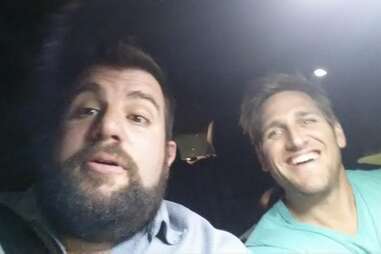 1:16am: Stone makes us turn off the recorder, and tells us an epic off-the-record story of his actual crazy night. We made promises, but we can tell you: it involves after-hours drinking, pitbulls, and a crawl-tunnel entrance. When you see him, ask him. Wait, no, buy him a couple margaritas, then ask him.
1:32am: It's last call, and Stone's got to drive home, but first he gives us a ride around the corner. We can tell he's itching to keep going. "You can only have so much fun before 2am," he reminds us, before driving off.
Jeff Miller is Thrillist's LA Editor and will have margaritas with you at El Carmen anytime, even if you're not famous. You can follow him at @thrillistla on Twitter or @jeffmillerla on Instagram.