LA's 12 Most Lovable Local Weirdos
Nathaniel Peterson/Thrillist
Nathaniel Peterson/Thrillist
LA is full of eccentric characters, but only a few really iconic ones. These are those ones: 12 endearing oddballs who have driven, skated, played, and puppeteered their way into our hearts.
Angelyne
Arguably the most famous "character" in LA, Angelyne is the queen of the billboard -- there's always at least one, and it shows the buxom blonde is still ready for her close-up. Though she's officially a "singer, model, and actress," really, the thing she's most famous for is... being on a lot of billboards. And driving a bright pink Corvette. Pro-tip: if you see her out, she'll be happy to sell you a fan-shirt -- and sign it for you.

Harry Perry
Harry Perry is "the dude with the guitar on roller skates on Venice", but he's also been many other things: a float at California Adventure, an opening act for The Eels, and a winning plaintiff in LA County Court -- he sued, and prevailed, when the city tried to shut down buskers on the Venice Boardwalk, though litigation from the LA City Council is still making its way through the court system.

Dennis Woodruff
Dennis Woodruff drives his unmistakeable car -- covered with all sorts of paint, billboards, enormous heads, and "awards" -- around town, and if you stop him, he'll sell you one of his "movies," which -- according to the Daily Mail -- has made him actually-rich. Crazy.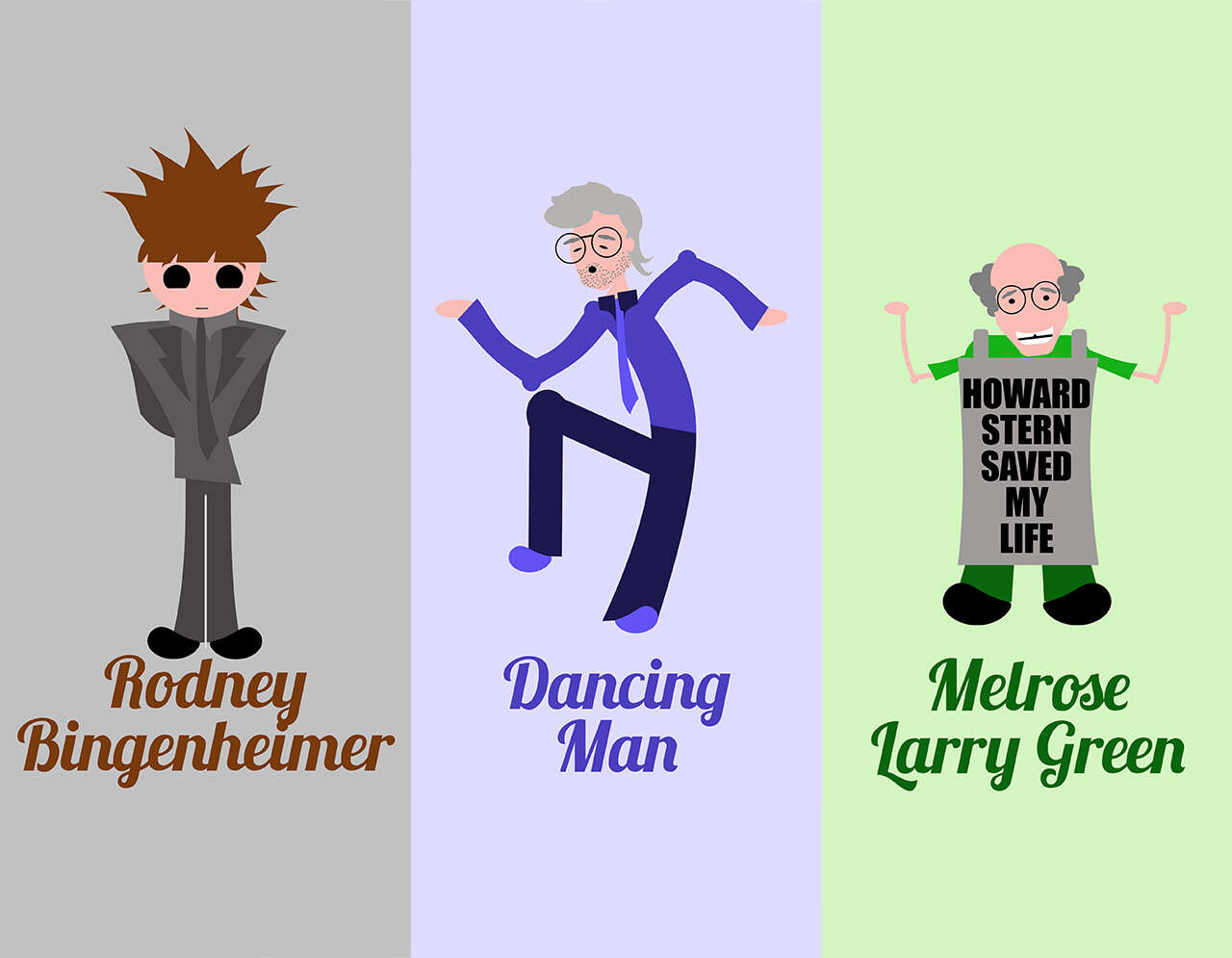 Rodney Bingenheimer
To a generation of Anglophile Angelenos, Rodney Bingenheimer was one of the most influential DJs in the city: his Rodney on The Roq show on KROQ was hugely successful, and you can still find him on the airwaves late at night on Sunday. Otherwise, though, you can find him in his own reserved table at Canters -- where he's almost always accompanied by an amazingly gorgeous girl at least 30 years his junior. Rod, you've still got it. Somehow.

Dancing Man
If you've seen a concert in LA -- whether it's an electronic act like Infected Mushroom at the Avalon, or world music at the Disney Hall, or a small buzz band at the Troubadour, you've seen Dancing Man, aka LA Rocker, aka Howard Mordoh -- the 60-something tall dude with an unbelievable reserve of energy (seriously, sometimes he hits, like, five shows in a night), busting his signature move: a snap-turn-twist thing that's been his trademark since HE WAS AT FRIKKING THE LAST WALTZ. But the craziest thing is that he's actually a retired scientist from Woodland Hills. Seriously. That's the truth.

Melrose Larry Green
Another dude who's kind of famous for being famous, Melrose Larry Green is a Cornell graduate (!!!) who has been a fringey-Hollywood guy since 1980, gaining notoriety for yelling at people on the street, managing to be on the Howard Stern show, writing a book about the Clintons, publically dissing Howard Stern, and now giving star tours to tourists. Because, uh, that totally 100% makes sense.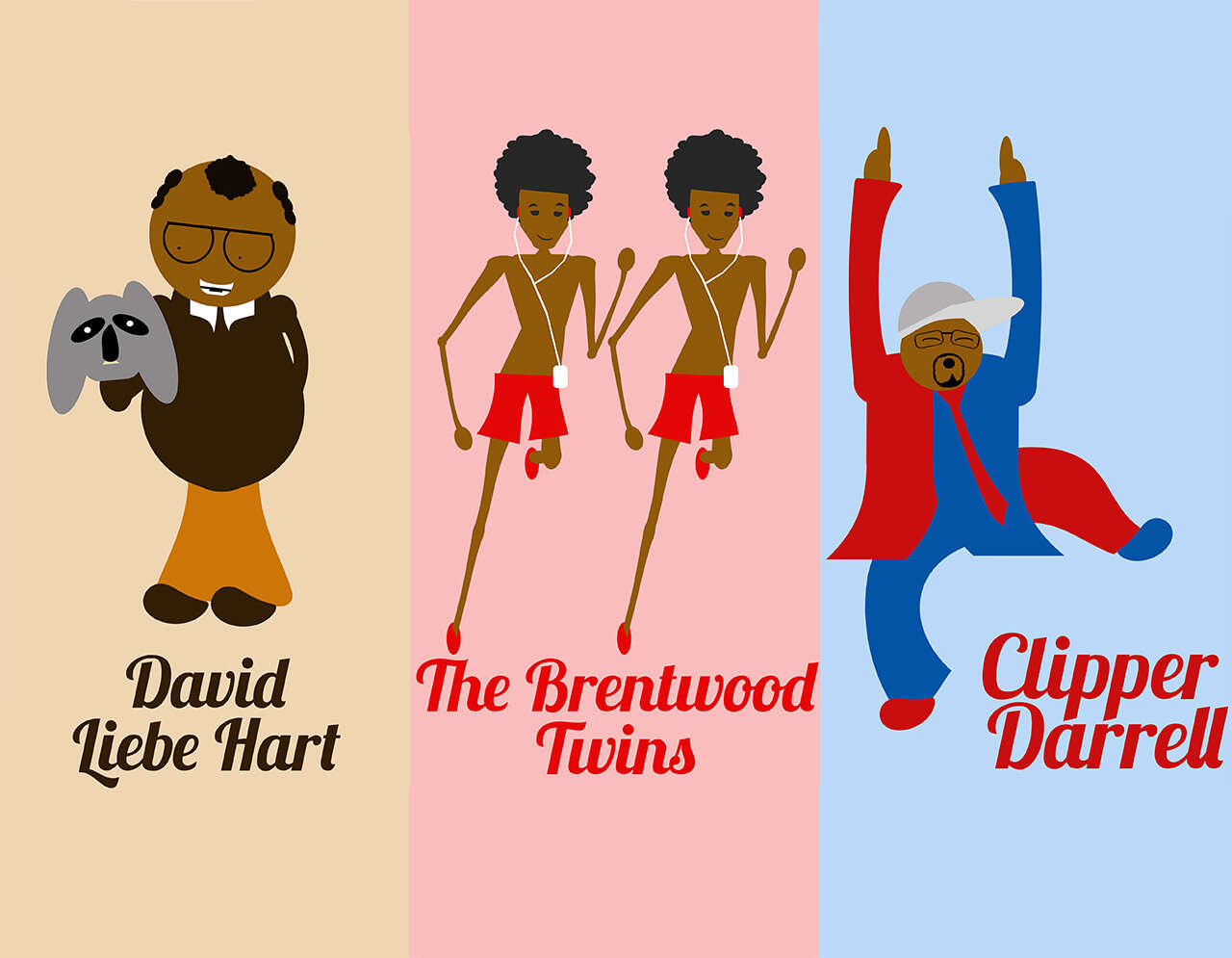 David Liebe Hart
David Liebe Hart's the guy at the Hollywood Bowl who does pretty terrible ventriloquism with his puppet, Doug the Dog. He's been a public-access TV host, a regular on Tim And Eric Awesome Show, Great Job!, and has released a ton of Christian-and-alien-themed records. He was also once a Navy cook.

Brentwood Twins
If you live on the Westside, there's no question that you've seen the Brentwood Twins jogging down the street (probably in Brentwood, duh!). They are good looking, personable... and talk at the same time. Like, all the time. Unsurprisingly, they are trying to break into acting and modeling.

Clipper Darrell
There are myriad nutso sports fans in LA (Jack Nicholson! Billy Crystal!), but the most beloved is definitely Clipper Darrell, who dresses in red and blue, like, all the time, has been a season ticket holder since WAAAAAAAAY before the Clippers were cool at all, and has taken his obsession, uh, all the way -- he drives a BMW decked out with Clippers colors, his house is decorated with a Clippers logo in the driveway, and somehow he makes money from all of this. Which makes him the biggest hustler ever. Which means he totally deserves to be on this list.
The Crazy Robertson
The Crazy Robertson's a homeless-by-choice guy who actually grew up in Highland Park and was once a professional baseball player (wut?). These days, though, he's best known for two things: skating and dancing all-wacky, all the time, all over West LA, and making some money from a hipster clothing company who optioned his image a few years ago and was embroiled in controversy over whether they were taking advantage of him.

I See Jesus in LA
If you've ever been walking down the street and been like, "Holy Hell the Lord And Savior is right in front of me" then you've seen I See Jesus In LA, (aka Hollywood Jesus) who's actually a dude named Kevin who dresses like Jesus and walks around LA. If you saw Jesus and took a picture, you can submit it to the "official" Tumblr, "I saw Jesus in LA." He seems to make his way to concerts, sporting events, and cultural events regularly, and -- though he dresses like the world's most famous poor man -- by all accounts he's doing pretty well, since he drives a Mercedes and has appeared in multiple videos by (of course) LMFAO.

Silver Lake Walking Man
It would be impossible to finish this list without a hat tip to Silver Lake Walking Man, aka Marc Abrams, who sadly passed away a few years ago. The subject of murals, a documentary, and tons and tons of fan tributes, the ultra-gaunt Abrams walked around the Eastside for miles (and miles!) at a time, shirtless, reading, and saying hi to people; when he died, many people learned he was actually a doctor who just loved walking. Walk on, man.
Sign up here for our daily LA email and be the first to get all the food/drink/fun Los Angeles has to offer.
Jeff Miller is the Editor of Thrillist LA, and befriended Dancing Man a few years ago at a concert and hopes to have the same energy when he grows up. Let him know who he missed at @ThrillistLA on Twitter and @JeffMillerLA on Instagram.