Because the last time you looked at a SoCal map you were all like, "Ugh, I've been everywhere you can go on a day trip. Also, why do I still own maps??", here are eight odd, off-the-wall, but still-totally-drivable day trips you haven't taken, but totally should.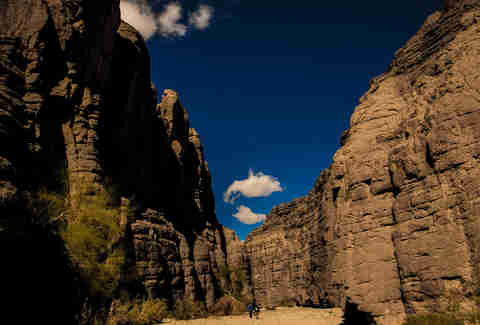 Mecca, CA
Distance from LA: 157 miles; 2.5-hour drive
This kind of-near-Palm-Springs hiking canyon's absolutely gorge-ous (ha! ha?) -- the walls of the canyon are highly mineralized, which makes for an array of totally breathtaking colors. Plus, once you make it through Painted Canyon, you'll hit Ladder Canyon: a loop hike that'll give you Last Crusade flashbacks as it takes you through a slot canyon with ladders provided at the steep points so you can make it all the way through.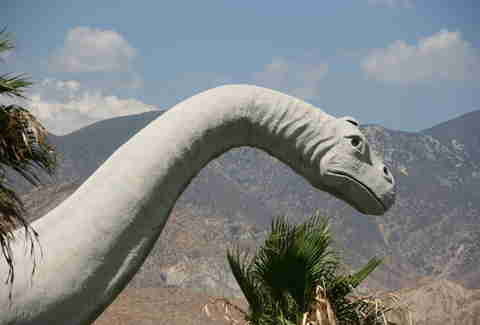 Cabazon, CA
Distance from LA: 98 miles, 1.5-hour drive
You know 'em from Pee-wee's Big Adventure, but what you probably don't know about the Cabazon Dinosaurs off the 10 -- which include a three-story concrete T-rex and a 150ft-long Apatosaurus THAT YOU CAN GO INSIDE -- is that 1) they're the biggest dinosaurs in the world, and 2) they're owned by creationists who also have an on-site museum that's full of animatronic dinosaurs INTERACTING WITH HUMANS. Yep. Crazy. Hilarious. And it's about 100ft from Casino Morongo (bonus!).
Salton Sea, CA
Distance from LA: 161 miles; 2.5-hour drive
In the '70s, this accidentally man-made lake (irrigation canals from the Colorado river overflowed in 1905! Yay engineering!) was a tourist mecca for boaters and fishermen -- and then it flooded, and the flood took with it everything from hotels to houses to gas stations. Now, it's got just a few hundred residents and looks/smells like something out of The Walking Dead/Mad Max -- it's beautiful, it's haunting, and it's an Instagrammer's wet dream.
Lebec, CA
Distance from LA: 73 miles; 1.5-hour drive
Built right by the Grapevine in the 1850s to "protect and control the Indians", Fort Tejon is now a state historic park that hosts Civil War reenactments (yup) throughout the year ("arrive at least 30 minutes early to secure a good spot in the spectator area!"). They do pretty cool non-reenactment stuff, too, like lead candle-lit ghost tours in October, and shoot off a bunch of old-school cannons while you eat your face off in pie-downing contests on the Fourth of July.
Niland, CA
Distance from LA: 197 miles; 3-hour drive
The dude that devoted his life to this majestic/insane mountain-sized ode-to-Jesus-or-something was likely crazy, but maybe he was onto something? Or on something? Sadly, he died this year, but a cadre of volunteers still runs tours and contributes to the breathtaking mountain/art thing, making a visit totally worthwhile. Pop culture bonuses: Salvation Mountain appears in both Into the Wild and Grand Theft Auto V!
Landers, CA
Distance from LA: 145 miles; 2.5-hour drive
Depending on whether you believe people who claim to have been visited by beings from Venus, this '50s-era domed structure near Joshua Tree is either the work of extraterrestrials and has healing powers, anti-gravity abilities, and is a time-travel vessel, or is just an insane, acoustically perfect feat of human engineering that's used for "sound baths", with "tones generated from quartz bowls". Either way, you're totally fascinated and going, right?
Borrego Springs, CA
Distance from LA: 173 miles; 3-hour drive
Basically a state-sponsored ATV park, this 24/7, 85,000-acre, totally protected wilderness park is also a spot where you can rent insanely powerful dirt-devil vehicles. You can also score tours that're either guided or "self-guided" (read: you're just jumping sand dunes!). Pro tip: make sure you rumble over to Devil's Slide -- a 200ft-high granite and sand island with several old, hidden (and supposedly haunted) mine shafts along the mountainside.
Slab City, CA
Distance from LA: 198 miles; 3-hour drive
Sort of like an open-year-round exhibition of Burning Man art leftovers, this ongoing folk art project (in the back of "Slab City", essentially a Mad Max-ish, off-the-grid trailer park) has totally mind-blowing/bizarre art made from beer bottles, mannequin legs, burnt-out car carcasses, massive tires, and other waste products turned into something far more stimulating.
Sign up here for our daily LA email and be the first to get all the food/drink/fun Los Angeles has to offer.
Thrillist LA Senior City Editor Jeff Miller especially loves going to these places wearing a full costume in a car made to look like a Thunder Cat. He's on Twitter at @ThrillistLA and on Instagram at @jeffmillerla.