Solve Puzzles Like Benoit Blanc at the Free 'Knives Out' Escape Room in West Hollywood
Netflix has transformed a WeHo warehouse into a Grecian estate-style experience to celebrate Rian Johnson's 'Glass Onion: A Knives Out Mystery,' coming to Netflix December 23.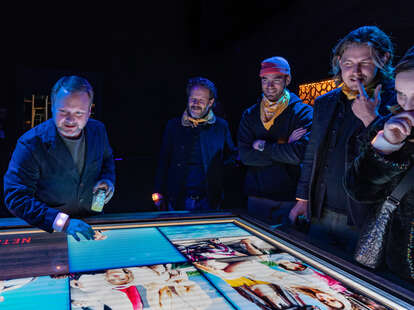 Director Rian Johnson (left)

| Photo courtesy of Netflix
Director Rian Johnson (left)

| Photo courtesy of Netflix
You don't usually pop into a warehouse in the fancy part of Melrose expecting to be brutally roasted, but unless you happen to be as acutely observant as Daniel Craig's master detective Benoit Blanc, that's exactly what you're going to get at Netflix's new Glass Onion: A Knives Out Experience. The pop-up escape room—featuring art and objects directly from the set of the movie, a reception area inspired by the film's Grecian estate setting, and three surprisingly difficult timed puzzle challenges—is free for RSVP or walk-in guests from now until December 23, when Rian Johnson's murder mystery sequel officially lands on Netflix.
As you make your way through the three puzzle rooms, the yellow-ascot wearing staff will guide you in each challenge, giving instructions, advice, and also casually taking you out with withering digs at your skill and memory as you inevitably struggle to complete the objectives. You are expected to hack open a Puzzle Box, complete a high-stakes test of memory set in a room adorned with some of the art owned by Ed Norton's tacky tech billionaire Miles Bron in Glass Onion, and pass a final test of observation and deduction at a sumptuously appointed dinner table.
Each time you fail a test—and you are very, very likely to fail—one member of your party is yanked away, pulled at random off of your team and into the inner hallways of the warehouse. They are not eliminated, though; there is more they can do to help or maybe hinder your team from the other side of the experience.
Before you get into any of that, though, there is the lounge. The warehouse space has been transformed with white columns and floors, draping plants and soft blue and pink lighting like a Cycladic sunset. There is also, crucially, a bar, with a passion fruit-based cocktail, a non-alcoholic version, and a selection of White Claws, some of which are tucked into an ice-filled miniature replica of Miles' beloved baby blue Porsche 918 from the film.
Hang out in the lounge and sip on something light, maybe pick a team leader if you're feeling competitive, and snap a few photos in front of the props. You are given a hefty rubber bracelet modeled after ones worn in the movie, and when it buzzes and flashes, step to the doorway, relinquish your beverages, and attempt to solve the first puzzle—and most importantly, try to avoid the low-stakes humiliation of failure and casual roasting that comes with it.
Glass Onion: A Knives Out Experience is open every Thursday-Sunday from 4-10 pm at 8175 Melrose Ave. Walk-ins are welcome, but a reservation through Eventbrite is the best way to guarantee your spot. You're going to need the practice if you want to solve the mysteries of Glass Onion when the movie lands on Netflix on December 23rd.
Ben Mesirow is an Echo Park native who writes TV, fiction, food, and sports. At one time or another, his writing has appeared in The LA Times, Litro, McSweeney's Internet Tendency, Los Angeles Magazine, and scratched into dozens of desks at Walter Reed Middle School.